Updated May 25, 2023
About Trafalgar Square
London, the capital of England, is a busy place. You can see crowds rushing everywhere in this city. Trafalgar Square is one of the busiest places in the center of the city. London has many historical sites, fountains, and statues, but at Trafalgar Square, you will witness everything in one place.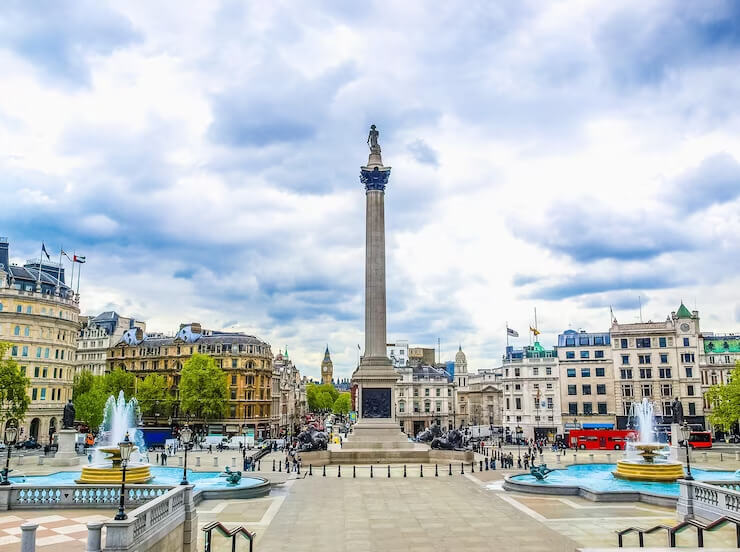 History of Trafalgar Square
Every place has its history, and so does Trafalgar Square. The history of this place began in the 14th century when it was under the Courtyard of the Great Mews Stabling. In 1812 an architect named John Nash began to build new streets in this place, starting from Charing Cross to Portland, where the architect wished to make this place public.
However, the current name we know today came in 1830. Finally, it was in 1838 that Sir Charles Barry came up with the idea to develop the Trafalgar Square, which included the Nelson Memorial statue and two fountains in the square. In a few years, new additions to this place, including a bronze lion at the bottom of Nelson's column and a terrace wall, came into existence.
Major Attractions
It is in the city of Westminster city, London, England. The location is prime and huge gatherings are observed every day at this place. You can enjoy the vibe of London City here at Trafalgar Square.
A designer named William Railton designed Nelson's column to honor him for his victory in the battle of Trafalgar in 1805. It is a granite statue 5m high, which stands on a bronze platform.
The statues and busts of people involved in the battle are placed there. You will find the bust of Admiral Beatty, a grade 2 bronze statue. Also, you will see the Statue of Admiral Jellicoe, made from bronze in 1948.
You can visit the Fourth Plinth in North-West Trafalgar Square to see world-class modern artwork in public. It remained empty for many years, but now it is managed by a group that guides and monitors the entire place.
Today Trafalgar Square is the pivot of all the rallies and democratic protests. Every now and then, demonstrations on various religious and political issues are held. The mayor supports the democratic tradition and has given access to the square for such demonstrations.
You can also enjoy breakfast and lunch in London's Kitchen and Cafe. The cafe is part of City Hall, open from Mondays to Thursdays. The cafe is on the ground floor and remains open between 8 a.m. to 5 p.m.
You can enjoy all the seasonal offerings of London seasoned with fresh garnishing. You also get to eat some modern classical dishes and urban street food, and for health-conscious people, you can enjoy salads with multiple savoring alternatives.
Pastries and snacks are available in the cafe for the sweet tooth. Some popular restaurants at Trafalgar Square are Harrods, Jamie's Italian, Cafe Royal, and Thai Square.
It is a vibrant place where you can see many people as tourists and visitors. Every year since 1947, at Trafalgar Square, Norway gives a fir to use as a Christmas tree to thank Britain for its support during the Second World War.
There is a marvelous National Gallery on the square's Northern side with two massive fountains that glow up at night. The charm of this place is beyond beautiful and exceptional.
If you rejoice in impromptu street performances, this place will wow you with street artists. Many restaurants on the street also welcome these street artists to perform in front of their restaurants.
Nearby Trafalgar Square, you get many accommodation options like the Waldorf Hilton, Grosvenor Hotel, Hilton London Metropole, and The Trafalgar Hotel. You can remain at the most happening place in London and enjoy every moment staying at these hotels.
How to Get to Trafalgar Square?
Charing Cross Train Station
Charing Cross Bus Station