Updated May 25, 2023
An Insight into Kullu Manali
While exploring Himachal Pradesh, Kullu Manali is a must-see because of its brilliant glades, lush valleys, snow-capped hills, and the emerald Beas River. Adrenaline junkies must go here at least once in their lives. Activities that you can partake like mountain biking, paragliding, skiing, and mountaineering. Pack your luggage and travel to this blissful city if you're looking for a destination where you may experience the best levels of seclusion, beauty, and tranquillity. In addition to the natural wonders, you will also have the opportunity to view some of India's most beautiful historical structures.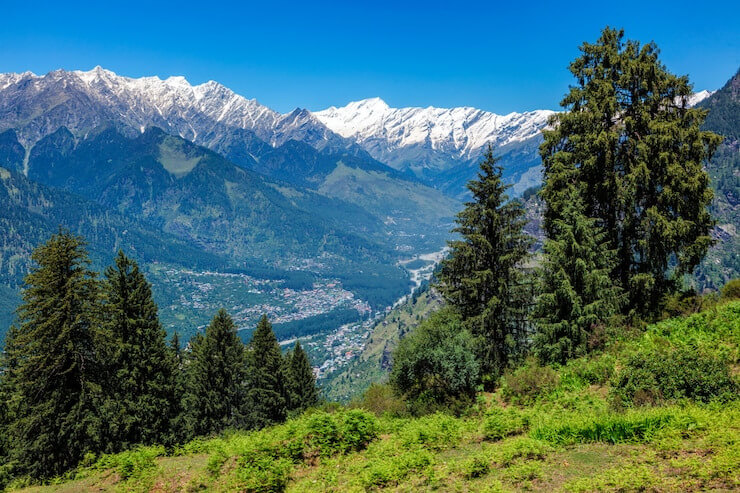 Best Tourist Places in Kullu Manali
Given below are the best tourist places in kullu manali:
#1 Solang Valley
Many winter adventure sports, including skiing, paragliding, and parachuting, are popular in Solang Valley. Solang Nala is a small valley near Manali, situated at an elevation of around thousands of feet above sea level. It is a haven for those who appreciate adventure and sports, and while you're here, you may stretch your skiing prowess or go on an icy tour.
People come here in droves to go zorbing and paragliding when the temperatures rise. Another option is to board a cable car for the amazing scenery of the Himalayas. Winter is the greatest season to visit if you're seeking winter weather activities and sports, while summer is better for other adventure activities.
#2 Bhrigu Lake
Imagine Aesthetic evergreen tree forests and alpine fields close to a quiet higher altitude water body. You've only just thought about Bhrigu Lake, a popular top hiking spot near Manali. If you're scheduling to trek to the lake, you'll like to adapt to the climate because it's more than 4000 meters above sea level. Most visitors experience the splendor and sweeping views of the Pir Panjal Range.
#3 Beas River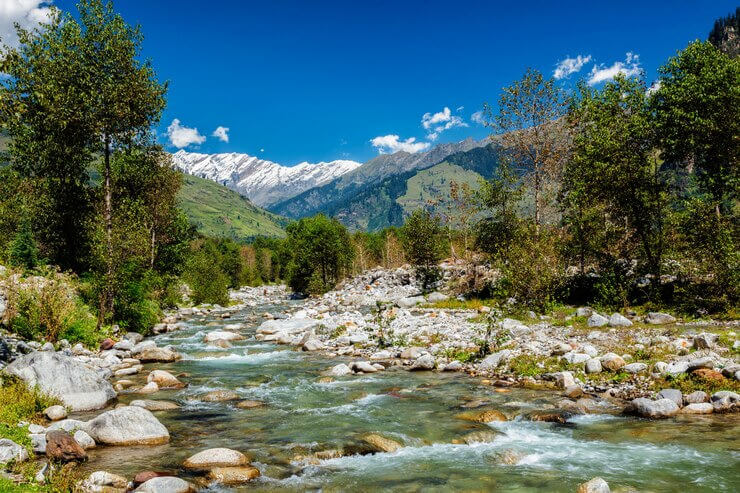 On most of your Manali tour, you will see the Beas River, a local natural feature. The village of Vashisht is regarded as one of the best locations to take in breathtaking views of the valley area while traveling. You can get near Kothi's crystal-clear waters by traveling there. Water sports like kayaking and rafting are popular in the Beas, and the settlement of Pridi is known for having some of the most thrilling rapids.
#4 Gulaba
Visits to adjacent villages should be included in a visit to Manali if you want to learn about the local culture and take in the breathtaking scenery. You won't be let down if you include Gulaba on your list. The town features some of the most alluring trekking paths in Himachal Pradesh, making it a preferred destination for winter tourists yearning for snowy scenery. Due to the low illumination pollution and high altitude, many people think it's a fantastic location for camping and stargazing.
#5 Chandrakhani Pass
With the breathtaking beauty of nature, A journey to a Chandrakhani Pass can capture all of Himachal Pradesh. You can also visit the renowned settlement of Malana, which would be known for its pot crops and is home to a distinct distinctive people, at this pass. Photographers love Chandrakhani Pass because it provides a good vantage point from which to view the area's notable peaks, such as the Pir Panjal, the Parvati chain, and the Deo Tibba.
#6 Vashisht Hot Water Springs
Vashisht Hot Water Springs, across the Beas River from Manali, is located at a distance of 5 km. The settlement of Vashisht is well-known for its thermal baths and is a popular tourist destination. At the Turkish bath homes, you may peacefully take in the springtime. The stone temples in this village, which are dedicated to the local saint Vasistha, are also well-known.
#7 Hidimba Devi Temple
One of Manali's most well-known and revered temples is the Hidimba Devi Temple, often referred to as the Dhungiri Temple. This wooden temple is devoted to Devi Hidimba, a figure from the Mahabharata, and is located in the center of Dhungiri Van Vihar forest. Many travelers stop there all year long while traveling to Kullu Manali. Additionally, it is a magical and serene location that is great for picnics. In the nearby pine forest, one can unwind.
Recommended Articles
We hope that this EDUCBA information on "Tourist Places in Kullu Manali" was beneficial to you. You can view EDUCBA's recommended articles for more information,