Places in Durgapur: A Traveler's Guide
If you're a true travel enthusiast, you understand that the essence of exploration lies in discovering the heart and soul of every place you visit. Durgapur, a charming town nestled in the bustling state of West Bengal, offers a unique blend of tradition and modernity that beckons the adventurous at heart. In this guide, we'll take you on a journey through Durgapur, uncovering its cultural heritage, mouthwatering cuisine, and captivating attractions that make it a hidden gem in India.
Durgapur: Where Tradition Meets Modern Comforts
Durgapur is the perfect destination for those seeking to immerse themselves in Indian traditions while enjoying modern conveniences. This town beautifully balances contemporary comforts with timeless pleasures, creating an unforgettable experience. As you explore Durgapur, you'll find yourself capturing memories through your lens, embarking on thrilling adventures, and savoring the flavors of its delectable cuisine.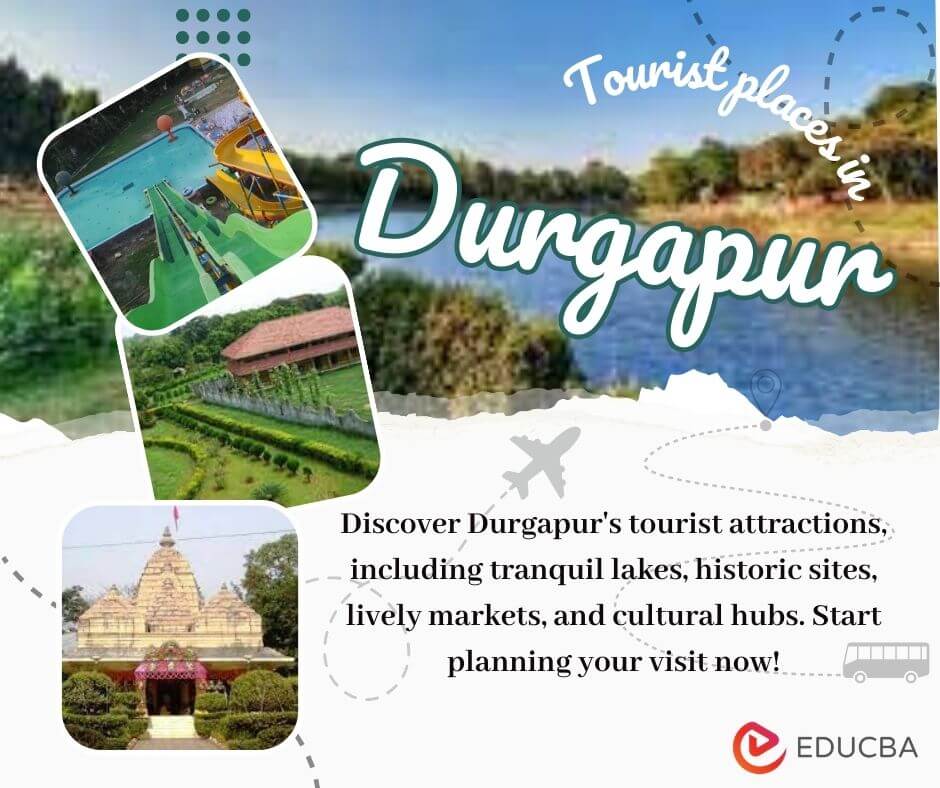 Top Tourist Destinations in Durgapur
Let's take a delightful journey through Durgapur's top tourist destinations, ensuring your visit is brimming with remarkable experiences and friendly encounters.
Bhabani Pathak's Tilla: A Historical Marvel
Bhabani Pathak's Tilla, a small, elevated area located in Durgapur's Science and Energy Park, boasts historical significance. The tunnels mentioned in Bankim Chandra Chattopadhyay's novels have made this location one of Durgapur's top attractions. It's now a protected monument that offers scenic beauty and historical insights. Visitors can explore the area for a nominal fee but be cautious while venturing into less familiar territories.
Durgapur Barrage: A Structural Marvel
Durgapur Barrage is not just a visual treat but also serves a critical purpose in controlling the flow of the Damodar River. This architectural marvel provides stunning views and, if you have the time, the opportunity to enjoy the riverbank at dusk. The barrage is an emblem of engineering prowess and allows visitors to connect with nature.
Durgapur Steel Plant: A Modern Industrial Wonder
The Durgapur Steel Plant, a testament to India's industrialization, is a must-visit for engineering enthusiasts. It's a sprawling complex filled with cutting-edge machinery, making it an ideal place for learning and exploration. While the plant is not open to the general public, reaching out to staff members for a visit can be a rewarding experience.
Deul Park: Where Nature Meets History
Deul Park, located in the Durgapur suburbs, offers a serene setting and a rich historical backdrop. This area, now transformed into a popular tourist destination, is an excellent place to learn about local folklore and indigenous cultures. The park's tranquility and rustic charm add to its allure, making it a perfect destination for those seeking a getaway.
Garh Jungle: A Mythological Gem
Garh Jungle, known as Raja Surath's Dharma Garh, is steeped in Hindu mythology. It's a place where the first Durga Puja was organized, as documented in Shri Shri Chandiand Markandeya Purana. The temple complex within the jungle offers a glimpse into ancient history and the region's significance.
Ram Mandir: A Spiritual Retreat
Durgapur's Ram Mandir is a stone temple dedicated to Lord Rama, known for its intricate carvings and vibrant sculptures. The temple radiates an aura of spirituality and offers solace to those seeking blessings. Remember to pay your respects when you're in Durgapur.
Troika Park: Fun for the Whole Family
Traveling with children? Troika Park in Durgapur is a haven for kids with its toy train ride, water sports, and boat cruises. This adventure park promises fun and excitement for the young and the young at heart. Spend quality time with your little ones and experience pure joy.
Kumaramangalam Park: Nature's Oasis
Kumaramangalam Park, known for its lush greenery, musical fountains, and serene pond, is a delightful place for both adults and children. It's the perfect spot to unwind, enjoy nature, and create lasting memories with your family.
Benachity: Shop and Explore
Benachity, a bustling market in Durgapur, is a treasure trove of indigenous adornments and crafts. From souvenirs to handicrafts, you'll find an array of items to take back home. The market preserves the simplicity and charm of Durgapur, making it a must-visit for shoppers.
Rarheswar Shiv Mandir: A Thousand-Year-Old Gem
The Rarheswar Shiv Temple symbolizes ancient history, dating back a millennium. This religious site is known for its massive Shiv Linga and rich heritage. Explore the temple's architecture and delve into its historical significance.
Shiv Shakti Dham: Modern Spirituality
Shiv Shakti Dham, a recently opened Hindu temple in Gopalmath, offers a blend of spirituality and modern amenities. The temple features a peaceful ambiance and a unique water feature. It's a place to find solace and connect with your spiritual side.
City Centre: The Heart of Durgapur
Durgapur's City Centre is a bustling hub that houses malls, retail centers, theaters, and eateries. This cosmopolitan arcade is a magnet for locals and visitors, providing a vibrant and dynamic atmosphere. Exploring the City Centre is a great way to experience the contemporary side of Durgapur.
How to Reach Durgapur
The nearest airport to Durgapur is Kazi Nazrul Islam Airport, also known as Durgapur Airport. It's approximately 15 kilometers from the town. While the airport is relatively small, it offers domestic flights, primarily connecting Durgapur to other major Indian cities.
From major Indian cities:
You can book a flight to Kazi Nazrul Islam Airport from major Indian cities like Kolkata, Delhi, and Mumbai. Upon arrival at the airport, transportation options such as taxis are readily available to take you to the heart of Durgapur.
Durgapur is well-connected by road, making it accessible by bus and private vehicles.
From Kolkata:
The most common route to Durgapur is from Kolkata, the capital of West Bengal. You can opt for a bus journey, which is quite comfortable and affordable.
The distance between Kolkata and Durgapur is around 170 kilometers, and the journey typically takes 3 to 4 hours.
Numerous private and state-run bus services operate on this route.
From other cities in West Bengal:
Durgapur is connected to various cities and towns in West Bengal by an extensive road network. You can choose to drive or take a bus from nearby places.
From other states:
If you're traveling from other states, you can reach Durgapur by road via well-maintained national highways. Plan your route based on your location and the distance you must cover.
Durgapur is a significant railway junction and is well-connected to various parts of India by train.
From Kolkata:
If you're traveling from Kolkata, you can catch a train from Howrah or Sealdah Railway Station.
There are multiple daily trains connecting Kolkata to Durgapur, making it a convenient option.
From other major cities:
Durgapur is also accessible by train from other major cities in India. You can check the train schedule and availability from your location to Durgapur.
Once you arrive at Durgapur Railway Station, you'll find local transportation options like taxis and auto-rickshaws to take you to your desired destination within the town.
Famous Cuisines in Durgapur
Bengali Cuisine:
Bengali cuisine is renowned for its distinctive flavors and extensive use of spices and aromatic herbs. When in Durgapur, savor some of these classic Bengali dishes:
Machher Jhol: A flavorful fish curry made with various spices and vegetables, often served with steamed rice.
Luchi and Cholar Dal: Deep-fried bread served with a delectable chana dal curry, a popular Bengali breakfast or snack.
Shorshe Ilish: Hilsa fish cooked in mustard-based gravy, a Bengali delicacy that's a must-try.
Rosogolla: A famous Bengali sweet made from cottage cheese and soaked in sugar syrup, offering a burst of sweetness in every bite.
North Indian Cuisine:
North Indian cuisine has its presence in Durgapur, offering a range of comforting and flavorful dishes, including:
Biryani: Enjoy aromatic and flavorful biryani with tender pieces of chicken, mutton, or vegetables, often accompanied by raita.
Butter Chicken: A rich and creamy tomato-based curry with succulent pieces of chicken, best paired with naan or roti.
Paneer Dishes: Vegetarians can relish paneer butter masala, palak paneer, or other paneer-based curries.
Street Food:
Durgapur has its share of delightful street food options. Some favorites include:
Jhalmuri: A spicy and tangy puffed rice snack mixed with various ingredients like peanuts, spices, and chopped vegetables.
Puchka (Pani Puri): Hollow, crispy puris filled with a mixture of tamarind water, spiced potatoes, and chickpeas, a street food favorite.
Chowmein: Satisfy your noodle cravings with Indian-style chowmein, available with an assortment of toppings and sauces.
Continental and Fast Food:
If you're in the mood for international flavors or fast food, you can find options like pizza, burgers, and more in Durgapur.
Local Sweets:
Bengali sweets are famous throughout India, and you can only leave Durgapur after trying some local sweets. Apart from rosogolla, indulge in sweets like sandesh, rasgulla, and mishti doi (sweet yogurt).
Regional Delicacies:
Durgapur offers its regional specialties, and it's worth exploring local eateries to discover unique flavors. Feel free to try dishes you've never heard of before.
Conclusion
In conclusion, Durgapur is a multifaceted destination that combines tradition, modernity, history, and nature. With a wealth of attractions to explore, it promises an enriching and memorable travel experience. So, pack your bags and start on a journey to discover the hidden treasures of Durgapur, where every moment is an adventure waiting to unfold.
Recommended Articles
We hope that this EDUCBA information on "Tourist Places in Durgapur" was beneficial to you. You can view EDUCBA's recommended articles for more information,