Updated May 29, 2023
Daman Tourism
Daman has a range of tourist attractions, each with their unique appeal. There are numerous captivating locations, ranging from the oldest churches to lovely parks and ancient museums, that can make your trip a dream vacation. In addition, it has the oldest chapels and cathedrals, which amaze guests with their enticing architecture and tranquillity. Let's explore a few Tourist Places in Daman.
Tourist Places in Daman
State: Union Territory Of Daman & Diu
Location: Situated on the banks of the Daman Ganga River
Area: 102 Square Kilometres
Famous For: Colonial Architecture and Beaches
Distance From Gujrat: 520 Kilometres (8.5 Hours approx.)
Distance From Mumbai: 177 Kilometres (3 Hours approx.)
#1 Moti Daman Fort
The Portuguese built the Moti Daman Fort, a well-known Tourist Places in Daman, in the sixteenth century. The colonial-style fort with its large walls, 10 bastions, 2 entrances, and Iberian chapel continues to attract tourists as one of the greatest destinations in Daman despite its worn out state and need for restoration.
Address: Moti Daman, Daman, Dadra and Nagar Haveli and Daman and Diu 396220
Map: Google Map
#2 Mirasol Lake Garden
You should visit Mirasol Lake Garden. The green carpet covers the garden, which is one of the top tourist destinations in Daman for its love affair with nature and is completely filled with many trees. The tranquillity and peace of the location allow you to enjoy quality time with your loved ones and participate in entertaining activities. There is also a toy train in the park that takes children on an exciting tour of the main sights of the garden. You can take your family here for an enjoyable outing or a happy picnic.
Address: Bhimpore, Marwad, Dadra and Nagar Haveli and Daman and Diu 396210
Map: Google Map
#3 Jampore Beach
Jampore Beach entices tourists with its quiet surroundings and beautiful vistas. It stands out from all other beaches due to its mud-colored water. Jampore Beach is renowned for its abundance of adventure activities, captivating views of the vast Arabian Sea, and a tranquil setting to help you escape the busy city life.
Address: Dadra and Nagar Haveli and Daman and Diu
Map: Google Map
#4 Somnath Mahadev Temple
Somnath Mahadev Temple, devoted to the Hindu god Lord Shiva, is one of Daman's most popular tourist destinations. The construction of the shivling considered the main focus of spiritual offerings in the temple complex, occurred in the late 19th century. Every year, a fair held here draws thousands of worshippers. It is best to schedule your trip to Daman during this fair because the atmosphere is completely different.
Address: Bhiwadi Road, Moti Daman, Daman, Dadra and Nagar Haveli and Daman and Diu 396220
Map: Google Map
#5 Cathedral of Bom Jesus
Daman is home to many Catholics because of its close ties to Portugal, making the Cathedral of Bom Jesus one of the city's most popular tourist attractions. The spectacular altarpieces and artistically carved entrances transform this cathedral into God's residence. Constructed in 1603, this cathedral remains a sturdy structure today. People flock to the cathedral on weekends to end their suffering and participate in mass prayers.
Address: Managerial Rd, Fort Area, Moti Daman, Daman, Dadra, and Nagar Haveli and Daman and Diu 396220
Map: Google Map
#6 Dominican Monastery
A catholic monastery once stood where the Dominican Monastery now stands. In addition, this monastery served as the center for theological research, drawing academics from worldwide. Visitors will find the engravings on the main altar to be a visual marvel, and the walls of this monastery are also decorated with other exquisite paintings. Daman recognizes it as one of the top tourist destinations because of its haunting story of decline and fall.
Address: Rua Martim Afonso, Fort Area, Moti Daman, Daman, Dadra and Nagar Haveli and Daman and Diu 396220
Map: Google Map
#7 Church of Our Lady of Sea
The Church of Our Lady of the Sea, one of Daman's most renowned places of worship, is also a top tourist destination. The church inside St. Jerome Fort, renowned for its superb architecture and an enormous statue of St. Jerome conducts healing prayers every morning and evening that can address even the biggest concerns and issues. Tourists might spend some time beside the Daman Ganga river and visit the cathedral to enjoy the tranquillity of nature.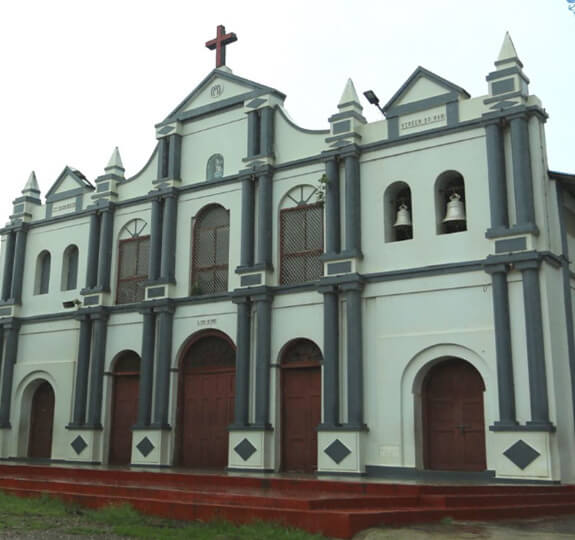 Address: Dhamane, Daman, Dadra and Nagar Haveli and Daman and Diu 396210
Map: Google Map
#8 Devka Beach
Another well-liked beach in the area is Devka Beach, renowned for its expansive shoreline, exciting activities, and serene atmosphere. One of Daman's busiest tourist destinations, it draws many visitors each year who come to soak in the warm weather, unwind on the beach beds, and eat delicious fare from the well-liked shacks lining the beach. Due to the large boulders present underwater, swimming at this beach is not recommended, but you may certainly enjoy sunbathing and fishing along its shoreline. It also features an amusement park along the shoreline where all the festivities come together. A musical fountain is organized close to the beach in the evenings for your enjoyment.
Address: Dadra and Nagar Haveli and Daman and Diu
Map: Google Map