Updated May 26, 2023
Nainital – Vacation Destination
One name stands out above the rest regarding hill stations and vacation destinations: Nainital. The town is well-known for its numerous natural attractions and pleasant climate throughout the year. With breathtaking views from every angle, this hill station is a popular weekend getaway for residents of the valley. March to May and December to February are ideal for visiting Nainital. The hill station receives snowfall from December to February, when most tourists visit. Let's explore the top Tourist Places in Nainital.
Best 8 Tourist Places in Nainital
#1 Naini Lake
Naini Lake is the most well-known tourist destination in Nainital. It reflects the color of its beautiful surroundings. The lake, shaped like a pear, attracts many tourists who enjoy boating, paddling, or yachting. One can walk from one end of the lake to the other while enjoying the sunset, which is both peaceful and dynamic. The lake has seven lush green hills and has captured many people's hearts!
Location: Ayarpatta, Nainital, Uttarakhand 263002
Map: Google Map
Famous for: Picnic & boating
Entry fee: INR 100
Things to Do:
Picnic Spot
Boat Riding
Visit the Naina Devi Temple
#2 Naini Peak
The Naini Peak offers a spectacular panoramic vision of the snow-capped Himalayas and an excellent view of Nainital city. The peak, also recognized as China Peak or Cheena Peak, is famous for horse riding and trekking in Nainital. Wake early in the morning and climb up to this high point for a breathtaking view of the sunset you'll never forget; as a bonus, the crowds are almost non-existent during this time, allowing you to relax in the lap of nature.
Location: Nainital, Uttarakhand 263001
Map: Google Map
Famous for: Trekking, amusement rides, excellent views
Entry fee: NA
Things to Do:
Get a view of Naini Lake
Hiking
View sunrise or sunset
#3 The Mall Road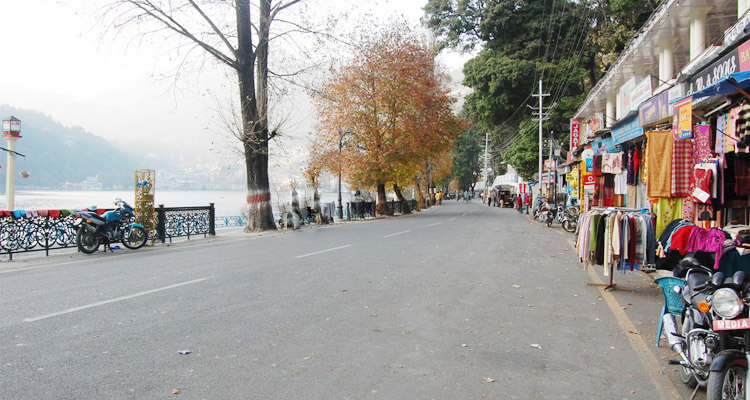 Mall Road is one of the finest shopping areas in Nainital. A shopaholic's dream, one could spend hours here. There are numerous street shops, shopping centers, hotels, banks, and restaurants along the road. It is an ideal destination because it has everything a tourist could want and a stunning vibe!
Location: Mall Road, Nainital, Uttarakhand
Map: Google Map
Famous for: Shopping, street food, authentic winter products
Entry fee: NA
Things to Do:
Street Shopping
Street food
#4 Gurney House
Gurney House is a historical landmark in the Nainital district that is one of the most fantastic tourist attractions in Nainital in December. This colonial beauty, now a luxury resort, was the former residence of hunter-conservationist and writer Jim Corbett. It is next to Nainital Lake, providing magnificent views of the lake and its verdant surroundings.
Location: Ayarpatta, Nainital, Uttarakhand 263002
Map: Google Map
Famous for: History and Colonial architecture, nature
Entry fees: NA
Things to Do:
Experience the lifestyle and habitat of Jim Corbett
Collect leaf specimens
#5 Jeolikot
One of the best places to visit in Nainital is Jeolikot. Jeolikot is commonly known as a 'gateway to Naini Lake.' The horticulture department oversees this place, which has a variety of butterfly and flora species. The serene, as well as the potential for nature walks and outdoor adventures, make it an ideal vacation destination. The landscape, distinguished by its streams and forests primarily of pine trees, makes it a superb location for photographers.
Location: Nainital Rd, Uttarakhand 263127
Map: Google Map
Famous for: Adventure activities, nature photography, shopping
Entry fees: NA
Things to Do:
Bird Watching
Horticulture
#6 Land's End
The Land's end is a viewpoint in Nainital close to Barapathar that is 2118 meters above sea level. This location provides a magnificent view of the plains and stunning Khurpa Tal. From the pinnacle, the lake appears surrounded by pine forests and village settlements. The fascinating name 'Land's End' is appropriate for this location, as it was initially a cliff. This location is also ideal for a Nainital vacation.
Location: Barapathar, Ayarpatta, Nainital, Uttarakhand 263002
Map: Google Map
Famous for: Pine forests and lake, nature
Entry fees: NA
Things to Do:
Trek to Naina peak
Pony Rides
Scenic views of Khurpa lake
#7 Kilbury Bird Sanctuary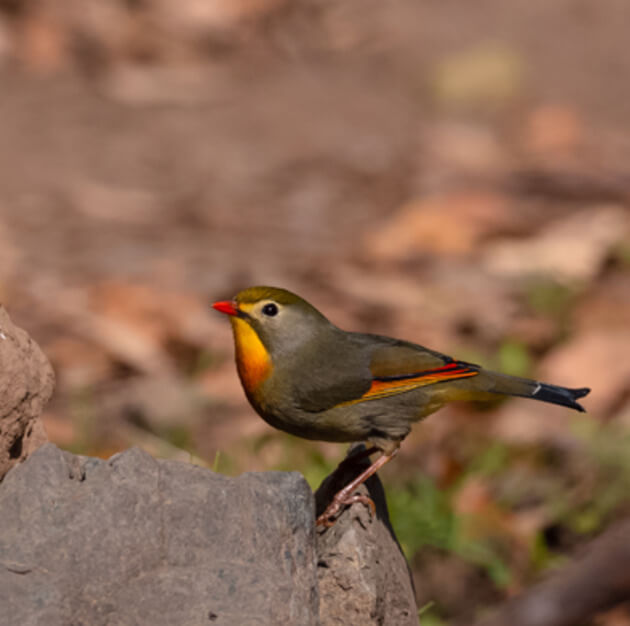 One of India's few high-altitude bird sanctuaries, the Kilbury Bird Sanctuary, is at 2000 meters above sea level. The sanctuary is home to over 240 distinct bird species, both resident and migratory. The refuge is in Pangot, a scenic forest village.
Location: Village Pangot, Budhlakot, via Kilbury Road, Uttarakhand 263001
Map: Google Map
Famous for: Nature, trekking, Rare and endangered bird species
Entry fee: INR 20
Things to Do:
Trekking
Birdwatching
Try out the local cuisines
#8 Tiffin Top
This site, also known as Dorothy Seat, was created in remembrance of painter Dorothy Kellet and gave spectacular scenery of the Nainital and Himalayas. It offers stunning views of the city. Tiffin Top, located at an altitude of 2290 meters, is a popular picnic spot in Nainital.
Category: Sightseeing
Location: Ayarpatta, Nainital, Uttarakhand 263002
Map: Google Map
Famous for: Hiking, Stunning views, sightseeing
Entry fees: NA
Things to Do:
Hiking
Sunset and sunrise views
Horse riding
Final Thoughts
This article on Tourist Places in Nainital was everything about the tourist attractions in Nainital. From March to June, the summer/spring season is the best time to visit Nainital. Consider the weather when planning your activities and schedule. Some routes may be closed due to excessive snowfall, so plan your journey appropriately. Keep hydrated by drinking water, tea, or a hot drink. Carry mufflers, shawls, and gloves with you to keep warm.
Recommended Articles
We hope that this EDUCBA information on "Tourist Places in Nainital" was beneficial to you. You can view EDUCBA's recommended articles for more information,