Updated June 8, 2023
Surat, The Diamond City
Nestled by the lazy meander, hotels at Surat are usually found along the commercial districts or the second largest west-flowing river in India, Tapti. Tourists can opt for a choice of living at the heart of the cleanest city in India, escaping to the watery views and river breezes. Surat, being the commercial hub right from silver & diamond to silk & printing is a perfect slice of Western India. Many beautiful sights are a 'not-miss place' when you visit Surat. These include 16th-century Surat Castle, the New Textile Market, and the colonial-era British, Dutch, and Armenian cemeteries. These spectacular places are feasible when you stay in the center of the city at these extravagant top hotels in Surat.
Top Hotels in Surat
Here are some famous and luxurious Top Hotels in Surat.
#1 Budget Inn Bellevue
The Budget Inn Bellevue, sited between two bends in the commercial area in the meandering Tapti River is well-known for its authentic exemplary services to the visitors. All staff here are friendly and happy to serve. Tie-wearing receptionists will fulfill your breakfast wish, whether you prefer a fried egg or an authentic Gujarati local breakfast. Business travelers can comfortably stay in the ensuite rooms because of the nearby textile markets and diamond hubs.
Address: Sumul Dairy Rd, opposite New Railway Parcel Office, Suryapur Gate, Varachha, Surat, Gujarat 395008
Facilities and Amenities: These rooms feature essential amenities such as a king-size bed, flat-screen TV, and fridge.
Nearby Attractions: The Dutch Cemetery, Zaverchand Meghani park, English Cemetery.
#2 Courtyard by Marriott
Courtyard by Marriott hotel is widely known for its lavish decor. The hotel is trustworthy and cooperative for families and regular travelers. The extravagant hotel welcomes its visitors with a fresh bouquet in a contemporary style and aesthetic amenities with contemporaneous vibes. When you step in you will notice the elegant turquoise and white seating on the Charcoal barbecue restaurant's pool terrace. A cafe named Café Coco is also there whose appealing touches abound with swirly carpet.
Address: Earthspace, Hazira Rd, Surat, Gujarat 394510
Facilities and Amenities: The relaxed dining environment of the Bistro is quite soothing and adorable. The poolside installations and the ceiling at the reception- all of these make the stylish courtyard a great place to stay at.
Nearby Attractions: Sabarmati Riverfront, Kankaria Lake, Manek Chowk
#3 Surat Marriott Hotel
Surat Marriott Hotel is mostly famous for its exceptional on-site dining. Situated across the beautiful Tapti river, this spectacular five-star hotel is a well-equipped heaven in the second-largest city of India. A sumptuous accommodation meandering from exclusive rooms to signature suites.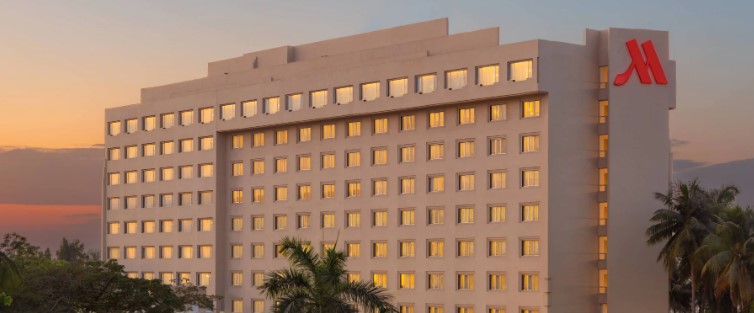 Address: Ambika Niketan Road, Athwalines, Athwa, Surat, Gujarat 395007
Facilities and Amenities: The hotel is best for sunny days, lounging by the palm-shaded pool with Spa or drinking coffee and reading books in the palliative environment. One has a choice of dining in Indian, international, and Asian restaurants.
Nearby Attractions: ISKCON Temple, Amaazia Water Park, Gopi Talav.
#4 Hotel Orange International
We all know the Orange color (Keshari rang) is a prominent color for Gujarat's rich society, where more than 60 million people reside. This crafty business hotel makes sure to make the stay of the tourists smooth so that one would cherish the beautiful city.
Address: Railway Station main road Opp 21st Century Hospital, near Mohan Mithai, Surat, Gujarat 395003
Facilities and Amenities: a kitchenette, air conditioning, and a flat screen TV
Nearby Attractions: Nearby attractions include Ramji Damodar Bhajiyawala (1.2 km), Rangoli Dress Mart (0.9 km), and Shree Sai Ganesh Yuvak Mandal.
#5 Hotel Sifat International
Hotel-Sifat is a 3-star hotel located at a distance of 16.1 km from the Surat Airport and a 2 minutes walkable distance to the railway station. One can also opt for a paid airport shuttle service. There are various dining options for the guest- either buffest or continental as per convenience. The hotel is predominantly known for its cleaned and perfumed rooms.
Address: Surat Railway Station, Railway Station Main Road, Surat, Gujarat 395003
Facilities and Amenities: The rooms are air-conditioned with free Wi-fi, a seating area, flat-screen TV with satellite channels, and a private bathroom.
Nearby Attractions: Nearby attractions include Rangoli Dress Mart (0.9 km) and Shree Sai Ganesh Yuvak Mandal – 1976 (1.2 km).
#6 Lords Plaza
Lords Plaza, located at the Ring road is mostly known for its luxurious quality services. They are fantastically adorned and all have comfy seating areas and private bathrooms. Restaurants here serve Indian, Chinese, and Western dishes. Laundry and currency exchange services are also obtainable on request. A separate facility has been constructed to accommodate the specific needs of disabled guests.
Address: Ring Road, Delhi Gate, Delhi Gate, Surat, Gujarat 395003
Facilities and Amenities: Modern amenities and luxurious facilities, such as a rooftop swimming pool, fitness center, and tour desk, equip the lavish rooms. Guests receive free Wi-fi in all rooms. The air-conditioned guestrooms feature a flat-screen satellite TV, minibar, and safety deposit box.
Nearby Attractions: This laid-back hotel is 9 minute walk from Surat train station, 3 km from the 16th-century Surat Castle, and 9 km from Sneh Rashmi Botanical Garden.