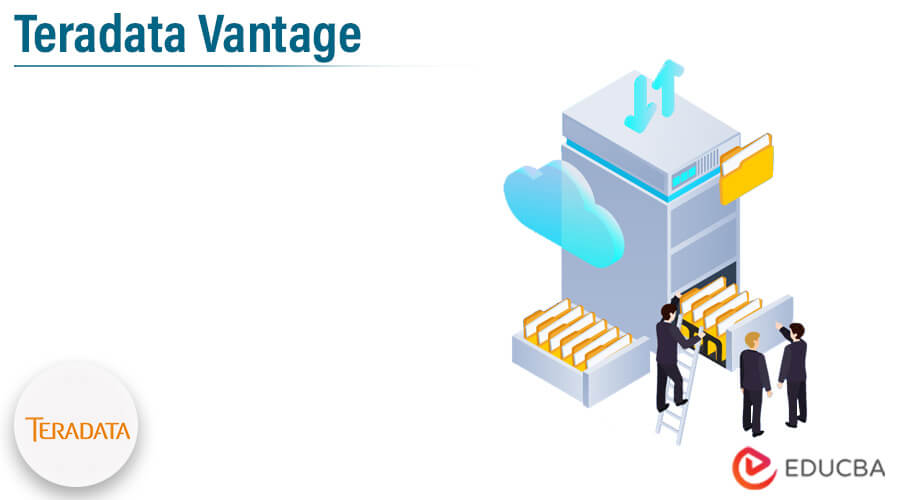 Introduction to Teradata Vantage
Teradata Vantage is nothing but the connected cloud platform for analytics which unifies analytics, data warehouse, and types. When leading with the environment of multi-cloud, Vantage and flexibility price will deliver the intelligence to build the business. While emerging advanced use cases of explosion and analytics of various types, it will be helpful in Teradata vantage. Therefore, Teradata vantage is very useful and essential in the Teradata database.
What is Teradata Vantage?
The requirement of operationalization is still another degree of complexity, which might be crucial for data-driven and analytics-driven decision-making.
Data scientists are compelled to apply various data science methodologies due to emerging advanced analytics use cases and the expansion of numerous data sources.
Various user languages, such as R, Python, SQL, Scala, and others, as well others, are used in conjunction with multi-genre analytics that spans statistical, text, machine learning, and artificial intelligence.
Teradata has developed Teradata Vantage, an advanced analytics platform, to address these issues and provide evolutionary techniques with revolutionary results.
It is an analytics platform that combines open source and commercial analytic technologies to operationalize insights, solve complex business challenges, and provide descriptive, predictive, and prescriptive analytics to enable autonomous decision-making.
It provides the most potent analytic algorithms and languages, and multi-data type compatibility, all backed by an industry-leading database.
It contains the cross-engine layer; this pipes the correct data and analytic requests to the right analytical engine over a high-speed data fabric as a unified analytic and data framework.
It integrates analytic engines with the data. This eliminates the need to transport data, allowing users to analyze and run models more often.
Teradata has incorporated analytic functionalities that provide high-speed analytics processing, which is necessary for operationalizing analytics.
It is business-comprehensive, with the highest availability and data platform resilience.
The SQL Engine is a decision-making engine. It controls the data warehouse environment and handles complex data requirements with a parallel solution that distributes automatically.
It is the flagship product derived from the Teradata Database, which is the industry leader. The name Teradata Database is synonymous with Teradata Vantage.
RDBMS system, the SQL Engine's support for query and workload parallelism, allows for improved speed and throughput levels.
The Teradata BYNET adds node connectivity capabilities to the SQL Engine, allowing for increased scalability.
Teradata Vantage Cloud Data Platform
Bynet InfinibandTM networks, interfacing to form a loosely coupled, massively parallel processing (MPP) architecture administered as a single system. In Teradata systems, this method lays the groundwork for linear scalability.
More is required in this hybrid multi-cloud world. There is more liberty. There is a greater variety of options. A greater degree of flexibility. And so should the software that runs our data analytics platform. That's why Vantage gives modern organizations the power and flexibility they demand, with more control, lower risk, and no lock-ins.
The platform of cloud data in Teradata vantage in today's data-driven world for understanding what is happening in the organization and why it is happening and what is likely to occur in the future, and what the organization should be doing right now itself for success.
While cloud fervor is understandable, keeping things in perspective is critical. In other words, analytics' primary goal is to provide greater insight so that better decisions can be made to improve business outcomes.
The presence of cloud analytics does not imply that a company is developing the optimal data models to describe its whole operation. Likewise, having cloud analytics does not always imply having the correct data to solve complex questions and provide valuable insights.
Rapid deployment, scalability, and opportunity are all advantages of cloud services. Teradata Vantage also makes it simple to move users to different clouds anytime, simplifying operations and reducing risk.
Teradata Vantage Google Cloud
Teradata vantage google cloud allows companies to produce answers that matter using any tool, language, and data.
Teradata Vantage google cloud is large-scale analytics on Google Cloud.
It delivers secure, scalable, single-tenant settings in which Teradata configures Google Cloud, allowing customers to focus on their business rather than their IT.
Consuming as a service allows consumers to get up and running quickly while scaling as their needs change.
Below are the services of the comprehensive infrastructure of Teradata vantage google cloud platform:
Monitoring of system
Maintenance of system
Provisioning assistance
Assistance in onboarding
Management of patching
Upgrade of software
Data encryption
Daily backups
Vantage's as-a-service consumption was built to provide corporate benefits in multiple essential areas.
Teradata vantage google cloud is always on analytics. No other solution comes close to matching its throughput and reaction times.
Provisioning and maintaining as-a-service systems for clients, Teradata prioritizes security. Vantage is built to fulfill stringent international requirements like CCPA, GDPR PCI, and many more.
Teradata contractually guarantees vantage uptime in the cloud of Google. As a result, business analytics will be more productive and satisfied; Teradata Service Level Agreement guarantees 99.9% uptime.
Teradata Vantage Advanced
Teradata vantage takes care of infrastructure responsibilities like software patches, version upgrades, daily backups, user management, performance reporting, and support ticket resolution, so customers can concentrate on running their businesses.
It provides security and performance enhancements over prior versions. TIWM, a robust workload management tool, is included in the advanced tier. Rapid, low-risk migration is made possible by software consistency between deployments.
It is the quickest way to scale for challenging business problems. Full integration with favourite tools and languages as well as data sources.
Teradata Premier Cloud Support is included in our subscription and access to Teradata Data Stream Controller, Teradata Ecosystem Manager, Teradata Query Service, Teradata Server Management, and Teradata Viewpoint.
Using Teradata vantage storage data is possible with Amazon S3. We can store the data on the Amazon S3 bucket.
Teradata Premier Cloud Support is included subscriptions and allows us to respond fast. It offers 24-hour problem resolution, coverage, and response times based on software update entitlement.
Teradata Vantage, the Pervasive Data Intelligence platform, deliver answers that matter using any tool, any language, and all of their data.
Conclusion
Teradata vantage contains the cross-engineer layer that pipes data and analytic requests to the right analytical engine over high-speed data fabric as a unified analytic and data framework. It is nothing but a connected cloud platform for analytics that unifies analytics, data warehouse, and types.
Recommended Articles
This is a guide to Teradata Vantage. Here we discuss the introduction, cloud data platform, and Teradata vantage advanced. You may also have a look at the following articles to learn more –