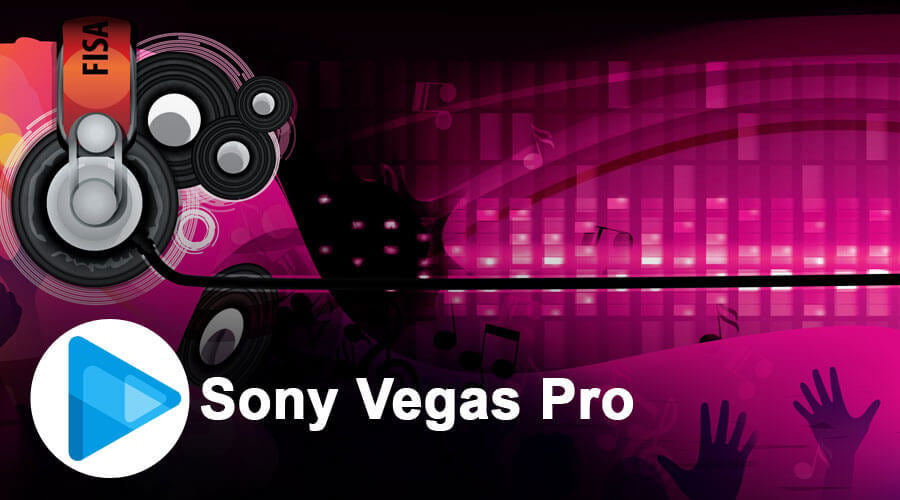 Introduction to Sony Vegas Pro
Vegas Pro is a video editing application introduced by Sonic Foundry, then by Sony Creative Software, and presently owned and developed by Magix. Vegas Pro is a Non-linear video editing (NLE) software. NLE is a type of video editing in which the video from an analog or digital source can be transferred to the hard disk and enable to cut or edit there in any order or non-linearly. It is one of the biggest names in video editing software, and it's been used for years to create films, TV shows, music albums, etc. Also, it's an entry-level cost software with some good editing features and certain plugins that can be attached to improve the performance. Since it's relatively cheaper software, many people, including beginners to professionals, are using it.
The purpose of recording, playing, and storing moving visuals through an electronic medium is known as video technology. Video editing is the process of editing segments of motion, arranging video shots, and adding special effects to the recorded video. Video editing has been intensely established in recent years with the arrival of different editing software.
Sony Vegas Pro For Free Versions
Sony Vegas Pro was introduced in the year 1999 by Sonic Foundry, and this 1st version was called Vegas Beta. It was a multi-track media editing system. The next version of Vegas pro was launched in the same year itself, and it was version 1.0. After that, a total of 19 versions of Vegas pro were released, and the latest of the list was Vegas pro 16.
Different versions of Vegas Pro, which are available for download, are listed below:-
Vegas Pro 13
Vegas Pro 14 suit
Vegas Pro 14
Vegas Pro 14 edit
Vegas Pro 15 suit
Vegas Pro 15
Vegas Pro 15 edit
Vegas Pro 16 suit
Vegas Pro 16
Vegas Pro 16 edit
The official versions of these software packages are not available for free. You have to pay for downloading this software from the official website. But they are providing a 30 days trial version of sony vegas pro for free of cost. You can download the sony vegas pro for free versions from the official website ( vegascreativesoftware.com ). The only problem with the trial version is, it will create a watermark in the end product.
You can see downloading links of free versions of Vegas pro on some private websites, but these are unofficial and providing cracked versions, and it is not ethical to use such cracked versions. It will always be better to download or buy the software directly from the official websites or dealers.
User Community of Sony Vegas Pro
Sony Vegas Pro is a videos editing software featured for professionals who create HD videos. Even it is made with professional tools and the latest technologies; this software is very user-friendly and perfect for beginners.
Sony Vegas Pro is used by beginners to professionals for various applications like short video editing to feature filmmaking. Nowadays, video editing is a common trend, and it is possible even with a smartphone. Many video playing applications are available on our phones, and people want to upload their own edited videos. Sony Vegas Pro is software that allows users to edit their videos and look attractive.
Many feature films in Hollywood were edited using Sony Vegas Pro. "Paranormal Activity" is one of the famous and most popular Hollywood movies edited using Sony Vegas Pro.
Learning Sony Vegas Pro for Free
Many online and offline tutorials are available for learning Sony Vegas Pro software. In online tutorials, both paid and free tutorials are available. In addition, Magix Software Company itself provides official tutorial videos. This is available on their official website, and it is a paid tutorial.
Many free online video tutorials are offered for the basic and advanced learning of Sony Vegas Pro for free. You can find a large number of tutorial videos on YouTube itself. You can also find Sony Vegas Pro tutorials on different online websites.
System Requirements of Sony Vegas Pro
System specifications required for installing and working Sony Vegas Pro software is mentioned below:-
Operating system: Microsoft Windows 7 (64-bit), Windows 8 (64-bit) or Windows 10 (64-bit)
Processor: 2.5 GHz 4-core processor (3 GHz and 8 cores recommended for 4K)
RAM: 8 GB RAM minimum (16 GB recommended; 32 GB recommended for 4K)
Hard drive space: 1.5 GB hard-disk space for program installation; Solid-state disk (SSD) or high-speed multi-disk RAID for 4K media
Graphics card: Supported NVIDIA: For hardware rendering (NVEnc), GeForce 9XX series or higher with 4 GB; AMD/ATI: Radeon with 4 GB and VCE 3.0 or higher (Radeon Pro series with 8 GB for HDR and 32-bit projects) or Intel: GPU HD Graphics 530 series or higher.
Sony Vegas Pro For Students
As we already discussed, Sony Vegas Pro is a user-friendly and simple video editing software that is very suitable for beginners and students interested in this field. Student versions or light versions of Sony Vegas Pro are not available. Also, Sony is not providing any offers or discounts to students for buying the software. However, students can use the 30-day trials of Sony Vegas Pro For free for basic learning and get in touch with the software.
Conclusion
As we already discussed, Sony Vegas Pro is a video editing software package that has all the tools you need to make high-quality professional videos. Vegas Pro becomes the first choice of a video editor with its simple and easy user interface and powerful performance. As compared to other video editing software, Vegas Pro is cheaper and cost-effective. You will get free trial versions for experiencing the software. Vegas Pro for Windows provides a lower‑cost alternative to its main rivals, with some great audio functionality that can't be found in other Non-Linear Editing Systems. Offering support for many of the exciting features and formats at this price point makes Sony Vegas Pro 10 a reasonable budget choice.
Recommended Articles
This has been a guide to Sony Vegas Pro for free. Here we discuss the concept and uses along with the system requirements and different versions of Vegas Pro. You can also go through our other suggested articles –