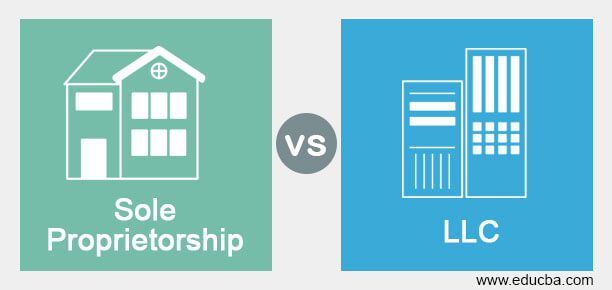 Difference between Sole Proprietorship vs LLC
The following article provides an outline for Sole Proprietorship vs LLC. A sole proprietorship means a single person's business with no difference between the person and the business, not involving many legal issues. LLC is a US term for private limited companies having Limited Liability. Sole proprietorship and LLC ( Limited Liability Company) are the most common forms of small business. Before choosing any form of these small business one needs to analyze the financial and legal requirements of both the business.
Head to Head Comparison Between Sole Proprietorship vs LLC (Infographics)
Below are the top 9 differences between Sole Proprietorship vs LLC:

Key Differences Between Sole Proprietorship vs LLC
Let us discuss some of the major key differences between Sole Proprietorship vs LLC:
In Sole proprietorship, there is only one owner. No other business or person can involve in the sole proprietorship. In LLC the no of owners can be infinite. These owners can be anyone or any corporation or foreign entity. It can be formed in a hybrid way of incorporation and business. LLC can hire managers to run the business. In simple terms, LLC is just an extension of sole proprietorship where no members are more than.
A sole proprietorship has full control over the business. You are the complete owner so all the decision is dependent on the person. There are no rules to be followed in terms of taking any decisions or implementing new changes. How to use the available assets and resources is completely based on the person's will. LLC has multiple owners so decisions need to take accordingly. Along with this LLC can hire a third party for further work. For managing resources in LLC, everyone's concern is taken.
As the name suggests LLC is a Limited Liability Company which means one has very limited liabilities. Sole proprietorship, on the other hand, has unlimited liability because the owner of the company is only one so in terms of debt and liabilities, he is solely responsible. If creditors think that the personal account can easily meet the requirements of all the debt and liabilities of the company, the creditors can do it in sole proprietorship and get a person's wealth, car, and home in meeting the debt requirements through legal format. This can never take place in Limited Liability. This simply means that if your company is LLC you are protected from all the creditors and lawsuits related to your company. A sole proprietorship is wholly responsible for any debt repayments or liabilities or lawsuits.
A sole proprietorship is comparatively less in terms of cost compared to an LLC. Just an initial license and a few fees are a necessity for starting any sole proprietorship. In legal terms, an LLC company has to register its name for state and central and also has to pay annual fees. Setting up cost can go around $1000 for LLC.
Naming the company an LLC has a compulsion of adding LLC at the end of the company's name. In a sole proprietorship, there is no compulsion in naming anything, and do not have to add any suffix at the end of the name. LLC cannot use the same name used by other companies.
Why one is running a sole proprietorship one does not have to worry about what is its personal assets and liabilities and what is the company's assets and liabilities. In terms of the law, both are the same. As the company belongs to the person only. In LLC there is a separate distinction between personal and the company's funds and liability. Even if the company fails to fulfill and meet the debt. Personal assets won't be under any kind of risk. Adding one's personal assets or liabilities to the company can increase legal issues in the future However one had to keep a detailed and separate record for both of them.
As stated above that in sole proprietorship there is no difference in personal and company funds. So the income generated by a person will be treated as personal income and taxed accordingly. In the case of LLC, taxes can vary because the company can be treated as sole or partnership or corporation. Most people get confused between LLC and sole proprietorship because they can and cannot pay taxes in the same way. This can be decided by an election between testing tax as sole or LLC. The one which gets more majority taxes is treated in that format. In LLC the members and the company are separate and hence the taxes are treated differently not on the personal income.
Raising money in a sole proprietorship is not at all easy. As in sole proprietorship, the credibility is low, and also as the personal and company funds are considered the same. One cannot easily rely on sole proprietorship for money-raising. When the sole proprietor takes funds from other businesses or a person, the company does not remain sole proprietorship. In an LLC for any expansion of the business, money can be easily raised by other companies or persons.
The lifespan of the sole proprietorship is completely dependent on the life of the owner or if the person sells or merges. The lifespan of an LLC can be infinite. As in LLC, the company is not of a particular person or corporation. So the existence of the company is lifelong. While initiating an LLC in the legal documents there could be contracts stating the continuation of the business even if some person dies or retires or some event occurs.
Comparison Table of Sole Proprietorship vs LLC
Let's discuss the top comparison between Sole Proprietorship vs LLC:
| | | |
| --- | --- | --- |
| Basis of Comparison | Sole Proprietorship | LLC |
| No of Owner | One | Infinite |
| Control | Full control | Limited control |
| Liability | Unlimited | Limited |
| Initial Cost | Less costly | More costly |
| Name Requirements | Can be any name | Adding LLC at the end |
| Difference between business and personal | Both are the same | Company and personal are treated as different entities. |
| Taxes | On personal income | Not on personal income |
| Raising Money | Difficult | Easy |
| Lifespan | Limited | Infinite |
Conclusion
Generally, a person starts his business being the only owner as a sole proprietor but as the business expands and some advantages of taxes and liabilities in LLC, the business gets shifted to LLC.
Recommended Articles
This is a guide to Sole Proprietorship vs LLC. Here we discuss the LLC vs Sole Proprietorship key differences with infographics, and comparison table. You may also have a look at the following articles to learn more.