Learn from Home Offer TAKE THIS BUNDLE
Oracle DBA Training in Chennai
2 Online Courses
21+ Hours
Verifiable Certificate of Completion
Lifetime Access
Oracle Database Admin DBA 1 Course
Administration Workshop 2
Offer ends in:
TAKE THIS BUNDLE
* One Time Payment & Get Lifetime Access
What you get in this Oracle DBA Training in Chennai?
Online Classes
Technical Support
Mobile App Access
Case Studies
About Oracle DBA Training in Chennai
| Course | | No. of Hours |
| --- | --- | --- |
| Oracle DATABASE Admin DBA 1 Course | | 9h 27m |
| Oracle: Administration Workshop II | | 11h 37m |
| | |
| --- | --- |
| Course Name | Oracle DBA Training in Chennai |
| Deal | You get access to all videos for the lifetime |
| Hours | 21+ Video Hours |
| Core Coverage | Learn Oracle Database architecture, the database processes, memory structures & resources, schema objects, security, data recovery, and other concepts through hands-on practical sessions in this course. |
| Course Validity | Lifetime Access |
| Eligibility | Anyone serious about learning Oracle Database administration and wants to make a career in this Field |
| Pre-Requisites | Basic knowledge about Databases would be preferable |
| What do you get? | Certificate of Completion for the course |
| Certification Type | Course Completion Certificates |
| Verifiable Certificates? | Yes, you get verifiable certificates for each2 course with a unique link. These link can be included in your resume/Linkedin profile to showcase your enhanced skills |
| Type of Training | Video Course – Self Paced Learning |
| Software Required | None |
| System Requirement | 1 GB RAM or higher |
| Other Requirement | Speaker / Headphone |
Oracle DBA Training in Chennai Curriculum
---
In this Oracle DBA Certification course, you have to complete 2 DBA courses with 20+ hours of video tutorials. After completing the certification, you will get the verified certificates which you can use for a lifetime to move ahead in the database career. In the beginning part of the Oracle DBA Training in Chennai, you will learn about the architecture of database systems, different memory structures, its functionalities, and various terminologies used in database systems. The first 10 hours of video will cover all the above topics along with different examples in beginner and advanced level which will offer you practical experience. In the last part, you will be given different use cases at the intermediate level which will enable you to understand the concepts used in database systems. In the next 11 hours of video, you will learn about the concepts of Oracle Data Base Administration with the help of a workshop. This part is just like a project in which you will learn about the maintenance of database systems with the help of an educator. You will also be given time to work and deliver the results as part of the assignment which will help you in understanding the concepts better.
Oracle DBA Training – Certificate of Completion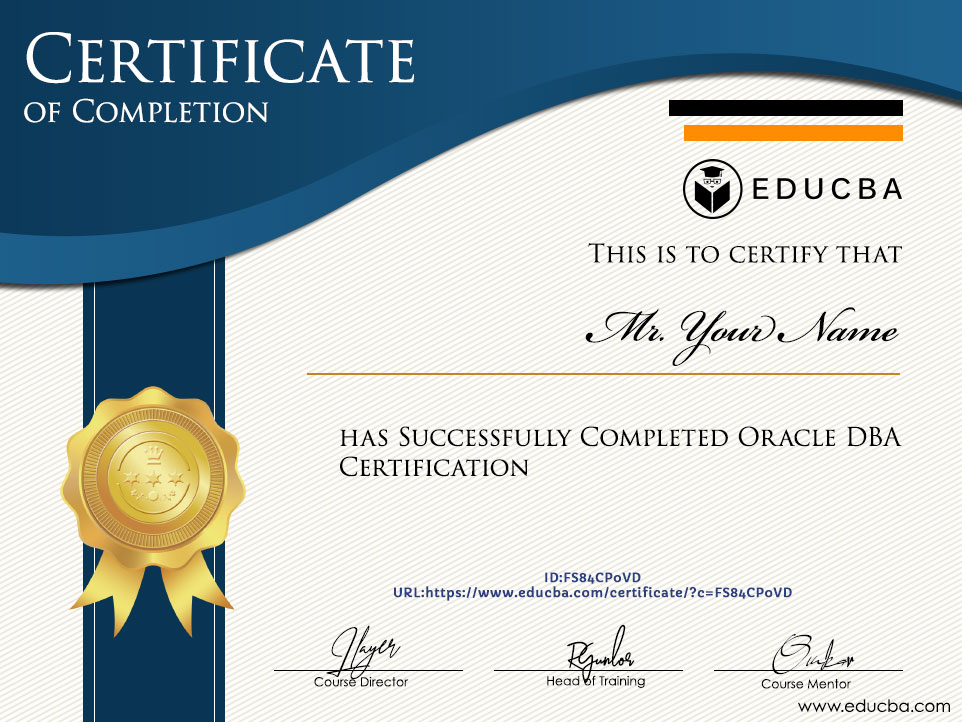 What is Oracle DBA?
Oracle Database is one of a relational database management system that is meant for storing huge data and extracting the data when required. We can also backup and restore the data. Various types of files are used to store information like data files which contains the files and are required to begin database engine, control files which are generally required by Oracle Engine, redo log files are meant to store the different changes that are recorded in the database system and parameter files which remain inside the database system.
Various types of data types are used in Oracle databases like Number, Char, Varchar, etc. The syntax and terminologies used in the Oracle database system differ from other database systems. It offers many features like high performance, backup, recovery, and maintenance. It offers various functions concerning different tables stored in the database like joining the tables, filtering the results, modifying and altering the table, etc.

Industry Growth Trend
The rapid application development market size is expected to grow from USD 7.8 billion in 2018 to USD 46.2 billion by 2023, at a Compound Annual Growth Rate (CAGR) of 42.9% during the forecast period.
[Source - MarketsandMarkets]
Average Salary
Average Salary
$70,798 per year
The average salary for a Web Developer is $70,798 per year in the United States. Salary estimates are based on 3,164 salaries. The typical tenure for a Web Developer is less than 1 year.
[Source - Indeed]
Which Skills will you learn in this Training
?
In this Oracle DBA Training in Chennai, you will have lifetime access to all the courses along with the video tutorials and workshops. Different concepts like the architecture of Oracle Database system, structures of memory, different security measures, recovery of the data, data schema, and resources. At the end of the tutorial, you will be assigned a workshop in which you will learn about different methods required in maintaining the databases, measures required in providing security to the data which will help you in gaining practical experience.
Pre-requisites
There are no such required prerequisites in learning Oracle Database Administration. However, familiarity with certain terminologies and fundamentals will help you understand the course easily and quickly.
Basic Knowledge in Database Systems: Since Oracle is a database system, so having some basic knowledge in different terminologies used in the database will be easy to learn the concepts quickly.
Basic Knowledge in different types of Keys and Constraints: There are various types of keys that are used in a database system like Primary Key, Foreign Key, etc. So, it is better to have these concepts clear before starting the certification course. You can browse various online materials for the keys used in database systems.
Target Audience
This certification course is designed for all those who want to start a
career in Database Administration
or for those who want to build up their skills in their existing database knowledge. Students or freshers who are interested in working in Oracle Database or as a Database Administrator can take up this certification. Experienced Professionals who are working in Database and want to learn more can take up this certification course and it will be an added benefit to their respective profile. This Oracle DBA Training in Chennai is also designed for many educators who conduct online training classes in database administration for the students or professionals. Without any doubt, this certification is one of the best certification courses in the market which covers all the modules relevant to the topic along with different examples.
Oracle DBA Training in Chennai – FAQ's
---
What are the job profiles that I can apply after completing this certification course?
Oracle Database Administration is one of the popular technology in the past as well as in the current environment. Its popularity is still there in the IT market. There are many profiles related to Oracle Database Administration like Oracle DBA Admin, Oracle Database Developer, Database Administrator, Senior Database Administrator, Oracle DBA Cloud Administrator, etc.
Can I enroll for this Oracle DBA Training in Chennai without having prior knowledge in any database system?
Yes, you can enroll for this Oracle DBA Training in Chennai even if you do not have any past knowledge in the database system as every concept will be covered from the beginning. However, we always advise knowing some basic terminologies which will help you to grasp the concepts quickly.
Is there any time frame to complete this Oracle DBA Training in Chennai?
No, there is no particular time frame to complete this certification. You can complete the certification according to your flexibility and time. We recommend you complete the certification soon so that you get enough time to prepare for the interviews as well.
Career Benefits
This Oracle DBA Training in Chennai covers both basic and advanced concepts with different simple and intermediate examples that can help you to start a career in Oracle Database Administration. Along with different modules, there will be a workshop that will help you in gaining practical experience in database systems.
Why should you take up the Oracle DBA Training in Chennai?
Chennai is considered the second IT hub of the Indian market which has a huge demand for different profiles relating to the various technologies. It is also considered as BPO hub for many organizations. It has a huge IT infrastructure and is home to many emerging startups as well. Oracle Database Administration, being one of the most demanding technology has many job openings in Chennai across many top organizations and startups.
What is the Oracle DBA market trend in Chennai?
Oracle Database journey from the past has not yet faded in the recent IT market. All top organizations and startups are still hunting for database administrators. This training is also flexible in timing which is a huge advantage for all the working professionals. Some of the top companies in Chennai that hire Oracle Database professionals are Auxo Labs, Wipro, HCL, Infosys, Cognizant, VMware, Fresh Works, Accenture, Tech Mahindra, Tata Consultancy Services, PayPal, etc.
Reviews
---
Oracle 9i Master Series (Module #4) – Mastering Views and Database Objects
This was a good course for the beginner up to expert – was able to follow along in several parts. The training was split into a good size and easy to follow. I also found the material very useful in small in a short period.
It would be nice to have a system to follow with as they work. Also, like the selection of courses.
Linked
Carol Duffy
Oracle 9i PL/SQL:04 – Database Triggers
The course started with a simplistic approach. As the course progressed, the course became wider and more holistic. He approached themes with great ease, which made it easy for me to understand the subject. There was no need to cheat my brain and that was the best part. So I recommend this course for all those who want to learn and become an expert on the subject.
Linked
BRUNO RAMALHO DE ALMEIDA SANTOS
Good source
Very detailed and informative. I will recommend taking it. The time for this course is long. It will be useful if the course has a test, or and attending with a group of the training class. While I see it very informative, but some of the areas are very detailed and might not be good to have this in one course.
Linked
Mohamad Ballan