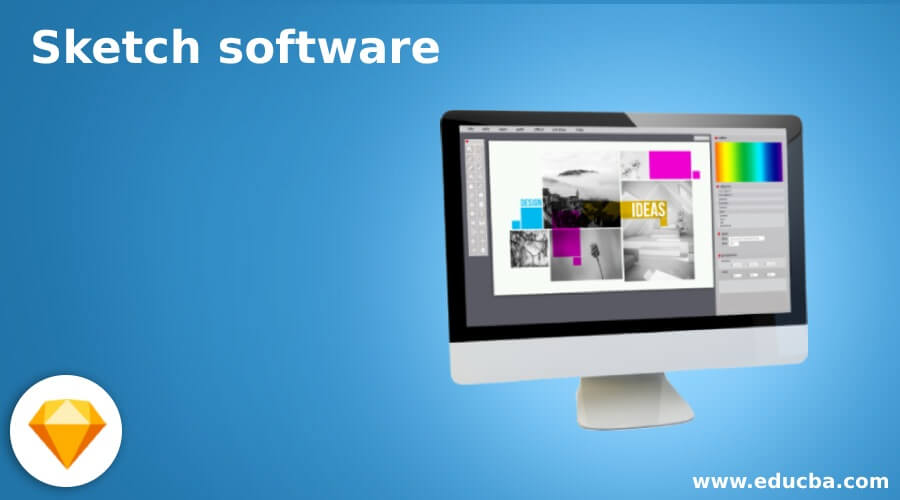 Introduction to Sketch Software
The sketch can be categorized under vector graphics editing software and developed for Mac OS users for getting the best result in vector graphics editing work. It was developed by the Dutch company Sketch B.V (it was formerly known as Bohemian coding) and released on September 7, 2010, for public use.  It is primarily used for designing User Interface and User experience of websites and mobile apps but had no connection with print design features. Recently features of Prototyping and collaboration have been added in advance features of Sketch Software. So you can find many good vector graphics editing features and tools in this software when you start working with it.
So let us have a good discussion on it, and now you are thinking about what is the purpose of using this software, so here is the answer to your dilemma.
Why do we need Sketch Software?
Primarily we used it for creating a different type of designing of UX and UI of various platforms of web and mobile, but now it includes some other different features in it that can create a high level of vector-based work and all graphics designed in it, can easily scalable. We can create different icon designs and app icon designs with the help of advanced features specified for this work. Prototyping is also one of its features and provides libraries or plugins to their users to maintain workflow.
How does Sketch Software work?
The very first thing on which it focused is to create designs for UX and UI of the web and mobile applications and save its file in .sketch file format. This sketch file can be opened in Adobe Illustrator, Adobe Photoshop, and some other graphics editing and designing programs. It has several tools for creating vector graphics in different ways, and that graphics provides highly featured design for UX and UI.
It allows you to navigate quickly around your various artboard if you are working on several artboards at a time, providing a smooth working environment. Moreover, it can work with different plugins that can enhance its working ability, such as some plugins that can create dynamic links among huge files so that if you make any change in the reference layer, then made change update automatically in all linked layers.
Advantages and Disadvantages
Having a number of good features and tools, it also has some drawbacks, so let us analyse its pros and cons.
Advantages of Sketch:
It has a smooth working environment and the reason behind this are as follows:
You can open its native file format in some other designing software so that you can work with other software in continuation of your designed work and add other required features to your design that are not in Sketch.
Popular file formats such as PNG, JPG, SVG, TIFF, PDF, WebP and some others are supported by Sketch, which means you can save your work in these file formats and use them on a different designing platform as per your requirement.
App engineers can easily utilize designs created in this software in their designing work of mobile apps to give them a more realistic approach and also by website developers to convert those designs into website pages.
Although it is not free to use software and you have to pay $9 per editor seat monthly or $99 yearly, but it offers 30 days free trial scheme to its user, which is a pretty good thing for having a good understanding of its user interface as well as a working methodology.
Now let us look at the disadvantages of this software so that we can have an idea about some areas where it has less impact.
Disadvantages:
Sketch doesn't have in-built CMYK profile features because it is focused on digital designing works, which is why it is not used for professional print purposes.
It has a Proprietary license that means it is not free to use. You have to make some payment for having it about which you can have information from its official website that is sketch.com.
It is designed for only Mac OS users, so it has a limited supported platform.
Although it has some drawbacks, it has its impact in different designing industries and sectors, so let us look at its uses.
Uses of Sketch Software
It incorporates several designing sectors for fulfilling requirements of different designers such as we can do Vector illustration with several techniques, create Social media images or post according to latest trends, Advertisement banners as per client desire, Presentation of Materials, and so on. All these designs will deal with UI and UX.
A career in Sketch Software
Being a UI and UX design software platform, it has a good career path for making a good benchmark in graphics design streams. Vector graphics for UI and UX covers almost every sector of the present world. You must see there are vector graphics in each and everything surrounding you on a digital platform, and these designs need a good designer with smooth working software. The sketch is one of the popular and effective software for this purpose, so no doubt you can build a good career path with this software, and due to its smooth and handy tools, you will have a great time learning vector graphics during working on it.
These were some important aspects of Sketch software, and you should know about them for having the deep analysis of this software before making it your pet software of vector graphics for UX and UI designs.
Conclusion
The sketch is no more unknown software for you after this informative article. You can start work with it without hesitation and go with a trial version of it to take your first step in vector designing with Sketch software. Once you go with the trial version, understanding its user interface becomes easy because it gives you a pretty good 30 days in it.
Recommended Articles
This is a guide to Sketch software. Here we discuss how Sketch Software works and why we need it, along with the Advantages and Disadvantages. You may also have a look at the following articles to learn more –