Updated April 10, 2023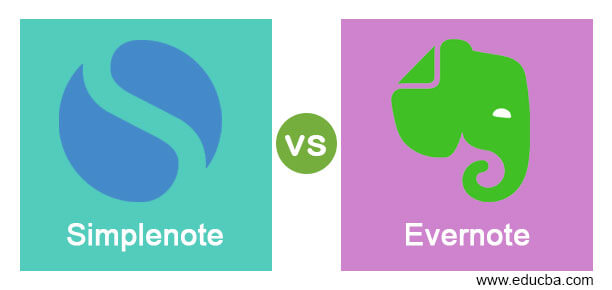 Definition on Simplenote vs Evernote
Simplenote and Evernote are considered as note-taking applications for the users to remember important issues or to make a to-do list for planning the entire day as per requirement. Both Simplenote and Evernote can be installed in mobile or computer systems which means it is compatible with both. The notes taken can be in any form whether to get in the form of textual or multimedia forms Simplenote and Evernote follows them as per requirement.  Both Simplenote and Evernote have their own pros and cons depending on the user for preference of choice.
Head to Head Comparison Between Simplenote vs Evernote (Infographics)
Below are the top 5 differences between Simplenote vs Evernote:

Comparison Table of Simplenote vs Evernote
| | |
| --- | --- |
| Simplenote  | Evernote |
| Simplenotes on other hand is used for getting and plays around with minimum existing feature present in the interface. | Evernote is designed for special information storage especially any sensitive information in one source repository altogether. |
| Whereas using SimpleNote is not as futuristic as Evernote because it has limited and minimum native interface calls which accts by grouping the notes making UI little same as usual. | Using any service in the case of Evernote involves web clipper, IFTTT service, and native integrations for storing all the sensitive information at one source location. |
| Simplenote users have the ability to edit and create their customized documents easily without any hindrance using the Simplenote where if the user gets offline can work even in online mode has the capability to modify and keep sync so that in next login the information is present in the desired format or order for accessing in future. | Evernote has the capability to make the notes in an organized manner which is useful in terms of fetching information from anywhere easily and all the notes present can be stored in a single notebook. If the user is too conscious about the hierarchical and proper organization of data in one place then Evernote is always a recommended one. |
| Although there are a lot of applications used for maintaining notes and information in order like Evernote. SimpleNote is more features prone and is versatile in case of interface accessibility. As per reviews and searches made It is considered fast to use and sync with the other device. It might not have that many features but since it has a simple user it is easy to get the simplified view, look and feel. | Almost all the platform can have this Evernote application installed on it whether Windows 10, 7 or 8, MAC, IOS, windows phone or blackberry. It is compatible with all platforms with fully functional web apps and plug-ins related to google chrome in order to access Evernote in both online and offline mode accomodating the native API across all platforms. |
| Simplenote has a feature to maintain the application using some of the time machine style version controlling for maintaining the information. Versioning of the sheets with information is useful because the bookmark used can help to refer anytime when needed in case of data loss and all from previous versions. | Evernote has a web clipper with it which is used for including all the images, snippets, and web pages as a whole in one place especially for the users using google chrome and its associated plug-ins to streamline it. It gives users the privilege to add a more graphical user interface for easy access within the application or otherwise. |
Key Differences of Simplenote vs Evernote
When it comes to comparison and finding out the difference between both Evernote and Simplenote a community named 'Slant' recommends using Evernote than Simplenote although both have its own pros and cons.
There are some key differences in Evernote with Simplenote which are as follows:
Evernote comprises of many of the web-related UI and interfaces which is used for making the entire application user-friendly not only in terms of ease to access but also the look of the entire application for access.
Simplenote on the other hand is quite easy and fast in terms of accessing the page and being online mode gives users the privilege to make rapid switching between the pages of the text groups aligned to make the information.
Evernote has some of the good plug-ins or adds-on for making the web images flexible in terms of editing and creating some nice blueprints option for organizing data in a proper format.
Simplenote have some of the features to share the notes among all or to make others worked profoundly with collaboration with other features and group.
All the Simplenote applications are open-sourced and easy to download. It is ready if someone wants to contribute to it whereas Evernote is chargable nearly about 1$ which makes it less used most often since it is chargeable and licensed.
Evernote is synchronized in terms of information maintaining the single source repository and consist of one of the best web clipper that can clip any image or text from desktop or mobile using an easy and simplified format that is flexible and highlights most of the tags and notes for formulation and write ups.
In the latest version of Simplenote which included simplenote pro has the ability to provide excellent clients for desktop using nvAlt feature within it thus making it robust and user-friendly in terms of managing the notes properly.
Evernote in terms of Simplenotes have a lot of feature like it embedds some effective pictures or snapshots that is taken from a whiteboard and blackboard instantly on scanning user can continue to make the notes as per need and whenever they want. The continuation and flow of work will not be hindered any of the times.
Evernote has the ability to provide fast switching thus reducing the conflicts and managing them properly also allows a lot of undo and redo properly which is not provided by Sinplenote as part of any of its features.
 Conclusion
Simplenote and Evernote both applications are used for same purpose of making the notes handy and organized in a proper manner. It gives users the authority and many of the features to customize the notes and to use some if the easily accessible utility which is part of the application making the usage more frequent and rapid.
Recommended Articles
This is a guide to Simplenote vs Evernote. Here we discuss the key differences with infographics and comparison table, respectively. You may also have a look at the following articles to learn more –