Updated March 16, 2023
Definition
Salesforce Vlocity is a Salesforce Platform integration that provides enterprise solutions, mobile applications, and multichannel operations to multinational conglomerates in certain sectors. In 2020, Salesforce successfully acquired Vlocity, enabling it to provide the Salesforce sector with a combination of basic platforms, solutions, and sector-specific models. Vlocity offers pre-built Salesforce platform solutions that cater to the needs of particular companies that require highly specialized CRMs.
As a Salesforce Developer, it is essential to understand the importance of Vlocity and how it works.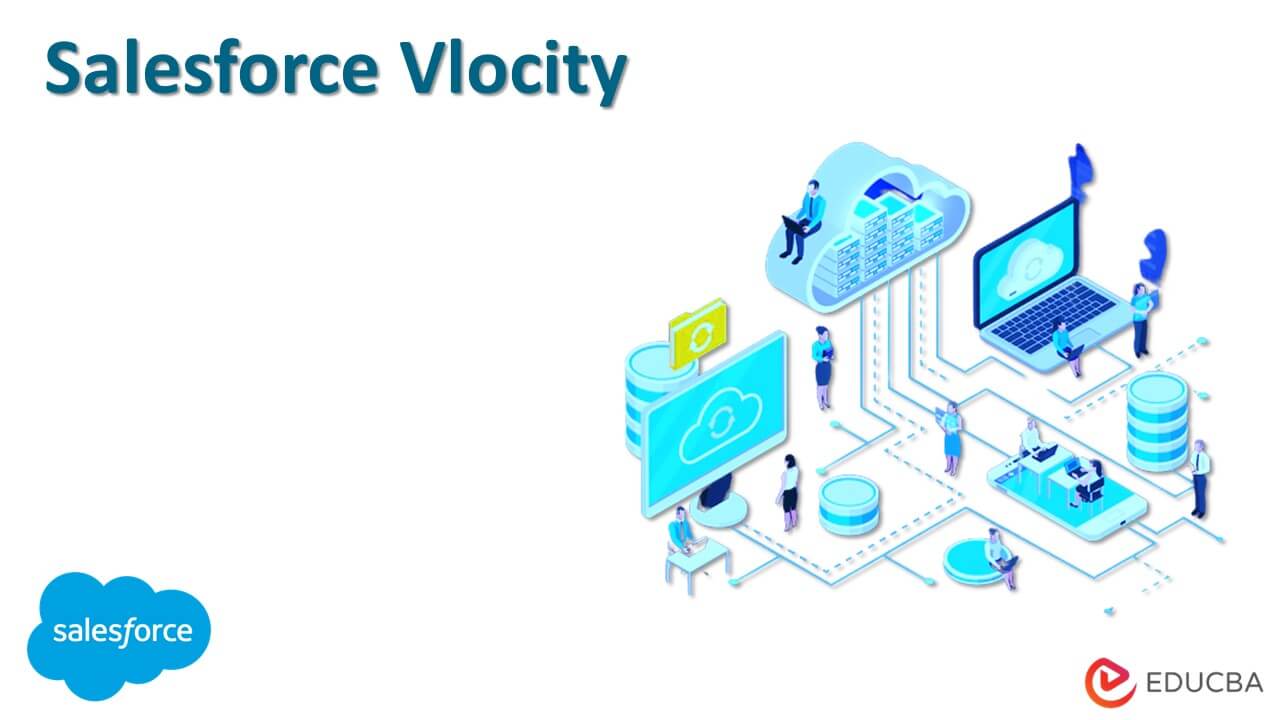 Key Highlights
On the Salesforce platform, Vlocity (Salesforce Sectors) provides pre-built solutions that address the demands of specific industries.
Vlocity was acquired by Salesforce in 2020. The deal allowed Salesforce to expand its current solutions, branded as Salesforce Industries, to include Vlocity's sector-specific CRMs.
Enterprise product catalog (EPC), CPQ, order management, e-commerce, pre-built procedures, and brand models are all features that Vlocity adds to Salesforce to enhance its functionality.
What is Vlocity?
Vlocity is a solution for meeting the needs of specific sectors. It takes into account the regular requirements of many industries and groups them into "cloud" solutions that may be used by certain businesses. Based on particular industries that require CRMs, it provides mobile software, applications, and services for the biggest and best firms in the world.
The major businesses in the globe in the fields of health, entertainment, media, insurance, and energy are covered by Vlocity. Salesforce created Vlocity as part of its strategy to support organizations' accelerated digital transformations and work-from-anywhere environments. Through Vlocity, it offers customers the most cutting-edge platform for digital transformation in the industry, as well as professional advice and solutions to meet their unique demands.
Salesforce Buys Vlocity
On June 1st, 2020, Salesforce completed the acquisition of ISV Vlocity for a whopping 1.33 billion dollars. While the generosity of the acquisition was unexpected, many in the CRM sector believed this was a deal waiting to happen. Vlocity has long been a significant contributor to the Salesforce ecosystem. Yet why did the acquisition happen?
Salesforce has recognized the need for a more vertical approach to its business model for a number of years. With the assistance of one of the top sector-specific partners in the market, it has intended to expand on this concept with the help of this purchase.
Salesforce Industries, as it has been aptly dubbed, aims to further specialize its CRM solutions by leveraging Vlocity's experience across a variety of industries.
The media sector is one of the main beneficiaries of this news. For a long time, Vlocity's media knowledge has been well-known. Vlocity has assisted media firms all across the world in maximizing their revenue, from membership management to advertising sales.
How does Vlocity Acquisition help Salesforce Partners?
A business that uses a complex tech stack includes some in-house developed applications. To enable complete business processes, consultants and developers must align, integrate, and configure the solution. This is where Vlocity comes in.
An enterprise product catalog (EPC), CPQ, order management, and e-commerce, as well as pre-built procedures and product models, are all features that Vlocity adds to Salesforce.
The software is created closely following industry standards that groups have published, like the TM Forum.
What is Salesforce Vlocity Industries?
Following the purchase of Vlocity, Salesforce will now go forward with the name Salesforce Industries. Vlocity's new name is Salesforce Industries.
In comparison to Salesforce Industries, Vlocity is the newest specialist and is renowned for offering services in six different sectors: media and entertainment, communications, insurance, utilities, government, and health.
Salesforce Industries Certification
Salesforce Industries now offer the following certification. A few more are available; however, they are at Vlocity University. Some are: –
For Trailblazers with experience consulting on the development of cloud-based applications with OmniStudio tools, the Salesforce Certified OmniStudio Consultant credential is the right choice.
Trailblazers with experience developing cloud-based applications using the OmniStudio declarative development tools should apply for Salesforce Certification OmniStudio Developer.
For Trailblazers with experience creating configure, price, and quote apps for the Salesforce Communications, Media, and Energy & Utilities Clouds, there is the Salesforce Certified Industries CPQ Developer accreditation.
Who is a Salesforce Vlocity Developer?
A Vlocity Developer creates and integrates unique platform solutions like Vlocity, Apex classes, Visualforce, and others.
To efficiently and smoothly give solutions to its clients and customers, Salesforce developers will need to become familiar with the ideas and offerings of Vlocity.
The Apex Classes, Vlocity, Visualforce, and other custom Salesforce platform solutions are developed and integrated by Vlocity Developers.
Benefits of Vlocity
It is a premier supplier of industry-specific mobile applications and solutions built on the Salesforce Platform. It provides a wide range of solutions to some of the biggest businesses worldwide.
It serves specific areas of industry since it is industry-specific. It basically means that the industry's laws and regulations are considered when designing solutions.
It provides pre-built solutions to different companies in particular. The fact that the deliverables are already tailored to the precise requirements of all the stakeholders of Vlocity is one obvious advantage.
Conclusion
Vlocity achieved a breakthrough by giving businesses an architectural base appropriate for particular industries. Its acquisition signaled the company's transition to sector-specific solutions that are quicker to adopt by users and easier to personalize.
For a quicker road toward digital transformation, businesses can use the current Industry clouds, which offer a stable instance with reusable solutions within and a customizable data model.
FAQs
Q1. Why did Salesforce buy Vlocity?
Answer: Compared to software from other firms that Salesforce purchased, Vlocity developed vertically-specific Salesforce adaptations on the Lightning Platform, which made integrating them into the Salesforce universe easier and quicker.
Q2. What is Vlocity build tool?
Answer: The command line tool Vlocity Build allows you to export and publish Vlocity DataPacks in a format that is compatible with source control using a YAML Manifest that describes your project. Its main objective is to use source control to provide Continuous Integration for Vlocity Metadata.
Q3. What distinguishes Salesforce CPQ from Vlocity CPQ?
Answer: The CPQ software links to your product catalog and populates your CRM with quotations and orders. Users may concentrate on the consumer rather than the program when using Vlocity's Digital Interaction Platform.
Recommended Articles
This article explains everything about Salesforce Vlocity. To know more about related topics, visit the following links: