Updated July 5, 2023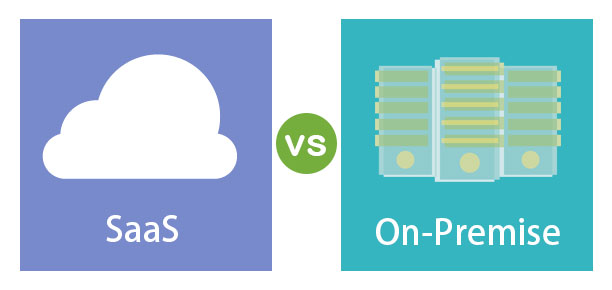 Difference Between SaaS and On-Premise
In this article, we will discuss the differences between SaaS vs On-Premise. Implementing the best fit solution for your business can be a daunting task for most of the business owners. Today the companies that offer computing technologies know the market need and act accordingly with solutions that are productivity driven with minimal operating costs. We in this article will clear some of the crucial factors to consider in terms of implementing SaaS and On-premise applications.
SaaS is an application solution that is hosted and maintained by a third party.
On-premise is a feasible solution that is locally hosted on your system and supported by some third party for issue handling.
Head to Head Comparison between SaaS and On-Premise (Infographics)
Below are the top 5 differences between SaaS vs On-Premise:

Key Differences between SaaS and On-Premise
The configuration option is unlimited with today's computing environment, which has two fundamental structures i.e. on-premise and SaaS (Cloud). Each has its own unique benefits and drawbacks and in some cases, one is preferred over others. Let us see some crucial differences between the two –
The basic yet mist crucial differences which clearly defines a boundary is how the hosting is done. In SaaS, the application is hosted on the vendors' server and accessed via web browsers whereas in case of on-premise the application gets installed locally on the company or user's computer and servers.
Consider Your Budget: The pricing is again a deciding factor and clearly differentiates among the two, for a SaaS the prices are incurred on a subscription basis and levied either monthly, quarterly, half-yearly or yearly whereas the on-premise is generally priced under a one-time perpetual fee. This fee depends upon the size of the organizations and the number of units getting installed. So, we can say that SaaS is OPEX and on-premise is CAPEX (in terms of finance).
Freedom of Operation: It means how conveniently a user can make adjustments in the application they are using. The on-premise application is having an advantage in this scenario over the SaaS. Imagine a growing business that does not have a planned working structure that can get mush benefit from On-premise as they can modify changes as and when needed but this is not possible for SaaS as it is not in-house.
Support and Maintenance: Talking of these criteria the SaaS would be any user's first preferences. If you are an on-premise user then you should have an IT department who can fix any issue related to that software application whereas in SaaS it is a complete responsibility of the service provider to handle any fluctuation from the normal behavior of the application.
24*7 access: Immediate and anytime access is also a deciding factor, with SaaS application a user can have the advantage to use it anytime and anywhere, all he needs is to have a Wi-Fi and web browser whereas in case of on-premise application the access is only possible in the company grounds and eliminates the possibility of access from the house. If you are planning to use any one of the implementations then this point is worth considering.
Need for Software Testing: An on-premise application demands a regular testing of the application for proper functioning and to avoid any kind of work delay and hindrance, this, in turn, incur a need for tester whereas for a SaaS environment this need is eliminated as it is already completed so there is no downtime to fulfill the testing requirement.
Talking of disaster and recovery we know that disaster can happen anytime, the organizations that have a comprehensive recovery strategy will think to prosper. For on-premise users, backup is a major challenge as they have to think otherwise the companies can lose their data, not surprisingly the in-house systems are relatively expensive and require additional investments, security and licensing whereas SaaS offers a comprehensive advantage in this segment to its users. The services SaaS offers for data backup can vary from mere data storage to full failover where the complete transfer of the functions is possible.
SaaS vs On-Premise Comparison Table
Let's discuss the top comparison between SaaS vs On-Premise:
Parameters
SaaS
On-Premise
Stats
The statistics report says that in 2012 the average value generated from SaaS as a service customer was USD 55K/year
This value gets reduced to USD 48K/year for on-premise software customers.
Ownership

For a SaaS application, a dedicated point is available to manage the following –

Application
 Data
Runtime
Middleware
O/S
Virtualization
Servers
Storage and
Networking

For an on-premise application, a user is responsible to manage the following –

Application
Data
Runtime
Middleware
O/S
Virtualization
Servers
Storage and
Networking

Pros and Cons
Pros:
No upfront hardware/software cost Provides data security Facilities can be adjusted
Cons:
Aggressively prone to hackers 3rd party can access your data You are at the cloud providers' mercy. You need to pay more for trained users (not fit for small organizations)
Pros:
Cheaper in the long run. You control your data completely. You can control the upgrades. You can customize
Cons:
Needs a knowledgeable resource. Testing is needed time and again. Needs a dedicated IT support
Electricity Cost
The electricity consumption is more for SaaS servers.
It is comparatively less and depends upon the usage policy.
When to Choose

Consider these points when to go with SaaS –

Having a variable business demand.
If you have significant and uncertain growth.
Need for a radical change.

Consider these points when to go with On-premise –

When security worries you.
Government rules are tricky and constantly changing.
Have a legacy application on your premises.
Migration size and time are formidable.
Conclusion
We have seen what factor contributes to each implementation model, it depends upon the company requirement and size of business that helps in choosing one over the other. As a whole, both have their own limitations and advantages.
Recommended Articles
This is a guide to the top difference between SaaS vs On-Premise. Here we discuss the key differences with infographics and comparison table. You may also have a look at the following articles to learn more –