Updated June 1, 2023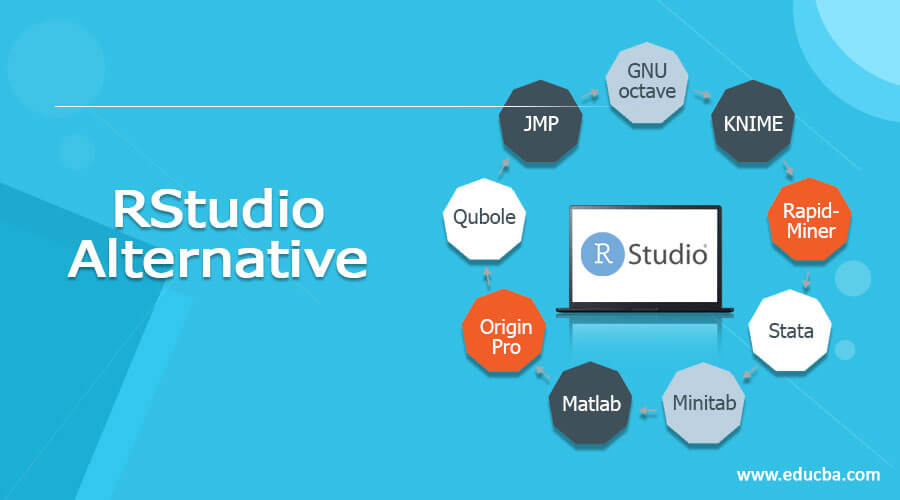 Introduction to RStudio Alternative
RStudio Alternative, RStudio is an integrated development environment used for running Programs written in R language. It is used for statistical computing and graphics, available in two formats, RStudio Desktop and RStudio Server. RStudio Desktop is a regular desktop application. RStudio server runs on the server and allows users to access it using web browsers. RStudio is written in Java, C++, and JavaScript and supports various operating systems such as Windows, Linux, Ubuntu, Fedora, macOS, and openSUSE. Some other alternatives are also available for RStudio, which provides the same functionality as RStudio.
Alternatives of RStudio
The list of RStudio alternatives is as follows:
1. Scilab
Scilab is an open-source similar to the implementation of RStudio. Scientists and engineers use the approximation technique known as scientific computing to solve numerical problems. To achieve this, the team of Scilab developers used Solvers and algorithms to build the algebraic libraries. It visualizes the data using pie charts, histograms, MathML annotations, line graphs, bar graphs, etc.
2. Matlab
Matlab is another best alternative for RStudio. It is also called a matrix laboratory. It provides an interactive environment to perform computations in various fields, such as mathematics, sciences, and engineering streams. The results can be visualized and generated as reports for further analysis. Various math functions and Built-in library commands are used to analyze data, generate plots and perform complex Integrations and Differentiations. Before using Matlab, prior knowledge in Java, C, C++, or Fortran languages is helpful.
3. Minitab
Minitab helps organizations to solve problems and discover valuable insights into data by delivering a comprehensive and best-in-class suite of machine learning, statistical analysis, and process improvement tools. Minitab makes it simpler than ever to get deep insights from data. It involves elements like Scatterplot, Boxplot, and histograms, which collectively can help six sigma professionals provide the problem's descriptive statistics. In short, problem-solving becomes easy and faster with Minitab.
4. Stata
Another RStudio alternative is Stata, which includes data management, graphics, Statistical Analysis, regression, custom analysis, and stimulation. It can import data in various formats, such as ASCII data format and spreadsheet format. File formats have changed over time. Every version can read all older datasets and write current and previous dataset formats.
5. RapidMiner
RapidMiner is one of the most popular Alternatives to RStudio. It is used for predictive analysis, business applications, education and research, commercial applications, etc. It increases the speed of delivery as it follows the template framework. It not only increases the delivery speed but also reduces errors while transforming. The developers wrote it in Java, and it is available in three types: Rapid Miner Studio, Rapid Miner Server, and Rapid Miner Radoop.
6. KNIME
It is an open-source data analytics software that integrates various data mining and machine learning components. Its graphical user interface and JDBC driver allow the assembly of nodes blending different data sources. It includes ETL processing. KNIME allows users to create data flows visually, executive some or all analysis steps, inspect results, and model using interactive widgets and views.
7. GNU octave
Another alternative for RStudio is GNU Octave, open-source software under the GNU general public license. Which supports high-level programming language, mainly used for numerical calculations. It is used to solve linear and nonlinear problems and perform the operations of numbers. In addition to the Command-line interface, GNU Octave includes Graphical User Interface. To execute the scripting language, Octave uses an interpreter. It supports operating systems such as Microsoft Windows and UNIX.
8. JMP
Another best RStudio alternative is JMP. It is used for Statistical analysis. Scientific computing finds applications in various fields such as quality control, Six Sigma, engineering, design of experiments, and research in science, engineering, and social science. It is mainly concerned with exploratory data analysis and visualization. JMP software links statistical data to graphical representation. Users can drill down or up to explore the data and various visual representations of it.
9. Qubole
Qubole is a simple, open, secure data lake platform for machine learning, ad-hoc analytics, and streaming. It provides end-to-end services that reduce the time and effort required to run the machine learning workload, data pipelines, and streaming analytics on the cloud. Offers powerful business intelligence to enhance the customer experience. Ad hoc analysis looks at the data requested or needed, providing another layer of analysis for data sets that are becoming larger and more varied.
10. Origin Pro
Origin Pro is a computer program for interactive scientific graphics and data analysis. The programs can run only on Microsoft Windows. It includes various 2D and 3D plots. Includes curve fitting, statistics, signal processing, and peak analysis. It can import data files in various formats such as ASCII text, Excel, NI TDM, DIADem, NetCDF, SPC, etc. It also exports the graph to various image file formats such as JPEG, GIF, EPS, TIFF, etc.
Conclusion – RStudio Alternative
Here, in this article, we have discussed alternatives to RStudio. Each has its features, advantages and disadvantages, and limitations. Based on your requirements and ease, you can choose one of them.
Recommended Articles
This is a guide to RStudio Alternative. Here we discuss the introduction and list of RStudio alternatives in detail. You may also have a look at the following articles to learn more –