Updated July 15, 2023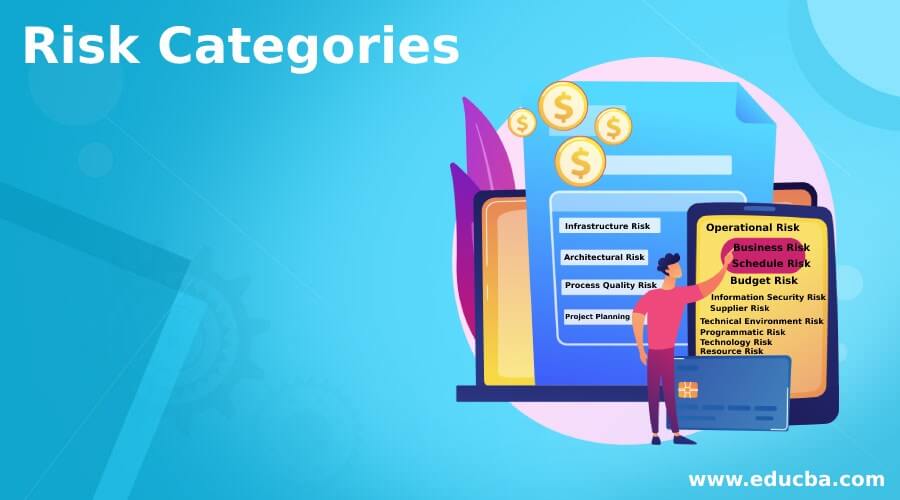 What are Risk Categories?
The term "risk categories" refers to the risk groups that have been created on the basis of the business activities of the organization. These risk categories provide a structured overview of the potential risks to which the organization is exposed. The most commonly used risk categories include operations, business, resource, regulatory, people, and project risks.
Explanation of Risk Categories
Typically, any business exposes to a number of risks, and some of them can be lethal enough to cause serious financial losses or even push to the brink of bankruptcy. As such, most large companies set up extensive risk management departments, while smaller firms may hire one or two risk professionals to manage all the risks. Nevertheless, categorizing risks is the first step or the foundation of the risk management strategy in any company.
Categories of Risk
Now, let us look at some of the most common categories of risks usually observed across companies. However, please note that the list is not exhaustive, and some can also be clubbed into a single risk category.
Operational Risk: It is the risk arising due to inefficiencies in business operations or improper implementation of business processes. In some cases, external issues, such as government regulations, weather problems, etc., can also result in operational risks.
Business Risk: This type of risk can occur due to various process-related issues, including a shortage of purchase orders, delay in receiving client inputs, etc.
Schedule Risk: Risk refers to an incorrect assessment of the completion or release of a project. Schedule risk can impact a project to such an extent that it can also become the sole reason for its failure.
Budget Risk: It can be the risk arising from a grossly inaccurate budget estimation for a particular process or project. Budget risk can result in a delay in project completion, premature handover of the project, or compromised project quality. Budget risk is also known as cost risk.
Information Security Risk: The risk arising from a breach of confidentiality of any sensitive data, especially financial data. The implication of violation of this type might not restrict to financial losses as it can severely dent the reputation and goodwill of the organization.
Supplier Risk: It is due to too much dependence on one or very few suppliers. Such risks can impact the company's production process or influence the progress of its ongoing projects.
Technical Environment Risk: The risk pertains to the environment where clients and customers operate. Some of the reasons behind risk due to the technical environment include regular fluctuations in production, testing environment, etc.
Programmatic Risk: This type of risk is usually beyond the purview of the operational limits and hence can't be controlled or programmed. Some of the common examples of programmatic risks are changes in government regulations or product strategy.
Technology Risk: This type of risk occurs due to a sudden or complete change in strategy pertaining to technology or the implementation of new technology. Usually, people resist such changes, which is one of the major manifestations of this risk.
Resource Risk: This type of risk occurs due to the inability of the company's management to allocate and utilize the available resources, such as employees, equipment, etc., appropriately.
Infrastructure Risk: This type of risk arises from inefficient infrastructure resource planning. As such, any company needs to devise appropriate infrastructure planning for its project.
Architectural Risk: The risk of failure of an organization's overall performance or functioning due to the unsuccessful implementation of software & hardware tools.
Process Quality Risk: This type of risk occurs due to failure to customize the business process properly. For instance, if a company hires staff that is not properly trained for the process, there is a higher probability that the company's process quality may compromise.
Project Planning: The risk arising from improper planning for a particular project. Such risks can cause the project to sink as it might fail to meet the client's expectations.
How to Use Risk Categories
So, by now, we know what kind of risks a business could face during its operation. However, just knowing about the risks is not useful as long as we don't convert them into actionable tasks. Risk categorization is just the first step of a well-engineered risk management strategy; there is much more work to be done after that. The following steps include deep diving into each type of risk, analyzing them, identifying the things that could go wrong, and tssessing their business impact. After all these steps, we can finally build the risk mitigation strategy.
Conclusion
So, it is important to note that there may be some degree of overlap between some of the risk categories based on individual perception and judgment. Also, this is not an exhaustive list and more risks can be associated with businesses. Nevertheless, the point is that a company needs to identify the most important risks for its business and then act accordingly to build a robust risk management strategy.
Recommended Articles
This is a guide to Risk Categories. Here we also discuss the introduction and how to use risk categories along with uses and its explanation. You may also have a look at the following articles to learn more –