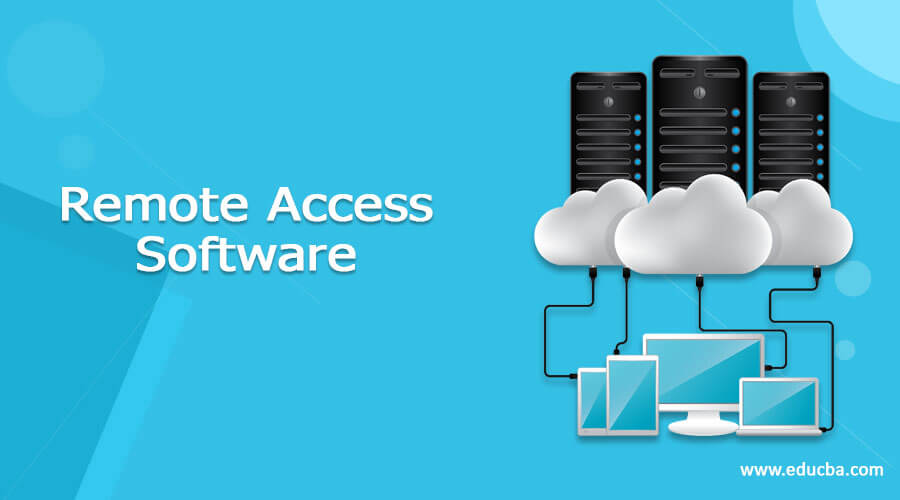 Introduction to Remote Access Software
Remote access software is the software that enables authorized users to access a computer or network from a geographical distance through the internet. It transmits the keyboard and mouse events from one computer to another replaying the graphical screen updates back in the other direction over the network. This feature consists of a server component for the host computer and a client component on the computer accessing the remote computer.
Remote access software
List of Remote Access Softwares
Below is the list of remote access software
1. Zoho assist:
Zoho assist is a remote access software, that access, manage, and control remote devices using unattended remote access. It is used to transfer the files, share screen, and synchronization of the clipboard. Supports various platforms such as windows, linux, mac, ios, android, raspberry pi. Zoho assist can initiate and schedule remote support session. It is easy to set up and offers 15 days free trial.
2. ManageEngine remote access plus:
Another remote access tool is ManageEngine remote access plus. It is a secure and comprehensive enterprise remote access software which helps desk technician to troubleshoot the windows, mac and Linux computers from central location. It can access the endpoints from anywhere. It has the ability to handle the multiple computer and can switch between multiple monitors connected to client's computer.
3. TeamViewer:
TeamViewer is an another best remote access software which allows users to connect to multiple workstation. Its graphical user interface helps user to enhance remote control performance. It allows users to pass the control from one user to another. To transfer files from one computer to another, TeamViewer provides drag and drop options. For secure transmission, TeamViewer automatically generate the Unique ID and password every time when the new connection is established. Before establishing the connection, it check the validity of the ID and password. If it is correct them only it allows the connection.
4. RealVNC connect:
Another remote access software is RealVNC connect. It is used to share, train and collaborate and support the team members. On-demand, to enhance the user satisfaction, RealVNC connect provides outstanding helpdesk service. It helps the ecosystem to access the resources and information in secured manner.
5. AnyDesk:
AnyDesk is a best remote access software which helps users to ensure secure remote desktop connection for IT professionals. It allows users to transfer the audio and video files and provides VPN functionality. AnyDesk support various operating systems like Windows, Linux and macOS. It also allows users to record the remote session. The advantage of this is it automatically, update the its latest version. To secure the connection between clients anyDesk provides AES 256. When direct network connection is established, the session is endpoint encrypted and its data is not routed through AnyDeSk server.
6. UltraVNC:
UltraVNC is an remote access software, which is used to access the other computer in secured manner. It allows users to connect to remote computer from computer program, browser and mobile application. It allows dual installation i.e Your computer can access both computers remotely and be viewed remotely. Its chat features allows converse with other remote computers. It supports operating systems like windows and Linux. In addition to remote control, it provides various features such as encryption plugin to transfer the data in secured manner. The software is free and distributed under the terms of GNU general public license.
7. GoToMyPC:
Another remote access software is GoToMyPC which allows users to access computers remotely using web browsers. It allows you to access the files, network and applications. It can remotely access from android, kindle, iPad, and iPhone. To transfer files in secured manner and provide security to users, GoToMyPc uses 256 bit AES encryption. This software support multi monitors. User can copy-paste the files during connection establishment.
8. Perimeter 81:
Perimeter 81 software allows users to access the network with ease. It allows users to connect to multiple devices from various locations. this software can also encrypt the data. Perimeter 81 automatically integrated with major cloud providers, provides unlimited bandwidth and data. It also offers activity and audit reports. One of the advantage of this software is that it blocks threats and grant the access to the authorized sources.
9. Remote Utilities:
It is an open-source remote access software. It supports various operating systems like Windows, Linux, macOS, iOS, and Android. It consists of two components, one is the host which is installed on remote computer, and the viewer which is installed on local PC. It provides full control over the remote system and allows to view the remote computer without disturbing the user. Using IP address or internet ID, established the connection. Remote Utilities has IP filtering system allowing restrict access to only certain IP addresses.
Conclusion
Here in this article, we have discussed various remote access software's that you can use to access the other's computer. Each has its own features. Based on the requirements you can choose one of them. Hope you enjoyed the article.
Recommended Articles
This is a guide to Remote Access Software. Here we discuss Introduction, various remote access software, and its features. You may also have a look at the following articles to learn more –