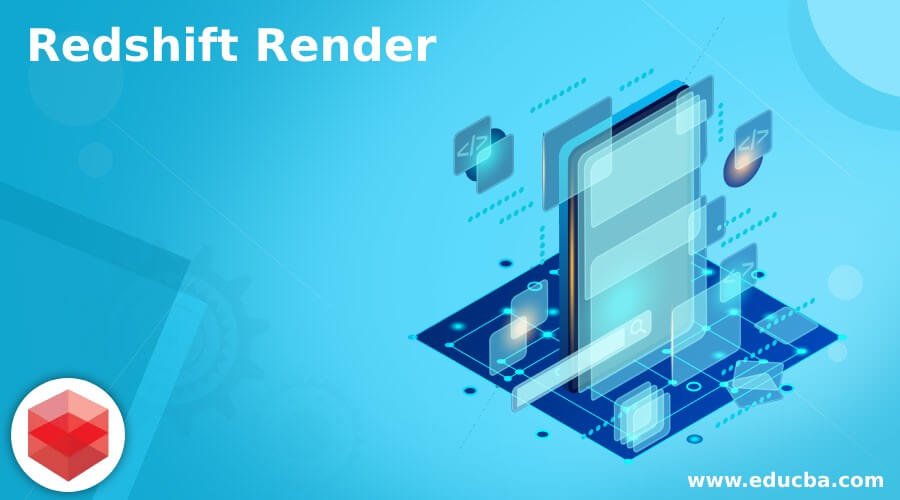 Introduction to Redshift Render
Redshift Render is defined as software that enables processing an outline to build an image in 3-dimensional space and make it look like a solid by the help of computer graphics by representing the geometric data stored in the cartesian form of a GPU accelerated system. This software was built by Redshift Rendering Technologies Inc., from where the name "Redshift Render" name was coined. This software is claimed to be a biased GPU-accelerated renderer where users can adjust the quality of the individual techniques so that it is possible to obtain the best performance and keep the quality balanced.
How to use redshift render?
The important question to answer here is that the rendering process in redshift, and using the below flow, we will be able to explain the usage of the redshift render.
At first, the 3D wireframe models are created.
The different features that need to be a part of the rendering process need to be explicitly explained in the tray. Some of the features are listed below.
Lights
Shadow
Materials
Reflections
Everything else that is required to make the rendered object look real.
The entire bundle is then passed on to a rendering engine
This rendering engine now starts absorbing the data from the 3D models and creates a 3-D image.
The different characteristics passed are taken as an input, and corresponding commands are run and make them come together to produce a photo-real animation!
The features explained in later paragraphs allows isolating individual objects in case of the requirement change slightly.
Finally, the rendered product is sent to a post-production program like Photoshop or Adobe After-Effects.
App Redshift render
There are different functionalities under Redshift App taking care of different use cases, and they are:
GPU Acceleration: As already discussed, the GPU acceleration tailors to the quick turnaround of any rendered objects.
Core Strength: Any application needs to perform the best at the core before even having some fancy other features, and Redshift makes sure it adheres to it.
Photorealism: The different features in Redshift makes the object rendered through it realistic, even if it is a photo. In other words, one won't be able to distinguish that the object is real or not.
Texture and Shading: The features in Redshift takes care of shading and texture in the rendered object with the support of complex and other advanced shading networks.
Real characters: Redshift is able to portray characters as a real ones, even if they are imagined one!
Integrations: The last but not the least, Redshift allows easy integrations with the production pipeline.
Features in Redshift render
Out of core geometry and textures: With scenes containing numerous polygons and a corresponding huge volume of texture data, redshift's memory management allows efficient rendering of the scenes.
Global Illumination: Global illumination denotes the bouncing of light effect from surfaces and onto any surface, and here redshift provides the point-based and brute force global illumination technique.
World-leading performance: Another feature highly discussed is the GPU acceleration accompanied by some techniques within Redshift like sampling techniques; it delivers the world's leading renderer performance.
Proxies: Proxies are instrumental in removing one or many mesh items and offloading them to an external file. this external file is not loaded every time and is only done till the scene is rendered again. Using redshift, developers can move some of the objects and lights group into proxy files. Using this, one can develop a powerful shade, matte finish and visibility flag that tends to get overlooked in case of production.
Transformation and deformation blur: This feature allows Redshift to perform multi-step blurring transformation and a 2-step blur deformation.
Volumetric lighting and rendering: Using the OpenVDB across the 3D apps and the native volume rendering, Redshift is able to impart capability of volumetric rendering that includes Redshift to cast volumetric lights in accordance to the needs. With special effects from lighting, Redshift can easily create the 'God ray' effect.
Hair rendering with 'Min Pixel Width': One of the classic capabilities of Redshift is the capability of rendering thing hair smoothly. It is because thin hair in the rendering subject tends to produce a lot of noise, and hence with this feature look of the thin hair is smoothened out using the MPW rendering capability.
Tessellation and displacement: This feature allows Redshift to support tessellation edge and vertex creasing using UV smoothing control.
Per-object flexibility: This feature provides flexibility across objects to have advanced matte features and tracing options.
Baking: This feature assists in baking out AOV data from any individual objects.
Command-line rendering: This feature is analogous to a CLI for developers where the rendering can be performed independently by using the redshiftCmdLine tool
SDK: There is a special provision of C++ SDK to facilitate deeper integration with other pipelines.
Altus Densoiser: This feature allows quicker integration with Altus denoiser by reducing render times but still maintain clean images at high quality.
Ray switches: This feature enables a switch to control the behavior of materials when exposed to different ray types.
Hair shader: In Addition to the thin hair rendering, the hair shader feature simulates the light scattering effect using a physically principled model.
Dedicated skin shaders: The feature of a dedicated skin shader supports sub-surfaces of up to 3 layers and implies a realistic-looking skin post rendering.
Round corners: This feature enables smoother edges without requiring geometry tessellation through licensed technology from NVIDIA.
No texturing limitations: Redshift offers an unlimited number and size of textures irrespective of the size of VRAM.
Dome and Mesh lights: The lighting feature in Redshift enables efficiently lighting an entire scene through the usage of textures and then usage of any mesh to incorporate the same features to have sampling efficiency as lights in a common area. Redshift provides full flexibility on the light variations, ranging from area lights to photometric/IES lights and not to forget the portal ones and the gobos!
Physical sun and sky: This feature from Redshift enables emulating naturally looking sunlight and sky.
Multiple camera lens types: Fisheye, spherical, cylindrical cameras, lens distortion.
VR: This is again one of the important features where a specific type of rendering known as stereo spherical rendering is possible for VR applications through Reshift.
Physical lens effects: Different lens effects can be compounded using this feature. These controls vary from exposure controls such as ISO, shutter, vignette, color balance and textured bokeh effect etc.
Many AOV Types: Varied AOV types are possible using redshift's features like albedo, diffuse, shading components, depth identification, vectorization due to motion etc.
Conclusion
The uncompromising quality signifies that of the CPU renderer, but it attains the same as a GPU's rendering speeds when it comes to speed. The software also offers powerful features that are suitable for the developer and allows integration with the standard CG applications.
Recommended Articles
This is a guide to Redshift Render. Here we discuss How to use redshift render along with the features in detail to understand easily. You may also have a look at the following articles to learn more –