Updated May 26, 2023
Iceland
Iceland is a Nordic island nation in the Arctic and North Atlantic oceans. It is the least populated nation in Europe. The plateau is a nearly perpetually erupting and most significant portion of the Middle-Atlantic crinkle that rises above sea level. The interior comprises a plateau with mountains, glaciers, sand and lava fields, and several glacial rivers flowing through the lowlands to the sea. Despite being located at a high latitude well outside the Arctic Circle, Iceland is warmed by the Gulf Stream and boasts a mild climate. Iceland's northern region is a land of contrasts.
Mountains, lava fields, and slight hills sculpted by rivers can be seen strewn throughout its extensive valleys and peninsulas. The North Coast's numerous, deep indentations are occasionally covered in luxuriant flora, and other times are deserted. In Northern latitudes, the midnight sun is typically breathtaking as one approaches the Arctic Circle. With guidance, one can find many beautiful places to visit in Iceland.
Top 4 Places to Visit in Iceland
To make your trip memorable, here are a few places to visit in Iceland:
#1 Reykjavik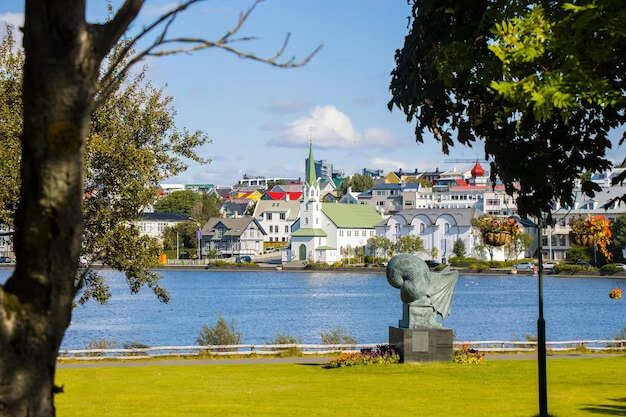 Reykjavik, Iceland's capital and the center of many activities, is likely where your trip will begin and end. One of the best places to visit in Iceland. It is a picturesque city that is easy to navigate on foot. It's located on the southwest coast of Iceland. Even though it is the biggest city in Iceland, with just over 200,000 residents, it is still considered a tiny capital city. Whatever your mood, there is a wide range of things to do, things to see, and places to visit in Reykjavik, so you can always find something that suits your mood.
Things to do:
Ride to the Hallgrimskirkja Church.
Visit or attend a concert at Harpa.
Visit the Perlan Museum of Icelandic Natural Wonders.
Visit Aurora Reykjavik and view the Northern Lights.
Best time to visit:
The months of June and August are considered excellent for travel to Reykjavik.
#2 Hafnarfjörður
The center of Viking culture is located in southwest Iceland, near Hafnarfjörur. Since it is one of the oldest settlements on the island, the community holds an annual Viking festival where fans of the settlers can revel in the culture. Hafnarfjörur offers a variety of unusual activities, including journeys to see traditional Icelandic costumes, horseback riding excursions, and tours of hidden worlds. Since many of Iceland's most well-known rock bands, including HAM, Sign, Jet Black Joe, Jakobinarina, and Ulpa, have their roots here, it is frequently referred to as the "rock 'n' roll capital" of Iceland.
Things to do:
Northern light Hunt.
Do a Golden Circle Glacier Super Jeep Tour.
Visit the Viking Village.
Visit the Hellisgerdi Park.
Best time to visit:
June to August are the months considered best to visit Hafnarfjörður. It's based on a review of meteorological averages, including temperature, amount of rain, and sunlight hours.
#3 Akureyri
Akureyri, a charming fishing town in northern Iceland, has been inhabited since the Norse Vikings arrived in the ninth century. The central street that winds throughout the area, Kaupvangsstraeti, is enjoyable to stroll around. Popular outdoor pursuits include local outings to hiking destinations, birdwatching, fishing, rafting, and horseback riding. You may schedule an evening tour to watch the aurora borealis in the winter, go skiing on the Eyjafjördur Fjord, or take a snowcat journey into the highlands.
Things to do:
Whale Watching.
Visit Akureyrarkirkja church.
See the Laufas Turf Houses.
Visit Botanical Garden.
Best time to visit:
The temperature constantly varies from -4°C (December) to 11°C (July). Depending on what you wish to explore and enjoy, any season is ideal for a visit. Skiing and viewing the northern lights are best throughout the winter months (October to April), with March being the coldest.
#4 Seyðisfjörður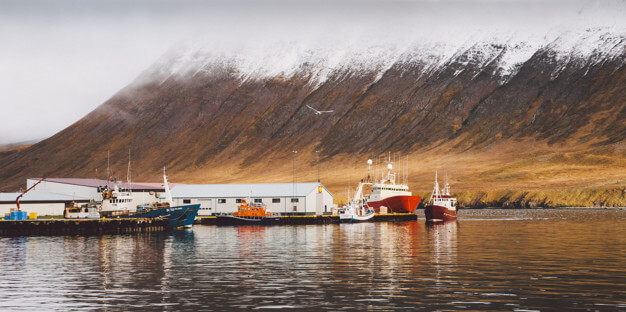 On the eastern coast of Iceland, a fjord is home to the little village of Seyisfjörur. It is one of the most significant locations to visit if you want to witness the puffin colonies in Iceland's isolated areas. Mountains and the sea border Seyisfjörur, and it has a vibrant culture and breathtaking scenery.
Things to do:
Visit the blue church, Bláa Kirkman.
Visit the cozy local cafes.
Try local beer brewed in Kaffi Lara.
Try sea kayaking.
Best time to visit:
Between January and May, the climate is terrible and cold. In June, the weather is considered unfavorable. July and August are the best months to visit this place.
Conclusion
Iceland, the least populated nation in Europe, is home to vast tracts of uninhabited nature and open spaces. Wherever you move, you will see the breathtaking natural beauty being unmatched. Iceland is a tiny nation with a big heart and equally impressive natural beauty. The above mentioned were a few places to visit in Iceland to make the trip more exciting and memorable.