Updated May 26, 2023
Discover Finland
Finland is a beautiful country that should be on everyone's travel list. From its natural beauty to the vibrant cities and unique culture, Finland has countless places to visit, each with something special. Though it is less popular than other European destinations, Finland has a diverse range of destinations, from Helsinki to Turku and more! The country is also among the prime destinations where you can witness the phenomena of the Northern Lights.
Whether you're looking for a relaxing holiday getaway or an exciting adventure, Finland can provide you with the perfect destination.
Top 4 Places to Visit in Finland
Some of the top 4 places to visit in Finland are as follows:
#1 Aland
The Aland Islands are situated between Finland and Sweden. Aland is a mostly Swedish-speaking region of Finland with a few big islands and almost 10,000 tiny ones. To learn about the islands' exciting marine heritage, you must visit the various museums in Mariehamn. The beautiful landscapes and coastlines attract several artists here. Aland is among some of the best places to visit in Finland because of its picturesque locations. With a minimal population and beautiful scenery, the islands are the perfect place to stay and relax.
Things To Do:
Visit the Maritime Museum
Visit the Museum Ship Pommern
Experience the midsummer's eve celebration
Explore the Jan Karlsgarten open-air museum
Take a boat ride to Turku
Best Time To Visit:
The ideal time to visit the Aland Islands is from April to July. In this duration, when the weather is clear and pleasant to travel around.
#2 Santa Claus Village
It is located in the heart of Finnish Lapland and is a must-visit destination for those looking to experience Christmas cheer. Located 8 km north of Rovaniemi, the village is home to Santa's post office and even his office! Here visitors can meet with Santa, receive a personalized letter from him, and even take pictures together. The village also has plenty of shops where visitors can browse through souvenirs and other unique Christmas gifts.
Things To Do:
Participate in unique activities like husky sledding and snowmobiling.
Play mini-golf at the Adventure Park
Visit Snowman World – an indoor theme park made entirely of snow and ice!
Visit a Sami Reindeer Farm
Go to the Arktikum Science Museum
Best Time To Visit:
Christmas time is the ideal time to visit Rovaniemi's Santa Claus Village. You can see it from December to March.
#3 Helsinki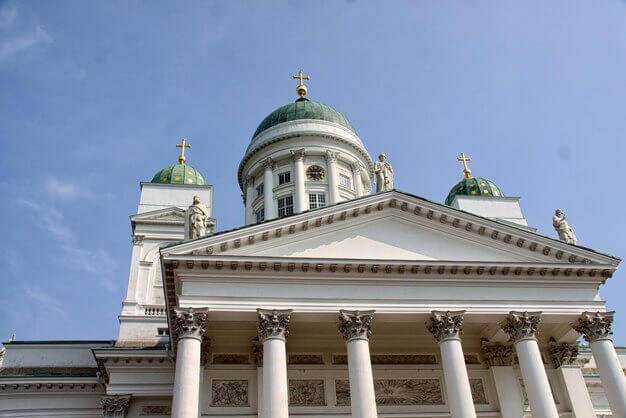 Helsinki is the capital of Finland and a vibrant city situated on the Baltic Sea. Helsinki offers something for everyone, whether you're looking to explore its rich culture or relax in its clean and beautiful parks. The city has an impressive array of museums, including the Ateneum Art Museum, which houses work by renowned Finnish artists such as Akseli Gallen-Kallela. Additionally, Helsinki is home to many theatres and music venues like Helsingin Kansallisteatteri, which hosts ballet and opera performances.
Things To Do:
Take a boat ride to the Suomenlinna Islands and the Fortress of seaborn
Explore and shop in Helsinki's market square
Go to the Linnanmaki Amusement with family
Visit the classic Helsinki churches like the Lutheran Cathedral and Uspenski Orthodox Cathedral
Visit the famous Senate Square
Best Time To Visit:
The best time to visit Helsinki is from May to September. There is minimal rainfall during this time, which makes it ideal for traveling.
#4 Savonlinna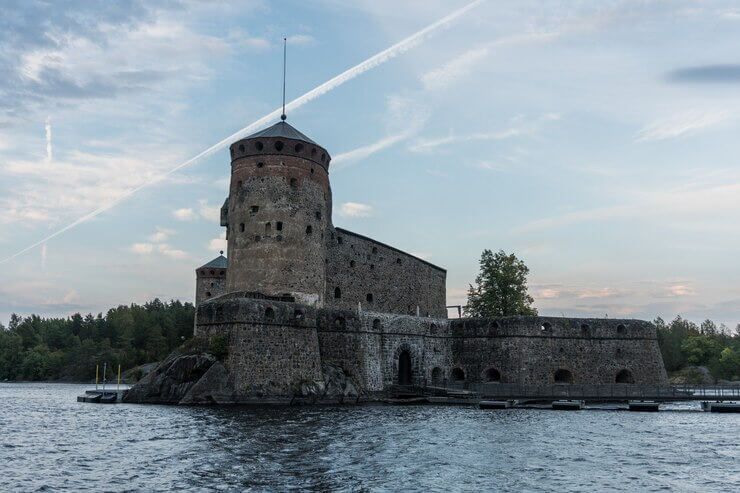 Savonlinna, Finland, is an idyllic town located in the Eastern region of Finland. Located on the shore of Lake Saimaa, Savonlinna has been called "The Pearl of Lakeland" and is known for its castle, Olavinlinna, which was built in 1475. It's a beautiful destination for visitors seeking to take in breathtaking natural beauty and enjoy a peaceful atmosphere.
The charming city is full of things to explore, including pristine nature reserves, such as Repoveden National Park, where visitors can hike along scenic trails and admire stunning views from rocky cliffs.
Things To Do:
Explore the old city walls and buildings
Visit nearby museums, such as The Savonlinna Provincial Museum
Explore the ancient Olavinlinna Castle
Take a boat trip on Lake Saimaa
Visit the Retretti Art Center
Best Time To Visit:
Late June to mid-August is the ideal time of year to explore Savonlinna if you want to enjoy warm-weather activities.
Conclusion
In conclusion, Finland is a beautiful country with plenty of exciting places to visit. From A Land or Santa Claus Village to Helsinki or Savonlinna, visiting Finland can be a great way to explore the nation's culture and history. While you plan to spend your vacation in Finland, the above-given list will give you an idea of all the places to visit in Finland. So, go ahead and plan your perfect holiday in Finland.