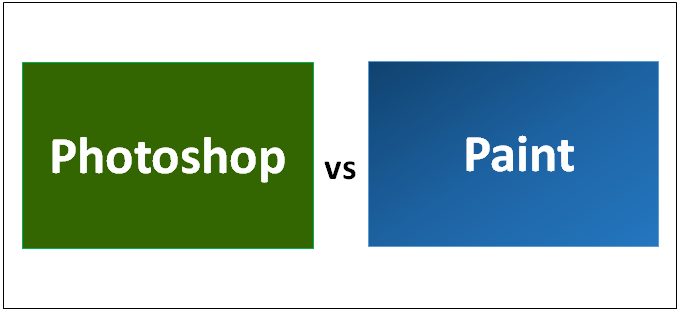 Difference Between Photoshop and Paint
As we know, Adobe Photoshop is the world's leading software for photo editin; it is probably incomparable with any other software. Microsoft Paint is the normal software for sketching, drawing and editing the images. We can't use a word comparison between Photoshop vs Paint software. Basically, whatever we will discuss on Photoshop vs Paint will positively affectshop and a negative to Paint. Still, we will give our approach to see what the best we can give for painting.
Head to Head Comparison between Photoshop and Paint (Infographics)
Below is the top 9 difference between Photoshop vs Paint.

Key Differences between Photoshop and Paint
Both are popular choices in the market. Let us discuss some of the major difference:
Microsoft Paint is the basic editing software which has its own reputation in the market between kid's and Adobe Photoshop has its own reputation between photographers and graphic designers.
If the user opens Photoshop, then he has to answer some of the questions as of image, DPI and sometimes Properties. So even to open the software, if someone doesn't know the features, it is difficult to open. Simultaneously, for MS Paint, users have to click on the icon, and he gets the toolbar in front of him named in the simple manner anyone can understand.
Adobe Photoshop is a continuously growing software whose popularity is growing day by day, and user interface, performance, ease of use, and accessibility are getting refined. Simultaneously MS Paint is the one whose popularity is decreasing day by day, even there's news that in the further versions of windows, they are including Paint in their package. If the user wants Paint they have to get installed from their store.
Using Photoshop, we can say that imagination is the only limit else; everything we want can be achieved as basics can be done in Paints user doesn't get the tools for modification and also, it doesn't have any professional editing tools.
Comparing Photoshop vs Paint is like making fun of one of them, but if we explore the market for their use, then MS paint is used in schools, and that's all. All the market outside the schools uses Photoshop for pixel-based images and graphic design.
By viewing the overall experience of this two software ( Photoshop vs Paint ), it's easy for us to conclude that if you are dealing with the basic editing and you want to save your money, nevertheless, the option is Paint. Similarly, Photoshop is very expensive and only if one can make a profit by using it only he is allowed to invest with such a huge amount of money.
One of the major differences is that MS Paint is free from errors; if any system fails issue is there of any other apart from this. There are chances of getting an error if the system is crashed while using Photoshop as it used more RAM.
Photoshop has lots of brush tools in it, and even if we want, we can make our own. There are 2 ways of using these brush which is a brush tool and a mixer brush. These tools give us different ways of coloring the image and modifying it. While if we look into the Paint, we have a brush tool, and we have to adjust the size of it as per requirement, and further, we've got different colors.
Photoshop vs Paint Comparison Table
Below is the 9 topmost comparison:
| | | |
| --- | --- | --- |
| SR.No | Adobe Photoshop | MS Paint |
| 1. | It is created by Adobe Inc., which is the world's awarded company for making this digital editing software's | This is the normal software made which is being made with the package of Microsoft Windows, and it is been included in all versions of windows. |
| 2. | This software was developed in the year 1990. Basic version was launched at the start then they upgraded further. | This software was developed in the year 1985 and was made available with the windows package. |
| 3. | It comes in two version one was basic, and other was the extended version, but they stopped with the basic and continued with the extended version. | It usually comes with a normal version, but further, they upgraded with the 3D version of it. |
| 4. | It creates BITMAP images and can access nearly all types of images excluding vector types. | It can access all type of images, including raster and vector, to open and edit the image successfully. |
| 5. | It takes huge space of your computer, it consumes nearly in gigabytes. | It is light software which creates its database on "C" drive and consumes space in megabytes. |
| 6. | It takes more RAM to run the software. As if you increase the RAM, you then you will get better performance than the previous. As it requires a minimum of 2gb of ram for the latest version. | It takes less RAM to run. Usually, if you have 512mb RAM then that's more than enough to run the software without getting any bugs. |
| 7. | The cost of this software is very high as it is a certified product of ADOBE Inc. | It is freely available everywhere, well user does not have to search anywhere on websites, it comes with your windows package. |
| 8. | It's been used by professionals as it gives very good exposure to the user. | It usually has a kid's stuff, i.e. basic drawings, paintings, and sketching. It can be said that it gives good exposure to kids. |
| 9. | Using this software is a hard job; you need to know the basics and go through some tutorials before operating it. | Just click on the icon and here you go, no teaching, no tutorial nothing to do with learning the part. |
Conclusion
Both are good and both have their unique tools, features, and properties based upon which they work. Photoshop has to give a competition to the world market to keep its stand whereas MS paint is out of that competition.
Putting some extra advantages and benefits makes your software more appreciable, and people demand it. The same happened here in the case of Photoshop vs Paint.
So Suggestions from the pure soul are to practice on paint and then go for Photoshop as it will clear your views first, and then you can start using advanced (Photoshop) if interested.
Recommended Articles
This has been a guide to the top difference between Photoshop vs Paint. Here we also discuss the key differences with infographics and comparison table. You may also have a look at the following articles to learn more.