Updated April 18, 2023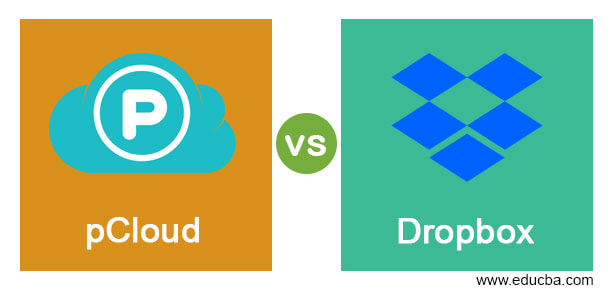 Difference Between pCloud vs Dropbox
pCloud is a drive where people can store the data and access the data by creating a protected virtual drive on a computer without disturbing the space from HDD. It is a desktop application that is available for free till 10GB and can be utilized till 2TB when it is paid. Dropbox can save, share and help to collaborate on projects. Dropbox can be used as a shared account where all employees can access the file. It has backup storage and can be available online also. Dropbox is secured by multi-layer 256 advanced encryption standards.
Head to Head Comparison Between pCloud vs Dropbox (Infographics)
Below are the top differences between pCloud vs Dropbox.

Key differences between pCloud and Dropbox
The important differences between Dropbox and pCloud can be its pricing, accessibility, security, synchronization, and file collaboration.
User-friendliness
pCloud provides secure accessibility and user-friendly storage service and has a flawless interface making a comfortable environment for beginners. After registration, many top features can be used on the web and the web platform can be available at any web browser on any device. You can access all your favorite pics, files, and music even offline. Dropbox is similar to a folder on your hardware device and every data dropped inside gets synced to the web and available in other devices where you have installed and logged in to Dropbox.
Dropbox and pCloud have the standard accessibility but pCloud pave an attractive way to beginners.
Synchronization
When compared with 1 GB of data, Dropbox and pCloud work blazing rapidly when compared to other cloud storage devices. They can upload the 1GB file in thirty seconds whereas the other cloud devices take approximately four minutes. Dropbox and pCloud convert the data into little chunks which in turn reduces the time consumed to sync the data. So when it comes to data synchronization both of them pay their fullest advantage.
Virtual Drive
The standard feature which helps to segregate pCloud is its integrated Virtual Drive abilities that enable the external digital hard drive to make synchronization of virtual servers. The virtual drive displays the file explorer like the standard hard drive. The input and changes to those files get reflected and synced to the cloud and become online in all the pCloud installations. Dropbox follows the same principle but it is not as effective as pCloud. The reason is the Dropbox enables the user to access individual files for rapid synchronization where the pCloud enables the user to synchronize virtually the entire drive.
pCloud stands top here in drive because of its entire virtual rapid drive sync.
Teamwork
The collaboration cannot be measured by working on single files as the market standards are speaking about TB's. But no cloud storage can meet the standards that Dropbox offers. It offers an entire tool-set for in-built comments that hastens the collaboration of individual files. But pCloud doesn't possess any tools like this and doesn't have access to team collaboration.
So Dropbox rocks in collaboration with its suite of tools.
Communication Speed
The upload and download speed of pCloud is 10 times faster than Dropbox unless the user has a stable internet connection.
Security
When coming to a safe environment, both of them are built with standard encryption methods. pCloud offers client-side encryption where the data at the client end is protected to avoid malware attacks. Its Crypto methods defend the confidential files with a multi-layer security wall and make them more securely accessible. But it has a separate plan to avail the top Crypto feature. Dropbox depends on the third-party application to avail the encryption methods. The SSL and TLS encryption are enabled between server and application which develops a secured passage for advanced encryption methods. The files at rest in Dropbox are encrypted by 256-bit AES.
Comparison Table of pCloud vs Dropbox
| | | |
| --- | --- | --- |
| Features | pCloud | Dropbox |
| Storage | It is available free till 10 GB but provides limited storage space. The maximum storage space available is 2TB. It doesn't provide extra space for referrals. | It has unlimited storage space and till 2GB it is available for free. Here the maximum storage space is infinite. It offers 500MB free storage for making referrals till 18GB |
| Collaboration | The sharing of files works through links and completely supports file versioning for 180 days. It doesn't have collaboration tools. It has 85% file collaboration | It shares files via web application and partially supports file versioning for 120 days. It uses block-chunks for rapid collaboration. It has 100% file collaboration |
| Encryption | It offers client-side encryption for free and crypto encryption for cost | It offers 256-bit AES at rest and SSL/TLS encryption between server and applications |
| Services | It provides cloud storage, backup services, phone support, and file sharing | It offers file synchronization, cloud storage service, online editing options, and the hosting of files. |
| Pricing | The premium plan for 2TB costs around $7.99 per month. | The professional plan for 2TB costs around $19.99 per month |
| Traffic limit | It has a free bandwidth limit of 20GB per day and for paid it can use 200GB | It does not have such a traffic limit |
| Mobile applications | With the automatic upload option, it is available on iOS, Android, and Windows. If the user availed paid plan, he can go for auto-delete and can be accessed offline. | It is available in Windows, iOS, and Android mobile. It enables the user to access files and feels the same as browsing on a laptop. It also has the option to auto-load and backs up files. |
| Data retrieve | In a free plan, the data recovery can be done in 15days, and in premium, it can be extended to 30 days. Availing extended file history options makes 360 days for the trash bin and recovery system. | Here the free plan offers 30 days of recovery and the work plan provides 180 days for recovery. The rewind option in Dropbox retrieves and restores the account in minimum time but with paid plans |
Conclusion
When compared many features of pCloud and Dropbox, it is suggested that pCloud provides more or less the same option as Dropbox for a minimal amount. Whereas if a user needs pro-environment he can go for Dropbox.
Recommended Articles
This is a guide to pCloud vs Dropbox. Here we discuss the pCloud vs Dropbox key differences with infographics and comparison table. You may also have a look at the following articles to learn more –