Paper Money Meaning
Paper money, also known as cash or currency notes, is a form of physical currency that people can use to buy goods and services in a country. A country's government or central bank is responsible for the printing and circulating of currency.
Each country has its own unique paper money that people can legally use within that country. In some cases, more than one country can use the same currency. For example, France, Germany, and Belgium use the Euro as their currency.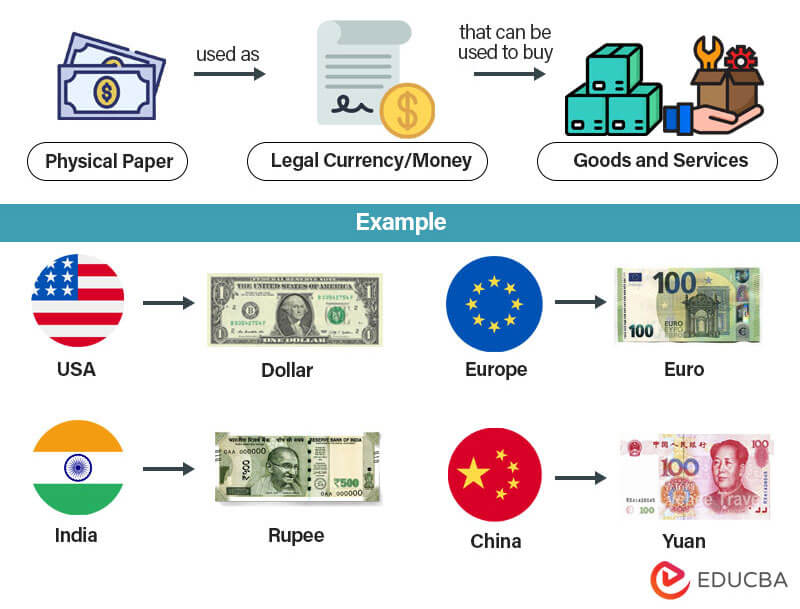 Table of Contents
Paper Money History
1. Tang Dynasty, China
The origin of paper money dates back to the Tang Dynasty (7th Century). Back then, heavy metal coins were the primary form of money. So, when a merchant/person wanted to send their money over long distances, they couldn't do it easily. To solve this, they invented "Flying Money." Here, the merchant can deposit their money in one place, get a receipt called "Flying Money," and then carry and exchange it for the same amount anywhere else.
2. Song Dynasty, China
Modern money came into existence during the Song Dynasty (11th Century). The first paper money, "Jiaozi," originated in the Sichuan Province of ancient China. Due to a metal shortage, they couldn't make cousins, so they started using paper to make money. The Chinese were good at making paper, so printing money became popular. When they encountered issues like counterfeiting, China began to use special papers and materials. Later, in the following years, printed money spread throughout the country.
3. Sweden, Europe
After China, Sweden was the first country to use paper money in 1661. During that time, the Swedish government didn't have enough gold and silver, so they made coins out of copper. But when they started making lighter coins, people got worried that they might not be worth as much as the heavier ones. To solve this problem, the Swedish bank started giving out banknotes that mentioned the amount of money the note was worth, very similar to flying money.
4. Modern World
After the events in Sweden, various countries improved banknotes, and with time, paper money became what it is today. Instead of any bank issuing notes, the central bank fixes the format for each denomination (value) of money.
Types of Paper Money
The various types of paper money are as follows:
1. Representative
Representative paper notes refer to a type of money that governments print based on the amount of gold and silver they have in reserves. Simply put, the total value of printed notes must equal the amount of gold and silver a country has.
Examples: American gold and silver certificates, Indian gold bullion certificates, etc.
2. Convertible
Convertible paper money is a currency that the person can exchange for something more valuable, like precious metals such as gold or silver. Remember that buying gold and silver and exchanging paper for gold or silver are totally different things.
Examples: US dollar convertible into gold, Mexican Peso convertible into silver, etc.
Examples of Paper Money
Each country has its own paper currency. Below is a list of 26 countries with their Currency names and Symbols.
| | | | |
| --- | --- | --- | --- |
| Sr.no | Country | Currency Name | Symbol |
| 1 | Australia | Australian Dollar | $ (AUD) |
| 2 | Brazil | Brazilian Real | R$  (BRL) |
| 3 | Canada | Canadian Dollar | $ (CAD) |
| 4 | China | Chinese Yuan | ¥ (CNY) |
| 5 | Europe | Euro | € (EUR) |
| 6 | Hong Kong | Hong Kong Dollar | HK$ (HKD) |
| 7 | India | Rupee | ₹ (INR) |
| 8 | Indonesia | Indonesian Rupiah | Rp (IDR) |
| 9 | Japan | Japanese Yen | ¥ (JPY) |
| 10 | Kuwait | Kuwaiti Dinar | د.ك (KWD) |
| 11 | Malaysia | Malaysian Ringgit | RM (MYR) |
| 12 | Mexico | Mexican Peso | $ (MXN) |
| 13 | Norway | Norwegian Krone | Kr (NOK) |
| 14 | Philippines | Philippine Peso | ₱ (PHP) |
| 15 | Russia | Russian Ruble | ₽ (RUB) |
| 16 | Singapore | Singapore Dollar | $ (SGD) |
| 17 | South Africa | South African Rand | R (ZAR) |
| 18 | South Korea | Korean Won | ₩ (KRW) |
| 19 | Sweden | Swedish Krona | Kr (SEK) |
| 20 | Switzerland | Swiss Franc | Fr (CHF) |
| 21 | Taiwan | New Taiwan Dollar | NT$ (TWD) |
| 22 | Thailand | Thai Baht | ฿ (THB) |
| 23 | Turkey | Turkish Lira | ₺ (TRY) |
| 24 | United Arab Emirates | United Arab Emirates Dirham |  د.إ (AED) |
| 25 | United Kingdom | Pound Sterling | £ (GBP) |
| 26 | United States | US Dollar | $ (USD) |
Role of Central Banks
The Central banks of each country have various responsibilities in currency printing, circulation, and maintenance.
Some of them are as follows:
#1 Issuing Currency: Central banks create and control the amount of money in circulation.
#2 Monetary Policy: They adjust interest rates and other policies to manage inflation, stabilize prices, and promote economic growth.
#3 Financial Stability: Central banks supervise other commercial banks and ensure they follow the rules and regulations.
#4 Counterfeit Detection: Central banks use advanced security features to make it hard to counterfeit money and work with law enforcement to remove fake notes.
#5 Foreign Exchange Management: Central banks manage a country's foreign currency reserves, influencing exchange rates and supporting international trade.
#6 Cash Distribution and Supply: Central banks are responsible for distributing paper money to banks, ensuring enough cash is available, and replacing worn-out notes.
Advantages & Disadvantages
| | |
| --- | --- |
| Advantages | Disadvantages |
| It is easy to carry, which makes it convenient for everyday transactions. | It is not very durable and can tear easily when used roughly or exposed to water or moisture. |
| Unlike digital forms of money, you don't need technology or the internet to use physical money. | Government cannot track paper notes, which makes it a medium to store black money. |
| It provides data security since you don't need to provide personal information when using it. | Counterfeiting, i.e., making fake copies of paper notes, is easier than other currency forms, which can harm the economy and increase inflation. |
| It enables immediate transactions, unlike online payments or bank transfers. | Each country only accepts its own paper money as legal tender, so when traveling to another country, you need to exchange your currency for the local one. |
Final Thoughts
Paper money is a key part of modern economies because it enables the buying and selling of goods and services, making trade and business possible. Nowadays, online transactions are becoming popular, which is reducing the use of paper money. However, digital transactions can't completely replace it. Just like coins and printed money have coexisted for a long time, online transactions and printed money will continue to work together.
Frequently Asked Questions (FAQs)
Q1. What is the difference between cash and paper money?
Answer: Cash refers to all forms of money, including both physical and non-physical forms, like coins, banknotes, checks, debit/credit cards, and electronic transfers. On the other hand, paper money only refers to physical currency like paper bills or banknotes. In short, all paper money is cash, but not all cash is printed money.
Q3. What material is paper money made of?
Answer:
Cotton-Linen Blend: One of the most widely used materials for making currencies is a special blend of 75% cotton and 25% linen.
Polymer: Some countries have adopted polymer materials for their currency notes. Polymer banknotes are made from a thin film of strong, durable plastic.
Paper: Some countries also use traditional paper in producing currency. However, most countries use a special type of currency paper that is stronger and more durable.
Recommended Articles
This was a complete guide on paper money and its important role in the development of the world economy over centuries. Here are other articles that might pique your interest.