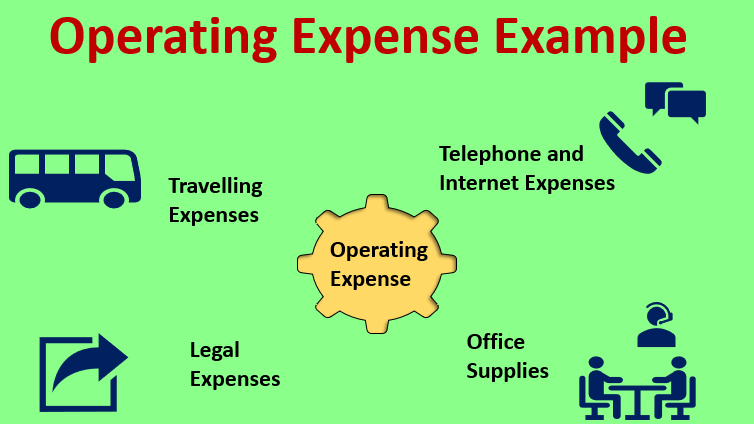 Definition of Operating Expense Example
Expenses incurred in the normal course of operations of a business are known as operating expenses. The definition of operating expenses example is a loose one. Some people consider only selling, general and administrative expenses (SG&A) as operating expenses. Thus, they do not include the Cost of Goods Sold (COGS) as operating expenses. However, some people also consider COGS as operating expenses.
Examples of Operating Expense
Examples of Operating Expenseare as follows:
#1 – Travelling Expenses
Whenever the employees of a company go for official visits, they incur traveling expenses. In many cases, traveling expenses are incurred by the employees and are then reimbursed by the company. Different modes of transport such as bus, car, train, etc. can be used. Employees can incur traveling expenses to meet their clients or to meet prospective clients to pitch for their goods and services. They can also incur these expenses while sourcing raw materials and supplies. Other official duties like meeting outside parties like bankers, government officials, regulatory agencies, etc. also require traveling. Travel expenses are also incurred for attending meetings, training, and conferences.
Proper travel policy in the organization should be in place. Generally, travel expenses in a company require the approval of the department travel coordinator, direct supervisor, finance department, or approving official. The role of these officials is to ensure that travel reimbursements comply with the travel policy of the organization. To ensure proper records are being kept, it should be seen that reimbursements are submitted in a timely manner. It is a good practice to have an electronic system for reimbursement of travel expenses. This increases the efficiency of approving travel reimbursements.
#2 – Legal Expenses
The company uses many legal services in connection with the operations of a company. In this connection, it has to pay advocate fees and consultant fees. Other legal expenses that are incurred in connection with legal services are postage and courier fees, photocopying fees, court filing fees, telephone charges, etc. Similarly, traveling expenses incurred by the lawyer and recovered from the company. Legal fees to be paid to attorney differ depending on the type of case, type of attorney, and the region. However, personal legal fees of employees and owners of businesses are not charged to the Profit and Loss Account. Only those legal fees incurred in connection with business are recorded in the Profit and Loss Account of the company.
Many times, there is a time lag in the billing of legal expenses. For instance, many legal expenses may be incurred in the financial year 2018-19. However, they may be billed in 2019-20. In such a scenario, they are recorded in the financial year 2018-19 in the Profit and Loss Account. In addition, they are recorded as a liability in the Balance Sheet at the end of the financial year 2018-19. Similarly, in certain cases, legal expenses are paid in advance. In such a case, they are recorded as a current asset in the Balance Sheet until the time the legal service is rendered.
#3 – Telephone and Internet Expenses
These are the costs incurred for the internet including Wi-Fi/broadband connection. In addition, they include the costs incurred for landline and mobile phones. In many cases, the expenses incurred by employees for telephone are reimbursed by the company. Generally, monthly charges are to be paid for the telephone and the internet. There are telephone service providers to whom the bill has to be paid. These include companies like Verizon Communications, AT&T, CenturyLink, Vodafone, etc. There are a variety of plans available with these service providers. These include Unlimited Calling and Data for heavy users. In many cases, monthly rental includes a certain number of free calls and data. Additional money has to be paid if the free calls and data given exceed the limit.
In some cases, expenses are prepaid through a prepaid mobile phone plan. In certain cases, there is a post-paid plan where the expenses are paid in the next month. In both these cases, expenses are to be adjusted for the current period keeping in mind the accrual system of accounting. For instance, if there is a pre-paid plan and $100 is paid in December 2018 for the month of January 2019, the expenses should be charged to the Profit and Loss Account for the month of January 2019. Similarly, if expenses relate to December 2018 and are paid in January 2019 through a postpaid plan, the expenses should be charged to P & L in December itself.
#4 – Office Supplies
Expenses incurred on purchasing office supplies are operating expenses. Office supplies include paper, printing cartridges, stamp pads, pens, pencils, stapler, pins, envelopes, etc. These are administrative expenses incurred by the organization. One method of accounting is to treat all office supplies as expenses. Another method is to record the unused supplies in an asset account and as and when they are used, charge them to an expense account. Generally, when the amount of office supplies used is small, the amount is debited to expense without treating it as an asset. Office supplies should also be adjusted for prepaid expenses.
Conclusion
Operating expenses are debited to the Profit and Loss Account. But, care should be taken that these expenses are adjusted for prepaid expenses and outstanding expenses. It is important that operating expenses are properly calculated to ensure that the resultant profit figure is reliable. Generally, there is a budget made for operating expenses at the beginning of a period and it is compared with the actual operating expenses.
It is important that a control system is implemented for operating expenses to ensure that there is no wastage. The adequacy of these control systems is checked when an internal audit is carried out. Hence, internal audit should be regularly carried out by the enterprise. While carrying out an audit of operating expenses, it should be seen that proper invoices are maintained. There should be a proper approval process for expenses. It is a good practice to carry out surprise audits of operating expenses from time to time. Care should be taken that expenses are not paid to fictitious vendors.
Recommended Articles
This is a guide to the Operating Expense Example. Here we discuss the overview and example of Operating Expense with a detailed explanation. You can also go through our other suggested articles to learn more –