Updated July 1, 2023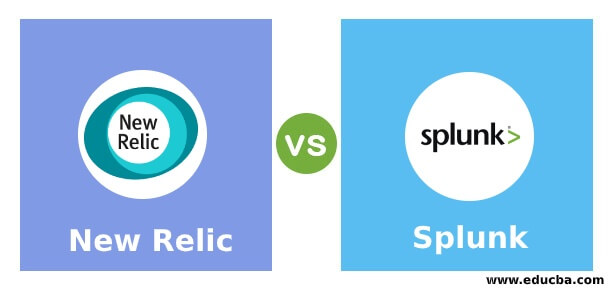 Difference Between New Relic vs Splunk
Splunk and New Relic offer businesses with visions to customize the events to be executed in the applications. New Relic monitoring tool tracks characteristic views based on mobile, web browsers, and desktop applications. At the same time, Splunk is based on event management and handles the data to give enterprise alerts and event logs. It also provides high security to the data. Most companies utilize Splunk and New Relic as their integrations are mutually built-in. The New Relic can extract the data from applications and provides Splunk to create reports, logs, and alerts.
Head-to-Head Comparison Between New Relic vs Splunk (Infographics)
Below are the top 5 differences between New Relic vs Splunk:

Key Difference Between New Relic vs Splunk
The major differences between New Relic vs Splunk are their features, limitations, merits, and pricing.
Significant Features: New Relic and Splunk have similar features on views and data applications. New Relic offers brief information about the user characteristics in the application, enabling the enterprise to look at the performance of applications, check if they have any shortcomings, and completely concentrate on application monitoring. It also provides a few analytic features apart from the general ones and comprises advanced and powerful integration with many tools and detailed data. Even though it has more advantages, but has some limitations, like a complex interface and tough curve for beginners. Splunk generates event logs and alerts for the enterprise because users can interact with applications or websites and ensure that they respond to all different logs and processes. It can manage all types of data with adaptable user filtering methods. The user can customize the logs and data according to their preference. It offers tools for the clients to parse via the logs to know the events and their requests.
Package Price: You can purchase The New Relic with an essential monthly cost package, and we charge $12.50. You can retain it for a few days. The premium package costs around $25 per month, which can be continued for three months. Splunk offers a free trial for a single user, but many enterprises require a complete Splunk package that allows unlimited users. Furthermore, to access the advanced logging feature, there is an annual cost of $1800.
Integrations: New Relic makes the user drill; they are the nitty-gritty of their applications and cut down the request according to the preference. But when they want to inquire about the performance of applications via the lifecycle of the request. It provides numerous integration with other techniques and services, making it simple to deploy and use. Then New Relic provides many types and views on visualization, which makes the user realize what things and processes are running behind in a detailed way. Splunk enables control separation where few don't have access. By perfectly scheduling all the access, certain users can diagnose the issues while others can work on resolving them. The common location should be accessed, and where all the logs can be checked is not stored in the same place. So it should be configured accordingly. Splunk can ingest logs from varied locations without changing the code to locate the logs correctly.
Pros and Cons: Both are OS-centric, and cloud-centric has no other restriction to metrics queries if any installed agent exists. Insight-dependent queries on alerts and dashboards have a maximum restriction of one thousand records, and currently, they have not exceeded two thousand records. These queries do not operate on the scale of enterprises. The NRQL is brilliant and has no exceptions, and QL replacement is more rapid and significantly difficult to learn for beginners. The platform includes no other agent management tool and must be installed after multiple deployments. In Splunk, users have to read through extensive documentation to find suitable answers despite a search option, and sometimes they cannot find the right one. The help option in Splunk should be improved to make it intuitive and spontaneous to provide an in-built report in dashboards and panels. The dashboard is straight and cannot be customized according to user preference, but it provides a more advanced tool to change attractive color and font in graphics and text.
New Relic vs Splunk Comparison Table
Let's discuss the top comparison between New Relic vs Splunk:
| | | |
| --- | --- | --- |
| Attributes | New Relic | Splunk |
| Definition | It is a web application tool to check the user's performance and how they feel using the tool via servers and with applicable codes. It is available as an in-one performance check tool. | Splunk offers the top platform in operational intelligence. The user can search, visualize, and analyze the machine data. |
| Integrated Tools | Amazon Ec2, Slack, Jira, Heroku, Microsoft Azure, and Ansible are flexible tools that can be integrated with New Relic for high productivity. | Splunk, Wazuh, OverOps, Amazon GuardDuty, Google Anthos, and PagerDuty can be integrated. |
| Clients | Airbnb, Spotify, Shopify, Delivery Hero SE, and Stackshare are a few markable clients of New Relic. | Rent the Runway, Nubank, Intuit, Yelp, and Craftbase are important clients of Splunk enterprise. |
| Merits | The deployment and installation are simple and have powerful integrations. It enables email notifications and has multi-language support. It works with minimal execution and transaction time. | It has free trials and is the best tool for insights. It has alert and error detection features with push notifications. It generates a clear and brief report. |
| Demerits | The pricing model is unsuitable for microservices and has a plain user interface. It is expensive and difficult to find the root cause of any issue that occurs. | The user interface customization is complex, and there are no essential options for quick navigation. |
Conclusion
According to the enterprise, New Relic is a flexible tool, whereas Splunk best parses the applications and IT data. Integrating both New Relic and Splunk is recommended to achieve effective purposes.
Recommended Articles
We hope that this EDUCBA information on "New Relic vs Splunk" was beneficial to you. You can view EDUCBA's recommended articles for more information.