Historical Background of Netaji Subhash Chandra Bose
The phrase "Tum Mujhe Khoon do main tumhe Azadi Dunga" pops into our minds when we hear Subhash Chandra Bose.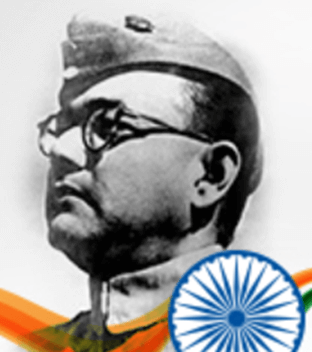 (Image credits: Mygov.in)
Subhash Chandra Bose, often known as Netaji, was a famous militant, freedom warrior, and patriot. He was born in the Cuttack district of Orissa on January 23, 1897. His father, Janakinath Bose, was a well-known lawyer in his day. Prabhavati Devi, his mother, was a devout Hindu.
Subhash Chandra was a great student who finished second in his matriculation exam. He became interested in Swami Vivekananda and Ramakrishna's teachings at a young age and began reading about them. In 1918, Bose received his B.A. Hons in Philosophy from the University of Calcutta. He later moved to England for additional studies in September 1919.
He got selected for the Indian Civil Service, but he refused to serve the British Government by staying in England. Subhash Chandra resigned from his Civil Service post in 1921 and returned to India after learning about the country's internal strife.
Philosophy of Netaji Subhash Chandra Bose
The Bhagavad Gita had an impression on him, and he considered it a source of inspiration in his fight against the British. Swami Vivekananda's Universalist and nationalistic beliefs influenced Subhash Chandra Bose from a young age.
When he was a member of the Congress party, he was captivated by the principles of socialism and communism. However, he believed combining National Socialism and Communism would be successful in India. He supported gender equality, secularism, and other liberal beliefs but did not think democracy was the best option for India.
Political Background
Subhash Chandra Bose had a nationalist mentality from an early age, and the Britishers' discrimination toward Indians infuriated him. He joined the Indian National Congress to serve the country (also known as the Congress Party). Under Gandhi's influence, Bose joined the Noncooperation Movement.
Bose was a revolutionary warrior who fought for independence. He established the "Azad Hind Army," which is now called Indian National Army. Bose was imprisoned multiple times for his extreme activities. He was accused of having ties to hidden revolutionary movements and moved to Mandalay Jail, present in Burma (Myanmar), where he acquired tuberculosis. Bose was elected president of the Congress party and collaborated with another famous political leader, Jawahar Lal Nehru.
Bose was elected President of the Congress Party and collaborated with another famous political leader, Jawahar Lal Nehru. Both took a more militant and left-wing attitude to independence, which caused Bose to clash with Gandhi and other Congress leaders.
Contribution as a Freedom Fighter
Bose's commitment to India's Independence Movement, as well as establishing and leading the Indian National Army, is remarkable. During the Civil Disobedience Movement, his independence struggle was immeasurable, for which he got arrested. He was imprisoned 11 times for his ideas and use of force against the British.
Bose was twice elected president of the Indian National Congress but resigned because he disagreed with the congress's internal and foreign policies. He soon abandoned the party and fled the country in search of an alliance with other countries to combat British forces. He gained Japanese support, and they promised to assist him in establishing the Indian national army in Southeast Asia.
He then became the commander of the INA. The Indian National Army launched an offensive on India's northeast. Subhash Chandra Bose led this attack, successfully capturing a small amount of India's northeastern territory. Unfortunately, the Japanese surrender prompted him to give up and call the war off. Subash Chandra Bose was a legendary national hero who fought for the country's independence against the British till his death. He is one of the country's greatest heroes!
Summarizing, Subhash Chandra Bose made the following contributions to the liberation struggle:
The operations of the Indian National Army (INA) and Bose's dedication to free India at any cost had made him a famous patriot and a hero of the Indian national cause.
He and his army inspired many contemporary young people.
His leadership abilities and motivating speeches have made an indelible impression on the minds of Indians.
Bose's initiatives drew various international attention to India's freedom movement.
To memorize his contributions, the Indian Government pays tribute to Netaji Subhash Chandra Bose on January 23 as "Subhash Chandra Bose Jayanti."
Demise of Netaji Subhash Chandra Bose
Subhash Chandra Bose died in a plane crash on August 18, 1945, and was on his way to Tokyo through Taiwan. Little information is available despite the shared conviction that he survived the jet crash.