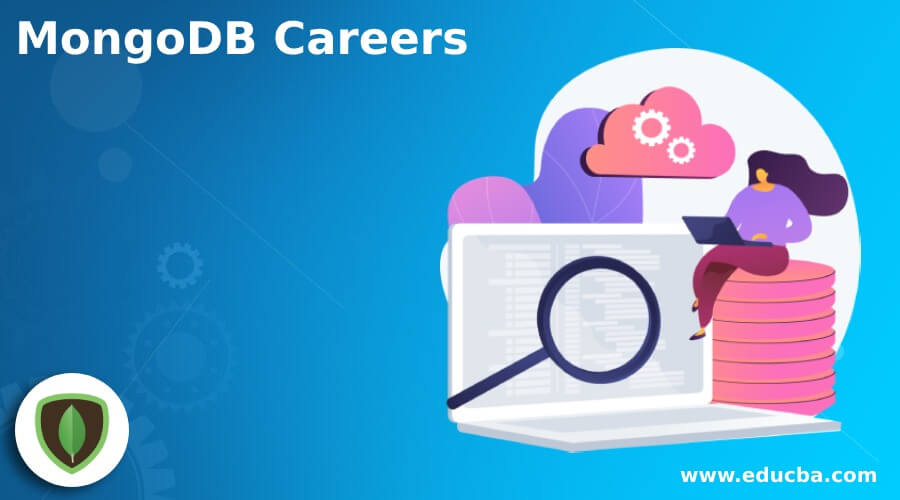 Introduction to MongoDB Careers
MongoDB careers are available in n number of varieties, positions and requirements. The MongoDB company is also referred to as 10gen company, and it was its original name. The year 2007 proved to be a revolutionary turn in this company when it began creating an open-source database platform. It was completely document-oriented, which proved to be a boon for the users and developers who wanted to store non-relational data.
MongoDB created this database to provide the power to users to create strong and powerful applications with advanced mechanics that involve data manipulations that can be very complex and sophisticated. It is also used in the progressive technologies such as the internet of things (IOT) and real-time analysis. Here we will see the the core values of MongoDB company for its employers, information related to MongoDB company, job positions, skills required, salary and general outlook about MongoDB.
Why do we make Careers in MongoDB?
The below are the reasons why you should choose MongoDB technology or even MongoDB company for your career:
MongoDB is the leading and evolving database technology that gives the power to perform sophisticated data manipulations tasks in a very easy way.
It provides many predefined utilities and functionalities such as routines, functions, stored procedures, etc., which add to automation and reduce much of the user or developer work.
It is an open-source platform which means that it is free for any of the changes to be incorporated and releases its new versions with new features and functionalities added now and then as per requirements.
The core values of MongoDB company, if you wish to join it, are making your word and suggestion matter, team spirit is admired, building together make it wise, know the importance of differences and embrace them, being transparent and honest intellectually, go far and thing big and making you proud of the work that you do.
Even in case of any difficult circumstances or even in pandemics, the company provides the flexible job positions and remote work opportunities.
Jobs positions include remote opportunities and working as a free lancer for people with experience in different domains such as computer and information technology, HR and recruiting, writing, finance and accounting, software development, and many more.
Skills Required for MongoDB Careers
The ideal candidates need to agree and align according to the core values mentioned above by the MongoDB organization. Along with this, they should also have the below qualities and skills, which are just generalized and can vary depending on the post you are applying for.
However, here are some of the common points that need to fulfill when you are applying for any of the technical positions:
An experience of a minimum of 2 + years boosts up your chances to get hire.
A bachelor degree in that respective domain and additional work experience is preferred.
Strong communication skills and verbal skills.
Detail-oriented.
I have a good hand on the usage of google applications, video conferencing tools, Microsoft office.
Team player and be very creative and flexible.
The skill of handling sensitive and confidential material.
Having experience of traveling domestic as well as international destinations.
If required for the position, then be open for working for flexible hours.
Be open for any changes as per the received feedback, work in a proper direction, and make the rightful decisions.
Strong understanding of the basic concepts of that particular domain.
Interest and passion to try out new things and work for a particular task.
Job Positions
The positions available are in the domain of sales, engineering, administrative and general, marketing, product and design, customer engineering and for the college students to get their internship.
For a complete list of all the available positions for now in the MongoDB organization, you can refer to this link.
Along with this, there are also other companies who hire the persons who have the knowledge of working with MongoDB and managing the data using this database tool.
You will find many websites and job opportunities when you will go to Monster.com, Naukri.com and many other sites like this.
Salary
The salary for the employee varies depending on the position that he has applied for, roles and responsibilities that he is working for and the skill set that he/she possess.
However, when talking about the role of a database administrator for Mongo DB, the average salary range from $125049 to $130000, while for the top earners, approximately $170500 annually.
For more descriptions about the salaries and packages, you need to be clear about the job description and the position you are applying for.
One of the major other factors to be considered while talking about the salary is whether you want to work in MongoDB or any other company using the Mongo DB database in its applications.
Career Outlook
The market of databases is huge, massive and ever-evolving.
MongoDB is one of the most leading Non- relation Database Management systems out there which can support any application in storing and manipulating the data.
The community of MongoDB is changing the face of the industry and empowering the users of MongoDB, which are the developers, to create the applications which can prove very much beneficial for the end-users in there day-to-day life.
You, as an individual, will get the opportunity to impact the system after joining this company or any other company using MongoDB technology.
There are n number of job opportunities present in this technology; the only condition is to excel in your skillset and be ready for it.
Conclusion
MongoDB technology has an ever-increasing graph of proving to be a perfect platform for database storing and manipulation. As a result, there are ample numbers of job opportunities in this domain.
Recommended Articles
This is a guide to MongoDB Careers. Here we discuss why do we make careers in MongoDB? Skills required, job position, salary & career outlook. You may also have a look at the following articles to learn more –