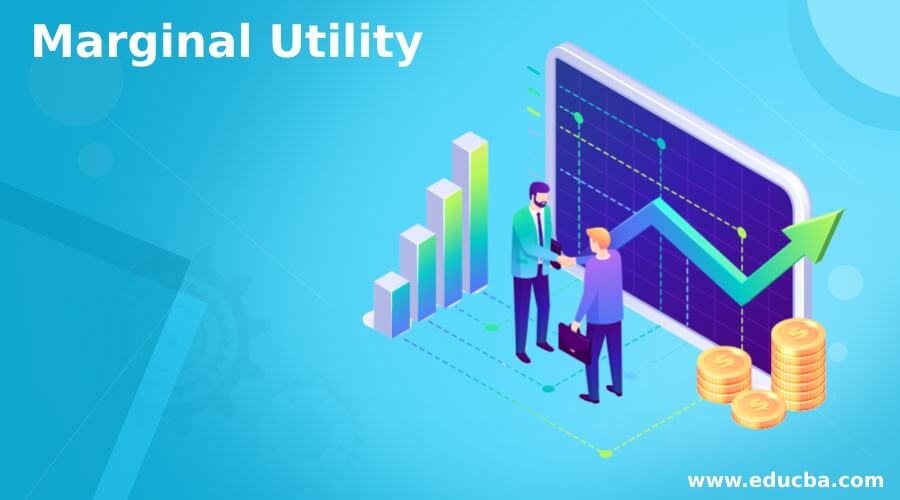 What is Marginal Utility?
The term "Marginal" refers to "Change," and the term "Utility" denotes "Value" or "Satisfaction" It can be said that Marginal Utility is the measurement of additional satisfaction or benefit that a buyer gets from consuming an additional unit of goods or services. It decides how much of an item the buyer is willing to buy.
Formula
Marginal Utility (MU) = Change in Total Utility / Change in No.Units Consumed
Law of Diminishing Marginal Utility
When we instantaneously eat up a product, the marginal Utility of extra quantity declines. If we have several units to eat or use, we will gain extreme satisfaction from the first and second ones, but each unit won't give the same equivalent satisfaction or value. For example, our initial bite of a burger is valued more to us than our tenth bite of the burger. Suppose we were to attribute a statistical value to the initial bite. In that case, it can be noticed that the value declines with the increase in the number of bites, which shows that the marginal Utility per bite is declining.
Types
Three commonly known types of Marginal Utility are as follows:-
Zero or No Marginal Utility: It occurs when having more of an item does not bring any extra satisfaction or benefits. For instance, if we get two copies of the same newspaper edition, that extra copy has a little added value.
Positive Marginal Utility: It happens when buying an extra unit of an item is satisfying. One such example is in the case of sales promotion, where the consumer gets a free pair of shoes if he buys two pairs.
Negative Marginal Utility occurs when having too much of an item is harmful. For instance, while a good amount of antibiotics can kill harmful bacteria, on the other side, too much can harm a person's body.
Examples of Marginal Utility
Below are the examples to explain the calculation of Marginal Utility:
Example #1
The below table shows that the first unit of ice cream gives more Utility than the 7th unit, which means the Utility is not constant; it often diminishes with the increase in consumption.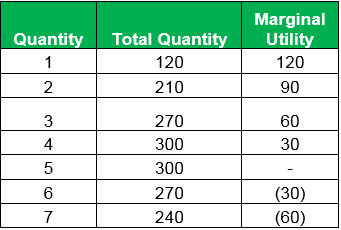 Solution:
In the above example, the total Utility is maximized (300) just after the fourth unit of ice cream. And the fifth unit of apple gives zero Utility, which means we are indifferent between the 4th and 5th units.
Furthermore, if we eat the sixth unit of ice cream, we start to feel ill, so we get negative Utility.
Example #2
Michael has ten bottles of wine; he wants to buy one more wine, making his total five. Meanwhile, Edward has 50 bottles of wine and similarly decides to buy a different wine. In this case, Michael gets more Utility, as his extra bottle of wine increases his total wine sale by 25%, while Edward's one additional bottle augments his sale by only 2%.
Solution:
Step 1: Let's say you are hungry and are buying ChickChickenat for supper. Let's also say that one chick chickens for $5. If you're hungry, you will pay $20 for the chick chicken chickChickenaid to provide $20 worth of Utility. In other words, you're willing to pay $20 to get satisfaction from the chickChickenatter what it costs.
Step 2: In continuation of the above example, if you plan to eat two chickens. However, after eating the first, you're not quite hungry as before. So now you'd only pay $15 for the extra satisfaction of a second the chick chickens not worth as much to you that you are somewhat full. So this means the two chickens provide $20+$15=$35 Utility of the "total utility" together.
Note: It doesn't matter whether or not you pay to buy the second chick chickens only concerned with what you would pay for it. In real life, financial experts use complex mathematics to protect what consumers would pay for something hypothetically.
Step 3: Now, in the above example, let's assume that you decided that you are quite hungry and can eat all four chickens. After the second ChickChicken sense that you are a bit full, so you would only pay about $8 for the next ChickChickenally, you are almost full after the third chickChickenyou would only pay $ 2 for the final chick chicken the reason is the feeling of being uncomfortably full almost cancels out the satisfaction you get from it. So you can say that the four chickens provide the total Utility of ($20+$15+$8+$2) = $45.
Now with the help of the above example and explanations, let's calculate MU.
Change in Utility
Change in Utility = $45 – $35 (From step 2 above)
Change in Utility = $10
Change in Quantity Consumed
Change in Quantity Consumed  = 4 (chicken) – 2(Chicken)
Change in Quantity Consumed = 2
Marginal Utility is calculated using the formula given below
Marginal Utility = Change in Total Utility / Change in No.Units Consumed
Marginal Utility = $ 10/2
Marginal Utility = $5
This means the extra quantity from the second to the fourth chick chicken is only worth $2 of the Utility.
Likewise, MU for each additional unit consumed is, for the first unit is MU=(($ 20-$0)/(1-0))=$20 
For the second unit is, MU =($35-$20)/(2-1)=$15
Uses: The economist uses the marginal utility formula to decide the price of goods & services for each additional unit consumed and the optimum level of consumption. It also helps in choosing between multiple goods.
Recommended Articles
This is a guide to the Marginal Utility. Here we discuss how to calculate along with practical examples. We also provide a downloadable excel template. You may also look at the following articles to learn more –