About Lal Bahadur Shastri
Indian National Congress leader and close associate of Mahatma Gandhi, Lal Bahadur Shastri, served as the Prime Minister of India from around 1964 to 1966. He has become the first Prime Minister born after the country's independence from British rule. He led India to victory in the 1965 India-Pakistan War and posthumously received the highest honor of India, the Bharat Ratna. He also popularized the slogan "Jai Jawan, Jai Kisan," which served as a rallying cry for the Indian armed forces and farmers during the war. He is unforgettable for his honesty, simplicity, and the slogan "Truth Alone Triumphs." His commitment to democratic socialism was evident in his policies and speeches.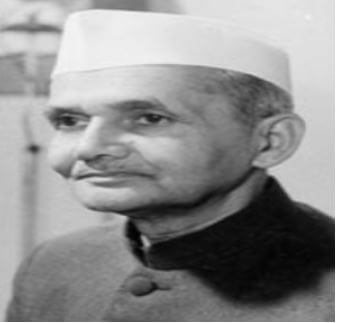 (Image Credit: pmindia)
Early Life of Lal Bahadur Shastri
Lal Bahadur Shastri was born on the 2nd of October 1904 in Mughalsarai, a miniature railway town in Uttar Pradesh, India. His mother, Ramdulari Devi, was a housewife. Shastri had a younger sister, Kailashi Devi, and two brothers, Nanhe and Rajendra. Shastri attended the local school in Mughalsarai and later went to the East Central Railway Inter College in Mughalsarai for his secondary school education. He graduated from Kashi Vidyapeeth in 1925 with a Bachelor of Arts degree. He also received a degree in law from Allahabad University.
Shastri was one of the active members of the Indian National Congress and an advocate of nonviolent civil disobedience. In 1921, authorities arrested him for participating in the Non-Cooperation Movement led by Mahatma Gandhi. In 1931, authorities again arrested him for participating in the Civil Disobedience Movement. In 1940, Shastri took charge as the Organizing Secretary of the United Provinces Congress Committee. Until 1946, he held this position, when he was elected General Secretary of the All India Congress Committee. He was also a significant part or said a member of the Constituent Assembly of India from 1946 to 1950.
In 1951, the government of Uttar Pradesh appointed Shastri as the Minister of Police and Transport. Later, designated as the Home Minister in the Union Cabinet. In 1964, elected as the Prime Minister of India following the death of Jawaharlal Nehru. Shastri served as the Prime Minister until he died in 1966.
Political Career
Lal Bahadur Shastri (the 2nd of October 1904 – the 11th of January 1966) was an Indian politician who served as the 2nd Prime Minister of India from 1964 until he died in 1966. He was one of the most significant figures in the Indian independence movement and is memorable for his slogan of Jai Jawan Jai Kisan (Hail the Soldier, Hail the Farmer).
Shastri began his political career in the late 1920s when he joined the Indian National Congress. He rapidly rose through the ranks and, by the 1940s, was appointed as General Secretary of the party. In 1951, he was appointed Minister of Police and Transport in the first cabinet of Prime Minister Jawaharlal Nehru. In 1952, he was promoted to Home Minister and held the post until 1957.
After Nehru died in 1964, Shastri was sworn in as Prime Minister and led India during the 1965 Indo-Pakistani War. He is unforgettable for his leadership during this conflict and his focus on the principles of non-alignment and self-reliance. In 1966, Shastri's sudden death in Tashkent, Uzbekistan, cut short his term as Prime Minister. The government posthumously awarded him the Bharat Ratna, India's highest civilian honor, in 1966. Since then, his legacy has been unforgettable through various memorials and institutions, such as the Shastri National Memorial in Delhi and the Lal Bahadur Shastri Institute of Management in New Delhi.
Legacy
Lal Bahadur Shastri was an Indian statesman and the second Prime Minister of India. He was known for his integrity, modesty, and commitment to secularism and democracy. His legacy is selfless service to the nation, patriotism, and championing the cause of the poor and oppressed. He advocated non-violence and civil disobedience and was an inspiration to millions. His name is remarkable for introducing the "Jai Jawan Jai Kisan" slogan and leading India in the Indo-Pakistan War of 1965. He is also recognized for his dedication to the principles of secularism, democracy, and socialism, as well as for the Green Revolution. He was a source of inspiration for generations of Indians, and his legacy continues to be celebrated in India today.
Conclusion
Lal Bahadur Shastri, the second Prime Minister of India, is a highly respected figure in the country's political history. He is known for his strong leadership and unwavering dedication to the nation's cause. He served as a source of inspiration for many, and his contributions to the country make him remarkable. He was a great advocate of democracy and helped unite the country during difficult times. He was a great patriot and humanist, and his legacy will forever remain in the hearts of Indians. He was a highly esteemed leader who consistently demonstrated a solid commitment to advancing the nation's well-being. Through his unwavering courage and determination, he made significant contributions to India's progress, and his legacy will be unforgettable.