Assam's Mystical Kamakhya Temple
The Kamakhya Temple is a holy site for Hindus dedicated to the goddess Kamakhya. It is in the northeastern state of Assam. This temple is one of the 51 Shakti Peethas, or places of divine energy, and Hindus looking for blessings and spiritual fulfillment often go there.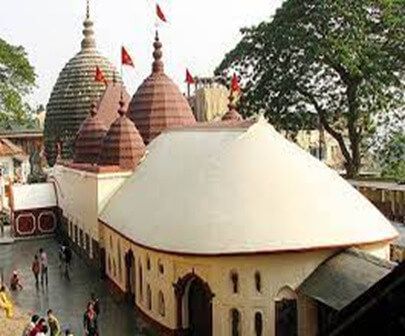 (Image credit: maa kamakhya.org) 
Legend of Kamakhya Temple
According to Hindu mythology, the purpose of the construction of the Kamakhya temple was to honor the goddess Kamakhya, who is known as the mother of all creation. The story goes that Kamakhya was once a powerful and fearsome goddess, feared by all who crossed her path. However, when she fell in love with Shiva, the god of destruction, she became vulnerable and was eventually killed by demons.
After her death, Shiva was inconsolable and carried her body around with him wherever he went. In the end, the other gods and goddesses stepped in and persuaded Shiva to cut Kamakhya's body into 51 pieces, which then spread all over the world. Each part of her body turned into a Shakti Peetha, where people could worship Kamakhya's divine energy.
The king built this temple to honor the place where Kamakhya's yoni, or reproductive organs, were believed to have landed. People consider this sacred site a powerful source of fertility and creative energy, and Hindus from all over the world who seek blessings and inspiration visit the temple.
Architecture
The Kamakhya Temple is a beautiful and ornate structure that follows the style of traditional Assamese architecture. A high stone wall surrounds the temple, and two stone elephants guard the entrance. The main temple building is a large, multi-tiered structure with a golden dome. Inside the temple are several shrines dedicated to different deities and a large central sanctum containing the main deity, Kamakhya.
The main sanctum is adorned with intricate carvings and beautiful stone statues and is a place of great devotion and reverence for Hindus. The temple is also home to several smaller shrines and temples dedicated to other gods and goddesses, including Shiva, Ganesh, and Durga. These shrines attest to the complex and diverse nature of Hinduism, and the many different deities worshiped within the faith.
Festivals of Kamakhya Temple
Hindu pilgrims visit the Kamakhya Temple all year, but it is bustling during the annual festivals. One of the most important festivals is the Ambubachi Mela, held annually in June. Another important festival at the Kamakhya Temple is the Durga Puja, which is held every year in October. This festival honors the goddess Durga with elaborate rituals and ceremonies. The temple gets decorated with colorful flowers and lights, and traditional dances and music performances occur throughout the day.
Visiting Kamakhya Temple
If one is planning a visit to this Temple, one should know a few things before one goes. The temple is open to visitors from 6:00 AM to 9:00 PM daily, and there is no admission fee. However, there are specific rules and customs that you should follow when visiting the temple. Visitors should cover their shoulders and knees, and it's best to wear loose and comfortable clothes. Shoes are also not allowed inside the temple, so it is a good idea to bring a pair of socks or sandals while you are there.
Final Thoughts
The Kamakhya Temple is a beautiful and sacred site with rich cultural and spiritual significance. Whether you are a Hindu pilgrim seeking blessings or a curious traveler looking to learn more about the culture and traditions of India, the Kamakhya Temple is a place that is sure to inspire and uplift you. With its stunning architecture, beautiful rituals, and powerful spiritual energy, the Kamakhya Temple is a place that is truly worth visiting.
Recommended Articles
We hope that this EDUCBA information on "Kamakhya Temple" was beneficial to you. You can view EDUCBA's recommended articles for more information,