Updated March 28, 2023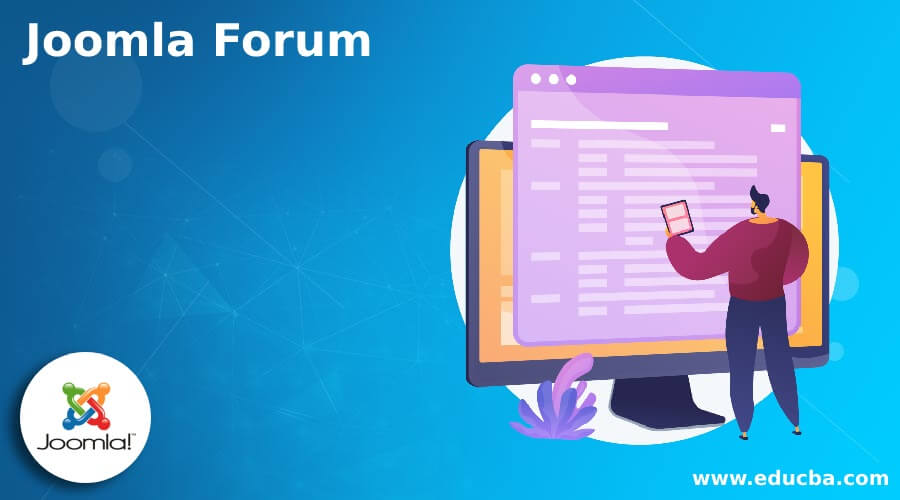 Definition of Joomla Forum
We know that Joomla is an open-source, free tool to develop websites and any other online applications. In other, we can say that it is the most popular open-source content management system and it allows us to host Joomla websites. Basically, the Joomla forum is one of the mediums to build online communities. Joomla forum provides the different extensions that help us to integrate the different features of the forum into the website or we can say that Joomla-based websites. But on the other end, all forums do not provide the all types of features that we want so at that time we need to use some external forum extensions as per our requirement.
Overview of Joomla Forum
Web Forums are a compelling mechanism for building web networks. Joomla gathering expansions are intended to incorporate the highlights of a discussion into Joomla-based sites. These modules are extremely useful to convince individuals to return to your site. Yet, all the discussion augmentations wouldn't perform in the manner in which you need. That is the reason we have hand-picked some of the best Joomla Forum Extensions for you which will serve the majority of your business needs.
These Plugins have been around for numerous years now and they work immaculately to get individuals hanging out and visiting for significant stretches of time on your sites. Notwithstanding, you ought to remember that overseeing and running a gathering effectively takes a great deal of time and exertion, however frequently the profits are empowering over the long haul.
Coordinating a gathering into your Joomla site has forever been conceivable however never been so natural. It frequently includes utilizing span expansions to interface the site to unsupported, deeply grounded electronic gathering items.
Best Joomla Forum Extensions
Now let's see what the best forum extensions available in Joomla are:
Kunena
This is one of the forum extensions; it is an open-source community platform that makes it easy for Joomla users.
Let's see some core features of Kunena as follows.
It is easy to configure.
In this forum, we can easily upload files and as well as drag and drop the file.
It provides the in-built templates and we can easily install them.
It provides the polls features.
It has in-built JQuery and
It also supports Github.
Chrono Forums
Chrono Forums is again one of the most incredible Joomla discussion expansions that are accessible for nothing. The augmentation is adaptable and is coordinated with many high-level elements.
Let's see some core features of Chrono as follows.
It provides the advanced search option to the Joomla user.
In the Chrono forum, we have added lists and favorites features.
It auto-replies and is available for private messages.
It provides support to multiple languages.
It provides an email notification feature.
It is very easy to set up, configure, and manage.
Mainly it supports bootstrap themes.
TF Form
It is a free Joomla 4 gathering expansion that accompanies strung themes and answers. Moreover, involving this expansion for making discussions on the Joomla site you can likewise utilize it to make an emotionally supportive network or help work area.
Let's see some core features of TF Form as follows.
It has a post tagging option for the user.
We can attach files.
In this forum, we can reply through email as well as we can keep track of emails.
It provides admin control.
It is mobile friendly
Simple and easy to use as compared to others.
CJ Forum
CJ Forum augmentation is versatile. Along these lines, it works flawlessly on cell phones and different gadgets. Besides, the individual message permits the gathering clients to begin a conversation and speak with other discussion clients.
Let's see some core features of CJ Form as follows.
It provides an in-built private messaging system.
It supports social platforms.
In this forum, we can easily manage the content in better ways as per our requirements.
It provides a mobile-friendly design as well as excellent functionality.
Dispute forum
With the assistance of Dispute, you can interface every hub separately as well as moderate with different warnings (as a choice) on the substitute site.
Let's see some core features of Dispute Form as follows.
It provides the documentation tool as well as a menu discussion component.
It provides the dynamic base tool
It supports XML.
Linking of nodes is easy.
There are many other forums available.
Joomla Adding forum
Now let's see how we can add a forum in Joomla as follows.
1. First, we need to click on the Install Extensions option as shown in the below screenshot.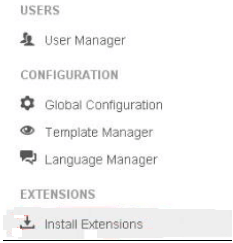 2. After clicking the install extensions option we get a new screen where we need to click on the choose file button and select the downloaded forum from our local machine and click on upload and install as shown in the below screenshot.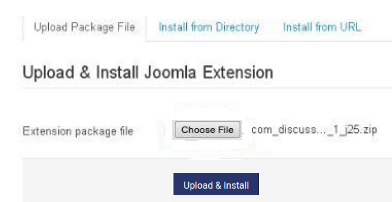 3. Joomla begins introducing the Forum augmentation for your site. After the establishment is finished, you get the screen underneath showing the achievement message as shown in the below screenshot.

4. In the next step, we need to click on Menu inside the Main menu and click on Add New Menu Item. After that, we get a new screen, and here we need to select the type of menu link and other information as shown in the below screenshot.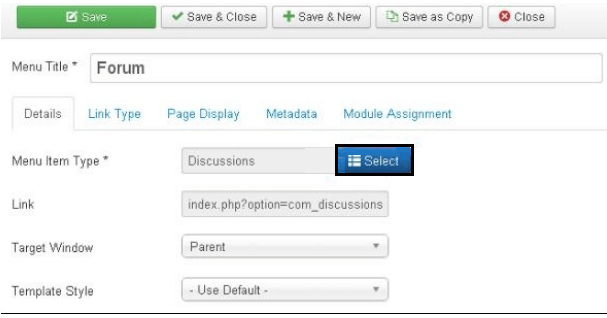 Finally, click on the Save button and check on the website as shown in the below screenshot.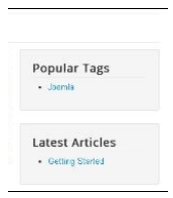 In extension manager, we have different options as follows.
Save: By using the save button we can save the forum.
Save and Close: By using this button we can save the forum and close the current working screen.
Save and New: By using this button we can save the forum and if we want to create a new forum then we are also able to create it.
Cancel: Cancel the created forum.
Conclusion
With the help of this article, we have tried to learn about Joomla forum. From this, we learn different Joomla forums, as well as a basic idea about the forum, and we also see the features of Joomla forums and how we use them in the Joomla forum.
Recommended Articles
This has been a guide to Joomla Forum. Here we discussed the Definition, Best Joomla Forum Extensions, and how to add a forum in Joomla. You can also go through our other suggested articles to learn more –