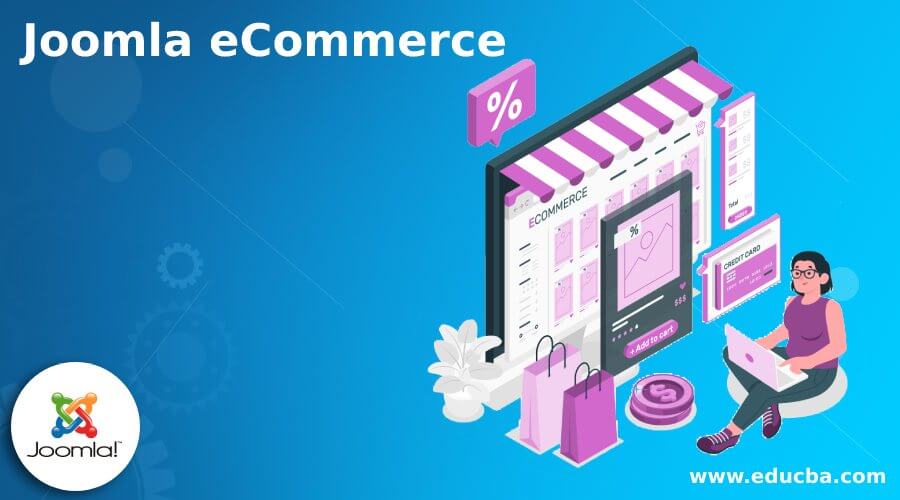 Definition of Joomla eCommerce
We know that Joomla is an open-source web and content management system; it provides different features such as extensions and templates etc. Joomla is open-source, because of this we can use an eCommerce template as per our requirement or we can say that it is highly customizable as well as expandable whenever required. Now a day people prefer to sit at home and place online orders instead of physical, so due to this reason we select online platforms and content management systems to purchase whatever we required, even if we don't know how to use it, then some software or tools provides the help to understand the working of eCommerce.
Overview of Joomla eCommerce
As the vast majority is running a rushed way of life nowadays, they will generally favor sitting at home and setting orders online as opposed to going to actual stores. Along these lines, there is no question that web-based shopping has been flourishing like never before previously.
Thus, there are a lot of entrancing eCommerce stages and CMS (Content Management System) on the lookout for online vendors to browse. In the event that you are curious about the term CMS, a product assists clients with making, making due, and changing content on a site without the requirement for particular specialized information.
Online business has truly begun to fill firmly over the most recent five years, and it seems, by all accounts, to be nonstop rising. Today is clear that most clients utilize the web to make buys. Joomla is a stage for making many kinds of sites, including business destinations, online journals, and data locales. Joomla has been viewed as a famous CMS for a long time. It has a huge number and a decent local area, prepared to help one another on the off chance that you stall out eventually. Moreover, Joomla can likewise be utilized as a stage for internet shopping.
Best Joomla eCommerce Extensions
Now let's see the best Joomla eCommerce extensions as follows:
VirtueMart is one of the most amazing eCommerce free platforms for Joomla eCommerce. It is a PHP-based module that accompanies limitless conceivable outcomes. You can make a legitimate store utilizing just VirtueMart worked in highlights. Or on the other hand, you can add modules, layouts, and modules to effectively extend your store.
Now let's see the features of VirtueMart.
It supports multiple templates and layouts so we can customize the front end as per our requirement; VirtueMart provides hundreds of different templates and layouts.
It provides an amazing feature to the user that is a dynamic calculator, it helps us to calculate the discounts, currency, and tax. Basically, it is a rule-based
It gives additional information about the product.
VirtueMart is reasonable for dealers who have or wish to run a shop from medium to enormous scope as it is effectively expandable. Besides, the people who need to begin their organizations on a tight financial plan are likewise expected clients as it is FREE to download.
HikaShop is a profoundly adaptable Joomla eCommerce expansion, that accompanies limitless potential outcomes. You can utilize CSS and HTML information to improve your site precisely as your desire as well as it is free.
Now let's see the features of HikeShop.
It allows us to make authorization of different vendors to sell their products, so they can pay the specified amount and we are able to manage the sales.
It provides powerful statistics that mean we can make the probability of our sale in different forms such as graphs, tables, pies, and chart line below screenshot as follows.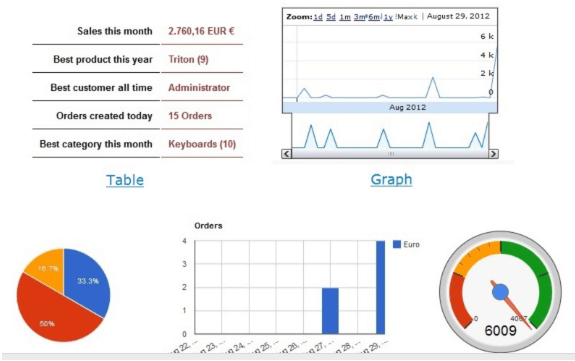 MijoShop is known as an innovative Joomla eCommerce part, a vital component for any shopping baskets for Joomla. It is coordinated with two of the most well-known open-source projects in the world.
Now let's see the different features of MijoShop.
Multi-store is one of the best features that are provided by MijoShop, so we can easily manage the multiple stores with the help of a single admin interface.
It is fully responsive for the front and back end with the mobile interface.
JoomShopping is an expert Joomla eCommerce expansion with many underlying capabilities. Along these lines, it can without much of a stretch meet different necessities from clients and really carries out your internet business projects and it is free.
Now let's see the different features of JoomShopping.
It supports more than one product and its
It also stores the order history.
Joomla eCommerce Templates
Now let's see templates for eCommerce as follows.
Unei is a functional Joomla eCommerce layout. It's the ideal decision for online merchants, entrepreneurs, retailers, and storekeepers to advance and sell current items. It tends to be utilized to offer home gadgets like savvy speakers, robot vacuums, brilliant lights, security frameworks, air purifiers, Internet of Things (IoT) and the sky's the limit from there. This shop layout offers an appealing and clean plan for better guest impressions of the Unei template as shown in the below screenshot.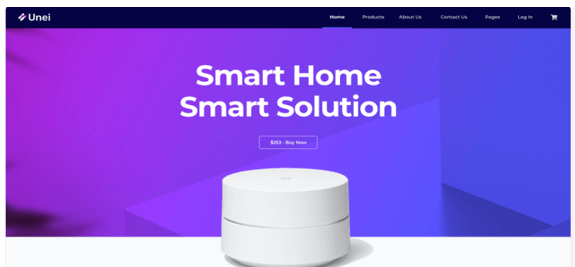 Arino is a vigorous and practical Joomla eCommerce format. It's the ideal decision for online vendors, entrepreneurs, retailers, and storekeepers to advance and sell items. Arino offers an appealing and clean plan. The items are introduced in a rich and current manner for better guest impressions. The Arino template is shown in the below screenshot.

Shopin is a moderate and adaptable Joomla! 3.9+ responsive layout offering J2Store web-based business framework joining. It's the ideal decision for any online business website. The piece is perfect for specialists, style/stylistic layout originators, consultants, and organizations the same, including proficient offices and small privately-owned companies. It's an across-the-board current, exquisite Joomla format that will assist you with advancing your items and the entire brand as shown in the below screenshot.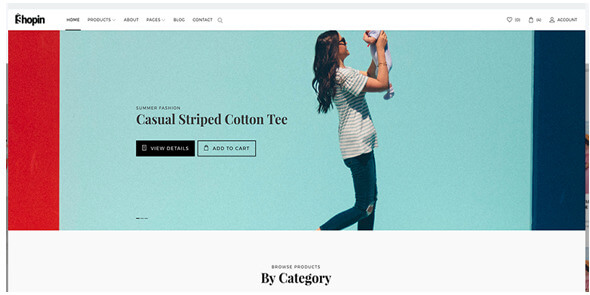 Conclusion
With the help of the above article, we try to learn about Joomla eCommerce. From this article, we learn different Joomla eCommerce, a basic idea about the eCommerce, the features of Joomla eCommerce, and how we use them in the Joomla eCommerce.
Recommended Articles
This has been a guide to Joomla eCommerce. Here we discussed the Definition, Overviews, Best Joomla eCommerce Extensions and template. You can also go through our other suggested articles to learn more –