Updated May 22, 2023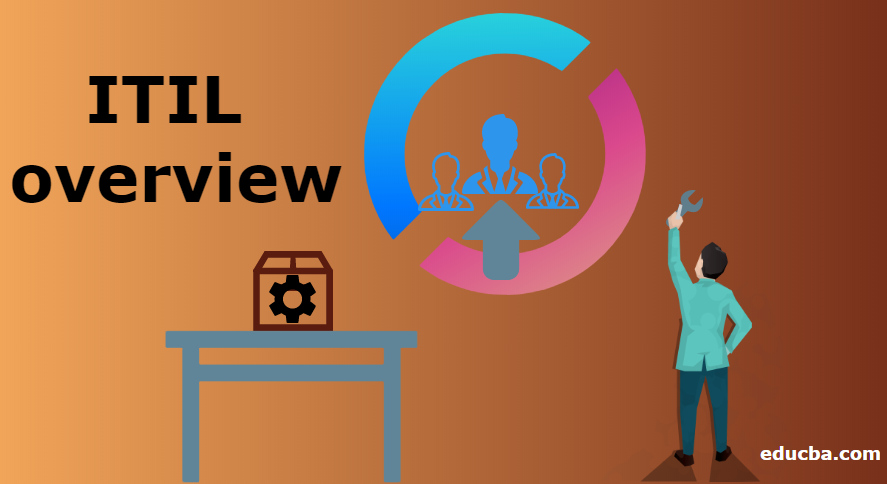 Concept of ITIL Overview
ITIL stands for information technology information library; ITIL overview aims to help businesses combine IT in their daily operations. It is a framework for information technology service management; the latest version is ITIL 4, built upon years of practice and observation. It is created by keeping a wider perspective on customer service, digital transformation, and adding value to the company. Companies can enhance their services using IT services.
ITIL overview service Value Systems- This is a key component of the ITIL 4 framework. The name suggests; it helps companies synchronize all the components used to deliver service to their customers. It helps identify all the components and can also evaluate the contribution of each component. They can determine if any component lacks efficiency and can be further improved or worked, or eliminate a component.
Top 4 Factors in ITIL Overview
The most important aspect for companies is generating profits; if a component is not adding to profits, it is useless to the company. There are four essential components of ITIL service value systems.
Below is the list of the 4 factors:
1. Organizations and People
The organization needs to operate smoothly and efficiently, with all departments clearly defined and know of their role and duties and how they contribute to the overall productivity and profitability of the organization.
Often in today's modern age, companies have their operations spread across geographies. No department can work and operate in isolation; there needs to be easy interconnectivity between teams. And clogs that can slow down processes must be identified and rectified immediately.
People are the organization's key resources; only when workers of an organization are happy and satisfied will they operate at the highest efficiency. The organization needs to take care of its employees. There are multiple ways to increase both intrinsic and extrinsic motivation of employees.
Intrinsic Motivation
Giving employees responsibility and autonomy.
Including their suggestions in the decision-making process.
Exploring different ways of working gives them the flexibility to do their job.
Extrinsic motivation
Tying their pay to their performance.
Giving them a fair and decent raise every year.
2. Information and Technology
This refers to the organization having modern IT management systems in place that aid in the organization's organization's overall development. Working with the latest technology helps the organization stay relevant and cut costs, as modern technology reduces dependency on humans and increases efficiency.
3. Partners and Suppliers
They are key players that help the organization function. Partners are the ones who supply financial funds, and suppliers provide raw materials needed to produce the services that the organization can sell. Both of them are essential for the company to function. With the help of IT and a systematic database, each partner and supplier has provided the number of funds and raw materials.
4. Value Streams and Process
The company can use IT services to streamline existing processes and services. As time passes, the existing process can become obsolete with the help of technology patterns where a slow process can be identified and worked up. At the same time, value creation is essential to the organization's success.
Creating new channels to create value should be the company's target. IT service management can help in identifying new trends to create value. ITIL 4 factors consider these four components not part of previous versions. It focuses on creating value by-products and the services it provides.
Who Can Use ITIL?
All organizations can use ITIL, regardless of size, business, and industry. They can use ITIL to solve technical and business-related issues they face. Using ITIL optimizes and enhances service quality, keeping customer needs, current trends, and demand in mind.
Why do Companies Use ITIL?
Companies can use ITIL for the following purposes:
Demand Management – Effectively manages the clients' demand to ensure they have resources to meet the existing demand, simultaneously making provisions to prevent inventory from becoming obsolete from the drop in order.
Financial Management – Managing funds or Financial Management is extremely important. Effective management of funds is essential so that there is no delay in paying suppliers and employees and meeting fixed and variable costs. Having some surplus funds to meet unforeseen events is advised.
Developing Market Spaces – This means creating a market for their products and services, identifying customer types, demands, needs, and what can be done to better their services to meet their demands.
Business Relationship Management – Maintaining relations with suppliers and clients is crucial for having a long-term relationship and developing trust with them. Loyal customers will continue to bring business sustainably.
The Service Portfolio and Implementation of Strategy – Using IT to create an overview of the company's services and identify potential opportunities. Once a full list is created, it can be added to the company's portfolio of assets.
Conclusion
It helps pass the company delivers service quickly and efficiently, taking advantage of the latest IT mechanisms.
Aligning the strategic and long-term objectives of the company with IT.
Improving how companies deliver their products and increasing customer satisfaction.
Saving costs by using modern IT practices and systems.
Overall increasing organizational efficiency and productivity.
It can also be used to change the organization's structure if there is scope for improvement.
It can be used to manage the organization's resources effectively and productively. This includes the workforce, raw materials, and other key factors the business uses in its operations.
Recommended Articles
This is a guide to ITIL Overview. Here we discussed the concept, top 4 factors, and uses of ITIL in companies. You can also go through our other suggested articles to learn more –