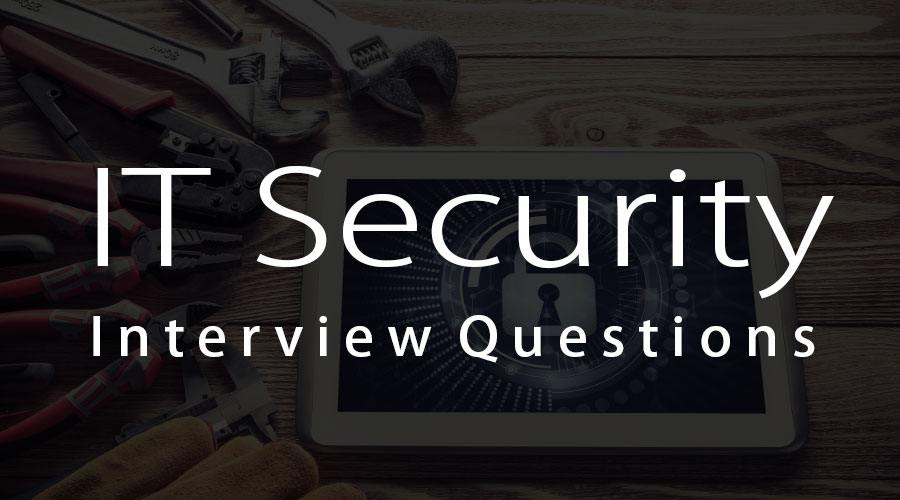 Introduction to IT Security Interview Questions and Answers
IT Security is one of the biggest words for the last couple of years in entire world media. It is one of the big noise for all the offices including government offices, a lot of special norms has been introduced by central audit forum for especially in IT security. Special concern area is in the digital area. In today's current scenario, every people are well aware of some common IT security especially in the digital environment needs to follow. IT security is day by day getting very faster changes and all the involved people are really very concerned on the same. If we follow everyday headlines, this is one of the common headlines of any of the hacking incident or IT security breaking incident in anywhere government or private sector. A big problem is entirely 100% secure IT system is absolutely not possible, as the security system change every day without any prior intimation properly.
So people should need to be more aware of common security purpose as well as day by day update on security awareness so that avoiding any kind of hacking activity smoothly without any big impact. This kind of security concern is not only specific technical concerns, but there also have a lot of Security Bridge in case of personal or business point of view as well. One of the biggest security leakage possibility is in an email, where our normal attitude to attach important information and send through the network. IT security guys normally suggested two approaches, one is following one specific encryption mechanism, and encrypt secure data before sending it through the network. Otherwise maintain everything in the internal secure network, not moving to the outside of secure network anytime. This kind of encryption security normally using public and private key utility, where a public key has been shared between sender and receiver. And one secret private key maintained by that specific encryption tool.
Now, if you are looking for a job which is related to the IT Security then you need to prepare for the 2020 IT Security Interview Questions. It is true that every interview is different as per the different job profiles. Here, we have prepared the important Interview Questions and Answers which will help you get success in your interview.
In this 2020 IT Security Interview Questions article, we shall present 10 most important and frequently asked IT Security interview questions. These top interview questions are divided into two parts are as follows:
Part 1 – IT Security Interview Questions (Basic)
This first part covers basic Interview Questions and Answers.
Q1. Provide some example and details regarding encryption of email transmission?
Answer:
One of the popular software for encrypting of email transmission is PGP (Pretty Good Privacy). This software is very much popular to use encrypting entire email data smartly for avoiding data leakage uncertainty. It is not only useful to encrypt mail body, rather than it can be very popular on signing, encrypting or decryption feature for physical files, normal text, full directories, attach data, even whole data partition as well. As all the big companies are very much concern about hiding or encrypting their specific communication, PGP is one the common choice for them to use on any communication. The main utility of PGP is using a secret private key which only known to the tool and one shareable public key which is available for both sender and receiver. So the receiver can easily identify or verify sender secure identity to confirm the sender person security, and also can verify the proper integrity of the content shared by the sender. So it is very easy to understand for the receiver that mail is somehow tampered by someone in the network root or not.
A process of encryption & Decryption of PGP (Pretty Good Privacy):
Data – Generate Random Key – Encrypt data using this random key – Encrypt random key by receiver public key (X1) – encrypt random key by sender public key (Y1) – sending encrypted data to the receiver.
Encrypted Data – Decrypt  X1 by receiver private key – Decrypt encrypted data by decrypting result of X1 (it actually the random key of earlier encryption) – display to the receiver.
Q2. What will be the secure access process in case of remote device access from own system?
Answer:
There have a lot of tools available for helping to connect with the other remote desktop from own system. Those tools are fully secured of we use license version of those tools. One constraint is both the system should have internet up, and that tool should be in running condition. Some of the popular tools are team viewer, anysdesk, amyadmin, or gotomypc etc. A lot of other facilities are provided by those software's rather than remote desktop access, like file sharing, video or audio calls, online chat, even came with some mobile apps as well. All those passwords should have some secure password authentication or remote desktop user should need to accept accessing user request.
Q3. Explain what will be the specific approach or process can be taken to hide the message in case of IT Security?
Answer:
For IT or network security, there has one critical approach, where sender writing their text in some specific encryption approach, and receiver read the content by that specific decryption approach which defines by a sender and only known to the receiver. This kind of security is normally calling packet sending approach.
Q4. Define clearly about Social engineering attack (SEA)?
Answer:
This is the common IT Security Interview Questions asked in an interview. Social Engineering Attack is sometimes very dangerous and little easy for a hacker to use the same. It mainly depends on human interaction, mean gathering any personal details by purely illegal integration and manipulate their data easily and using for their own gain. This is one of the biggest threat in the last couple of years. And it is very easy to break as for this kind of hacking not require an expert person for breaking network or critical security. Any non-technical person can able to do the same.
Q5. Explain proper risk can occur when we are planning to use public Wi-Fi available in airport or railway station?
Answer:
The possibility of a hacking password, personal information, credit card data, etc.
Part 2 – IT Security Interview Questions (Advanced)
Let us now have a look at the advanced Interview Questions.
Q6. Explain in details why people say MAC OS is more reliable than others?
Answer:
As it runs on Apple computers.
Q7. Provide one proper explanation of what is a firewall and what will be the use of it?
Answer:
This is the most popular IT Security Interview Questions asked in an interview. Provide one boundary for trusted and untrusted network.
Q8. As a common person, explain some secure process to avoid identity thefts?
Answer:
Always maintained strong and secure identification security information, and not sharing any personal data with anyone.
Let us move to the next IT Security Interview Questions.
Q9. One of the big question for the entire web user that is social media is really secure for sharing personal data?
Answer:
No, not at all. Better to not share any personal things.
Q10. Explain in details about data leakage?
Answer:
Any movement of data out from one specific organization in the proper unorganized way can be explained as data leakage.
Recommended Articles
This has been a guide to the list of IT Security Interview Questions and Answers so that the candidate can crackdown these Interview Questions easily. Here in this post, we have studied top IT Security Interview Questions which are often asked in interviews. You may also look at the following articles to learn more –