Insurable Interest Meaning
Insurable interest is the cover an individual or business receives when the loss/damage of an object results in a financial loss. For instance, Ms. Emma is the sole earner in the family and thus takes life insurance (insurable interest) for herself. If something happens to Emma, the insurance issuer financially compensates her family (beneficiaries) for the loss.
It is the fundamental concept behind all kinds of insurance policies. An individual or organization would purchase an insurance policy to cover any such person, thing, event, or action. Therefore, if the asset is destroyed or lost, the policy would reduce the chance of loss.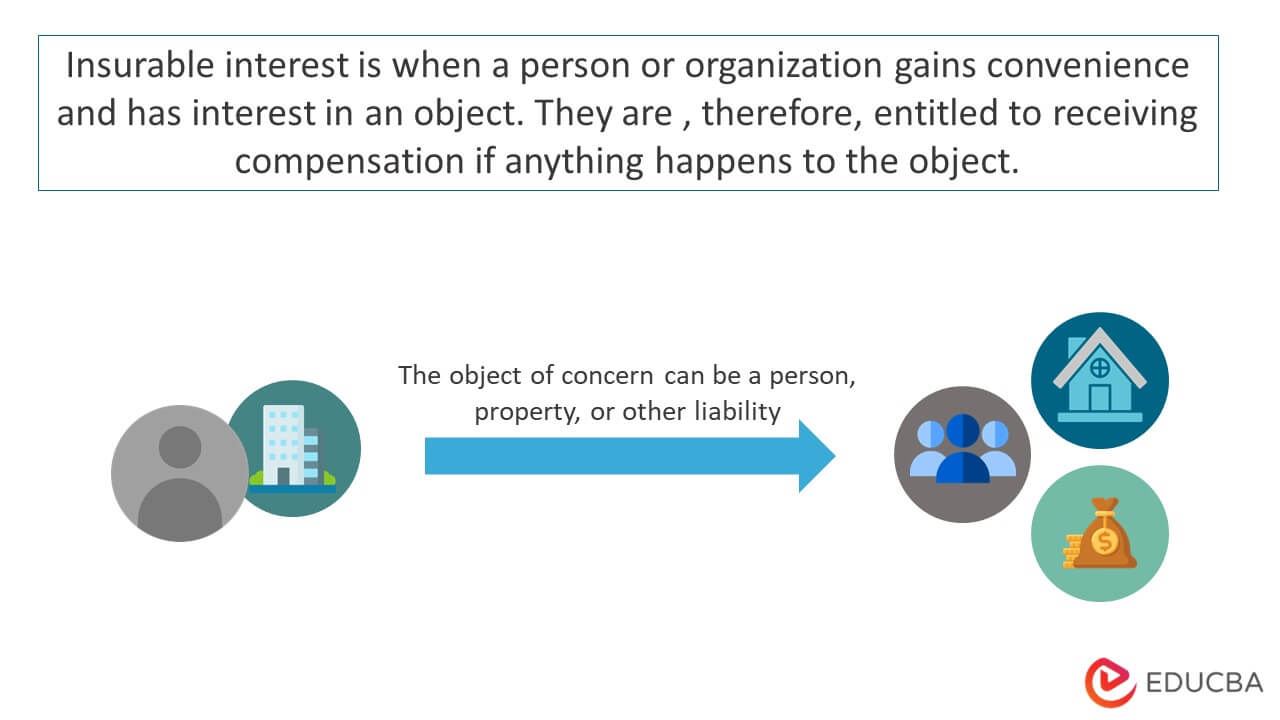 Key Highlights
Insurable interest protects any investment that is vulnerable to financial loss.
It is of three types: Life, property, and liability insurance
According to its principle, obtaining insurance should be motivated by a legitimate interest, an ownership claim, or a close connection to the insured object.
In life insurance, a person gets the interest if they stand to gain financially from the insured individual's ongoing life. Therefore, if the insured died unexpectedly, the survivor would incur monetary damage or other hardship.
Types of Insurable Interest
1. Life
It is when a person or a group of people depend on an individual's life for survival.
In simple terms, the person's unemployment, death, etc., can lead the dependents to hardship.
For example, companies provide life and health insurance to specific groups of employees, as their contribution to the company matters greatly, and their loss would be regrettable.
2. Property
It is a situation where a property serves a significant purpose in a person's life.
It can include everyday furniture to manufacturing factory equipment.
For instance, a self-employed college graduate uses equipment like a computer, printer, and others for their business. They can purchase property insurance for those machines. Therefore, they will get reimbursement in case of theft, damage, or any other event.
3. Liability
Liability insurance is primarily applicable for businesses to cover any outside claims.
If any person claims that your business has injured or damaged their property, liability insurance will cover those charges.
The best example includes employer's liability insurance. When an employee encounters an employment-related accident, it leads to injury or damage.
Suppose a worker in a firework industry gets injured due to a faulty machine or firework. They can raise a claim with their company, and its liability insurance will cover those expenses.
Principles of Insurable Interest
Insurance plans serve to safeguard against the effects of unforeseen losses. As a result, the policyholder should have a stake in the outcome, mainly if there is a financial connection to the covered object.
The principle states that securing insurance should be due to valid interest, attest ownership or connection to the insured object.
The principle asserts that obtaining insurance depends on the existence of insurable interest. A person cannot get insurance unless a connection indicates the importance of the subject in their life.
Before issuing a policy, the insurance firm researches and verifies the validity. The investigation unit speak with the beneficiary and applicant
All laws provide that an insurance contract without interest is a wagering contract and be null and void.
Example of Insurable Interest
Example 1
In Warsaw, Indiana, a crop insurance agency, Silveus Insurance Group Inc., settled a fraud investigation by paying $500,000. According to the statement released on March 9, 2022, by the Department of Justice, the company had provided Gaylord Lincoln, a farmer, the facility to claim additional insurance.
Lincoln had claimed premiums and indemnities from federal crop insurance policies. He did so by providing false documents in the name of various farmers who were not eligible for those policies. Due to the lack of insurable interest of those farmers in Lincoln's land, it is a fraud, and thus SIG Inc had to pay $500,000 to resolve the charges.
Example 2
Mr. George is a single parent earning for his parents and children. His family's convenience and survival depend on him. Thus, he opts for life insurance and names each of his children and parents as the beneficiary. As they hold an insurable income interest in Mr. George's life, his family is justifiable as beneficiaries.
However, suppose he names his best friend as a beneficiary too. In that case, there should be enough proof to prove that his best friend depends on him for valid purposes; otherwise, it can be an insurance fraud.
Example 3
Ms. Patricia lives in a rented apartment and works at an outlying farm that she owns. As the income from the farm sources her livelihood, she registers for property insurance for it.
Therefore, if someday her farm is damaged through a natural calamity or any other risk, she'll get reimbursed for the loss. However, note that she does not insure her apartment as it is not hers; instead, she rents it.
Insurable Interest in Life Insurance
The issuance of life insurance coverage is only for some people. There must be an insurable income interest to purchase a policy.
For the insurance policy to be valid, the policyholder should be interested in the insured's life.
If the insurance owner is not the beneficiary, the beneficiary specified in the contract must also have an interest in the insured individual.
A person possesses interest if the insured individual provides them with financial or other forms of security. Hence, in the event of the individual's sudden death, the insurance aids the beneficiaries.
Conclusion
The indemnification principle works with the idea of insurable interest. It states that insurance plans must reimburse policyholders for incurred losses. To be repaid, insurers must create policies with adequate coverage for the asset's value at risk. Otherwise, an insurance business may suffer a loss of money and moral hazard due to poorly constructed insurance policies.
FAQs
1. What is the definition of an insurable interest in life insurance?
Answer: An essential prerequisite for a life insurance contract is that the person purchasing the policy must have a legitimate stake in the insured person. A person cannot buy insurance for a stranger unless the necessary paperwork identifies the insured risk.
2. What is the importance of insurable interest?
Answer: Insurance policies exist to support people in case of adversities. However, many immoral people can use them to raise wealth. Therefore, insurable interest is the key to identifying and eliminating insurance fraud. It ensures that the insurance policy's nominees have a substantial interest in the insurer's life and thus would require safeguarding in case of unfortunate events.
3. When must insurable interest exist?
Answer: Insurable interest is vital when choosing an insurance policy. It can exist if the policyholder or the beneficiary has a legitimate claim and corn regarding the insured person, property, or any other liable object. Without a valid interest, a person cannot take an insurance policy.
4. What are the assumptions for an insurable interest?
Answer: The basic assumption for an insurable interest is that the insurer(person, property, etc.) has a long working life ahead of them. Additionally, the insured object provides value and welfare to the policyholder and the beneficiaries.
5. Which risks can be insured?
Answer: Liability, personal, and property risks are the three categories of hazards often covered by insurance. Any danger resulting in a partial or complete property loss is a property risk. Any threat affecting workers' health and safety is considered a personal risk. The risk of liability is the possibility of being held accountable for negligence.
Recommended Articles
This article is a guide to insurable interest. We discuss its definition, principle, types, examples, importance, etc. Read the following articles to learn more,