Updated May 30, 2023
About Hydraulic Press
Before choosing the right hydraulic press type, it is essential to know its working mechanism, types, applications, and uses. Here's all you need to know about a hydraulic press!
What is a Hydraulic Press?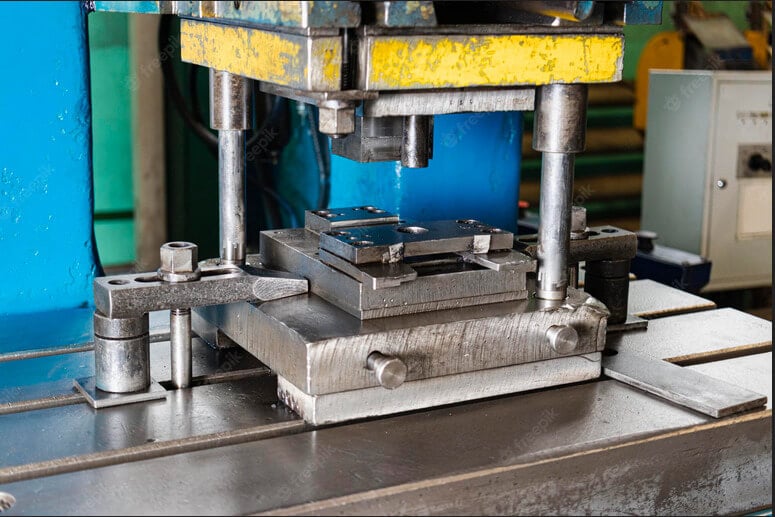 Hydraulic Presses are devices that use the static pressure of a liquid to produce compressive force. It consists of a mainframe, controls, and a power system. The mechanism helps to structure, dismantle or organize different types of metals, rubber, plastic, and wood.
Working Mechanism of a Hydraulic Press
A hydraulic press works on Pascal's law, according to which coercion changes by applying pressure to a confined liquid. The piston is a pump that ensures the required mechanical force to smaller and larger patches.
The simplest arrangement comprises two pistons of the same size attached by a fluid-filled tube. The fluid inside the cylinder is pushed through the pump and into the second piston. Thus, it produces an equivalent force downwards on both pistons.
Types of Hydraulic Presses
There are various types of Hydraulic Presses with unique traits. Check them out below!
1. H-frame
The H-Frame Hydraulic Press consists of a steel frame, a pump, a press cylinder, and a movable bolster; all put in an "H" shape. The manufacturing units use it for repair and maintenance during the arrangement. The simple, rugged design provides easier maintenance and is beneficial for medium and low-volume production purposes.
2. C Frame
A C-frame hydraulic press is a heavy-duty manual or semi-automatic machine with an open frame, moving slabs, and exposed gears. It offers excellent rigidity, high accuracy, pace, and arrangement. Thus, it is perfect for minor operations and requires a limited floor area.
3. Four-column
Four-Column Hydraulic Presses find their use in oil, gas, chemical, building materials, metallurgical, and other industries. These presses help punch holes and cut slots in metal sheets, pipes, rubber, and steel plates. The single or double-cylinder arrangement depends upon the requirements of the process and the type of material.
4. Horizontal
The horizontal press has a unique hydraulic system that safeguards from overloading and comes with a two-speed technique as a prototype. It is a powerful, valuable machine that is instrumental in many industries. This type of press helps shape workpieces that are longer or shorter than the expected length of a vertical press.
5. Hydraulic Wheel Press
A hydraulic wheel press is suitable for shaping metal into diverse forms. These presses help in rectifying shaft parts and compressing shaft sleeve parts. The aerospace industry uses it to manufacture different parts of airplane bodies and landing gears.
6. Straightening
Straightening Hydraulic Presses help to straighten the bent, twisted, or warped metal parts without the urge to remove them from the assembly. This device helps deform parts with a high-strength steel thickness of around 20 mm. Depending on its type and size, the machine is beneficial as part of workshops and small repair shops.
Applications of a Hydraulic Press
It operates on high-pressure to produce energy. It is a significant and cost-effective technique to apply pressure on any object. Its applications are below:
Various industries use a hydraulic press, including automotive, military, construction, aerospace, etc.
Metalworking, welding, compacting food items, making instruments, forging, creating aircraft, and more use them.
It is used for commercial and industrial purposes since it can deal with large pressure volumes. Academic setups for training and research purposes also use hydraulic presses.
Hydraulic presses serve in heavy-duty jobs like stamping and creating metal sheets, forging, extracting plastic pipe, and curving oversized diameter tubes.
The manufacturing industries preferably use them for pressing, forming, stamping, and bending metallic articles.
Hydraulic presses also help during the manufacturing of products like food cans, siding on house roofs, and truck beds.
Such presses are efficient tools for molding plastics and metals, and they can punch, shear, or bend materials into the required shapes.
Hydraulic presses are highly useful for workshops for manufacturing purposes.
When Should you Choose a Hydraulic Press?
If you seek weight reduction and material conversion, it is better to use a hydraulic press. It has a low initial and production cost and provides a high tonnage capacity. It is a safer option than other industrial presses due to built-in overload protection.
Moreover, it has a simple design, requires less floor space, and makes less noise. It also helps you generate a high amount of pressure. These presses have greater adaptability and a longer lifespan. So, if you wish to increase the strength and rigidity of your project, go for a hydraulic press!