Public Holidays in September 2023
Holidays can be quasi, days of leisure that have no particular significance but provide you with the utmost relaxation or thematic days of celebration or remembrance of specific groups, events, or ideals.
In September, the ninth month of the year, besides the usual holidays, there will be a few extra holidays due to a few local festivities.
List Of Holidays in September 2023 (Updated)
The celebrations of the festival holidays in September 2023 are included in the table below.
| | | |
| --- | --- | --- |
| Date and Day | Occasion | Regions Where Celebrated |
| 7th September 2023, Thursday | Janmashtami | Across India |
| 19  September 2023, Tuesday | Ganesh Chaturthi | Across India |
| 21st September 2023, Thursday | Shri Naryana Guru Samadhi | Kerala |
| 23rd September 2023, Saturday | Heroes' Martyrdom Day | Haryana |
| 25th September 2023, Monday | Ramdev Jayanti | Rajasthan |
| 28th September 2023, Thursday | Indra Jatra | Sikkim |
| 28th September 2023, Thursday | Eid-e-Milad | Across India |
| 28th September 2023, Thursday | Shaheed Bhagat Singh Ji Jayanti | Punjab |
Detailed Description of Festive Holiday in September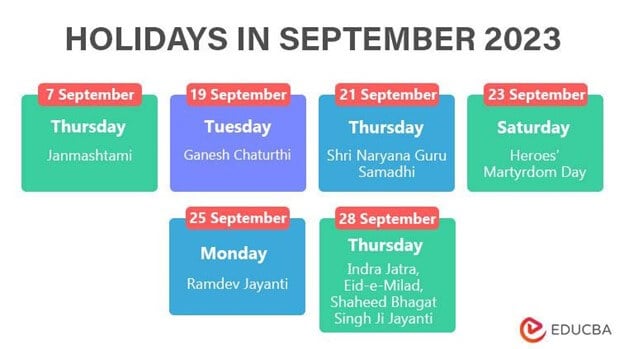 #1 Janmashtami
The Hindu festival of Janmashtami monumentalism is the birth of Lord Krishna. The country assembles to fervently and madly celebrate Lord Krishna's birthday. Kids dressed as Little Krishna, stores lined with sweet shops and opulent handis, people preparing for the performances (also known as Ras Leela), and temples embellished with flowers are all familiar sights.
At Hindu abbeys, poetry recitations from the Bhagavad Gita and Bhagavata Purana are on this day. The celebration festivities last for two to three days and implicate several events, including Dahi Handi, Krishna Leela, and the cooking of foods dedicated to God.
#2 Ganesh Chaturthi
This event commemorates the birth of Ganesha, also known as the impossible challenge. The celebrations start with Lord Ganesh's idols decorated and food offered to God. Many people consider the event to be an ideal time to begin something new because it signifies the start of a new phase.
#3 Shri Naryana Guru Samadhi
This local event is held in Kerala to commemorate the passing of a well-known social reformer from the state. 21st September 1928 saw the passing of Shree Narayan Guru. A significant Guru in Kerala is Sree Narayan Guru. He was an influential spiritual figure, social reformer, and philosopher in India. The Guru was a leader for progressive changes and the fight against systemic inequality in the caste system in Kerala society. He was in the lower caste of the Ezhava in 1855. He also supported spiritual awakening and social equality. Kerala observes a public holiday in his honor on the anniversary of his passing and his birthday.
#4 Day of Heroes' Martyrs
In Haryana, this day is to honor all the courageous individuals who gave their lives in defense of their country and state. Rao Tula Ram's death as Heroes Martyrdom Day. In 1857, Rao Tula Ram was a freedom fighter during the nation's first war for independence. On 23rd September 1863, Rao Tula Ram died from an illness.
Since he assisted in evicting the British from the southwestern region of Haryana, Rao became a state martyr. He also offered support to the Delhi-based rebels. Police officers salute each other during the event as a mark of respect. During the event, police personnel also turned their arms upside down.
#5 Ramdev Jayanti
This festival commemorates Ramdev's birth and is in the state of Rajasthan. Ramdev was a spiritual leader who spent his entire life working to improve the lives of the underprivileged.
#6 Indra Jatra
The Newar people in Sikkim celebrate Indra Jatra, one of the happiest festivals in September. The elaborate rituals of this festival, which ushers in fall, include chariot parades of the god and masquerade dances. With great fanfare, this celebration is for eight days.
#7 Eid-e-Milad
This day marks the anniversary of the Prophet Muhammad's birth and is one of the most important Muslim holidays. This day, also known as Nabi Day, is joyfully observed by Muslims across India.
#8 Birthday of Bhagat Singh
Bhagat Singh, crucial to India's fight for independence from the British, was born in 1899. Shaheed Bhagat Singh is honored on this day since he gave his life to defend the country. Even now, Bhagat Singh is an important figure in Indian iconography. However, his memory defies classification and poses challenges for many parties that might attempt to claim it.