Introduction to Cross-Platform Group Chat
In today's highly developing world, smartphones are the most crucial part of life. To stay connected with long-distance friends and families, cross-platform applications/ Group chat plays a vital role. We can connect with several people at one time.
Regardless of the devices or operating systems they use, cross-platform group chats are communication tools that let people have real-time conversations with several people.
Within these group chats, users can exchange text messages, multimedia files, and even audio or video calls. This accessibility improves productivity and connectivity across various devices and operating systems by encouraging social interaction, teamwork, and information sharing among diverse users.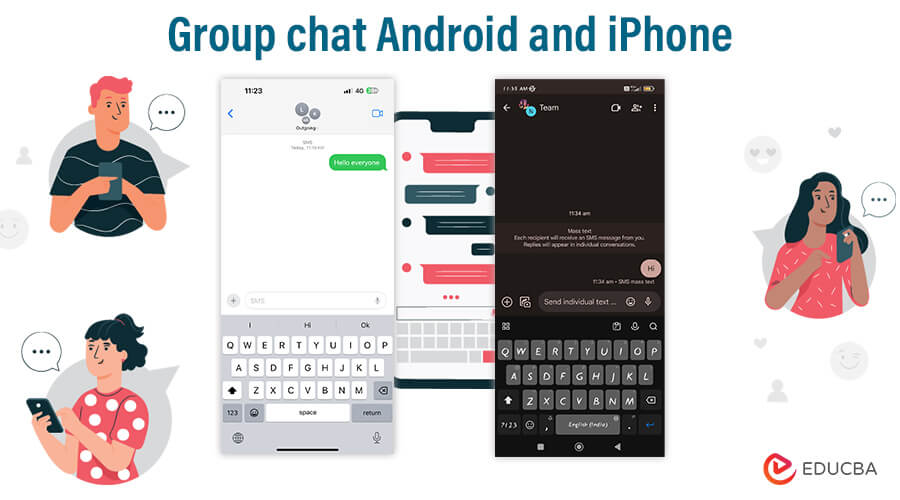 Table of Contents
Challenge of mixing Android and iPhone users in group chats
When mixing Android and iPhone users in a group chat, the biggest problem is that they are using different message protocols.
iMessage is Apple's proprietary messaging service, while Android uses the SMS/MMS protocol.
When the Android user sends a message to the iPhone user in a group chat, that message is converted to SMS/MMS before it is sent.
Because of these problems arise:
Delayed messages
Missing features
Increased Data usage
Group chat moderators can take a few steps to lessen these difficulties, including:
Using a messaging app from a third party: Cross-platform group chats are supported by third-party messaging apps like Telegram, Signal, and WhatsApp.
Educating the group: Group administrators can instruct members on the various messaging protocols and possible issues that may occur when combining iPhone and Android users in a group chat.
iOS 17 and Improved Group Chats
The most recent version of Apple's mobile operating system, iOS 17, substantially improves group chats.
By streamlining communication, these enhancements provide more participatory and interesting experiences. Improved group management, enhanced multimedia sharing, and expanded customization options are among the new features. Now, users can use more expressive stickers and emojis, share live locations, and make polls.
With enhanced participant and content management tools, group moderators have more control. The enhanced group chats in iOS 17 provide iPhone and iPad users a smoother and more pleasurable communication experience thanks to their more user-friendly interface and stronger integration with other iOS apps.
Exploring the enhancements brought by iOS 17 for group chats with Android users
iOS 17 introduces several noteworthy enhancements for group chats, making communication with Android users more seamless and engaging.
The availability of numerous iMessage features in group chats with Android users is one of the largest updates. These features include:
editing text
Tagged responses
complete image quality
Responses
Remarks
Surveys
Regardless of whether the other participants in the group chat are using iPhone or Android smartphones, iPhone users can now take advantage of all of their favorite iMessage features.
Some Key improvement includes:
Cross-Platform Compatibility: iOS 17 places a high value on interoperability, making it simple for owners of iPhones and iPads to have group conversations with owners of
Rich Multimedia Sharing: Users of iOS and Android devices can now exchange multimedia files of excellent quality.
Advanced Features: Interactive stickers, live location sharing, polls, and more are included in iOS 17.
Better User Interface: iOS 17's group chat user interface is made to be more intuitive and user-friendly.
Integration with Third-Party Apps: iOS 17 improves compatibility with third-party apps that Android users frequently use.
Notifications synchronization: iOS and Android devices share synchronized group chat notifications.
Create Group Chat on iPhone
Step-by-step instructions on setting up a group chat on an iPhone:
Step 1: Open Messages: From your iPhone's home screen, find and tap the "Messages" app. An icon of a green speech bubble is used to denote it.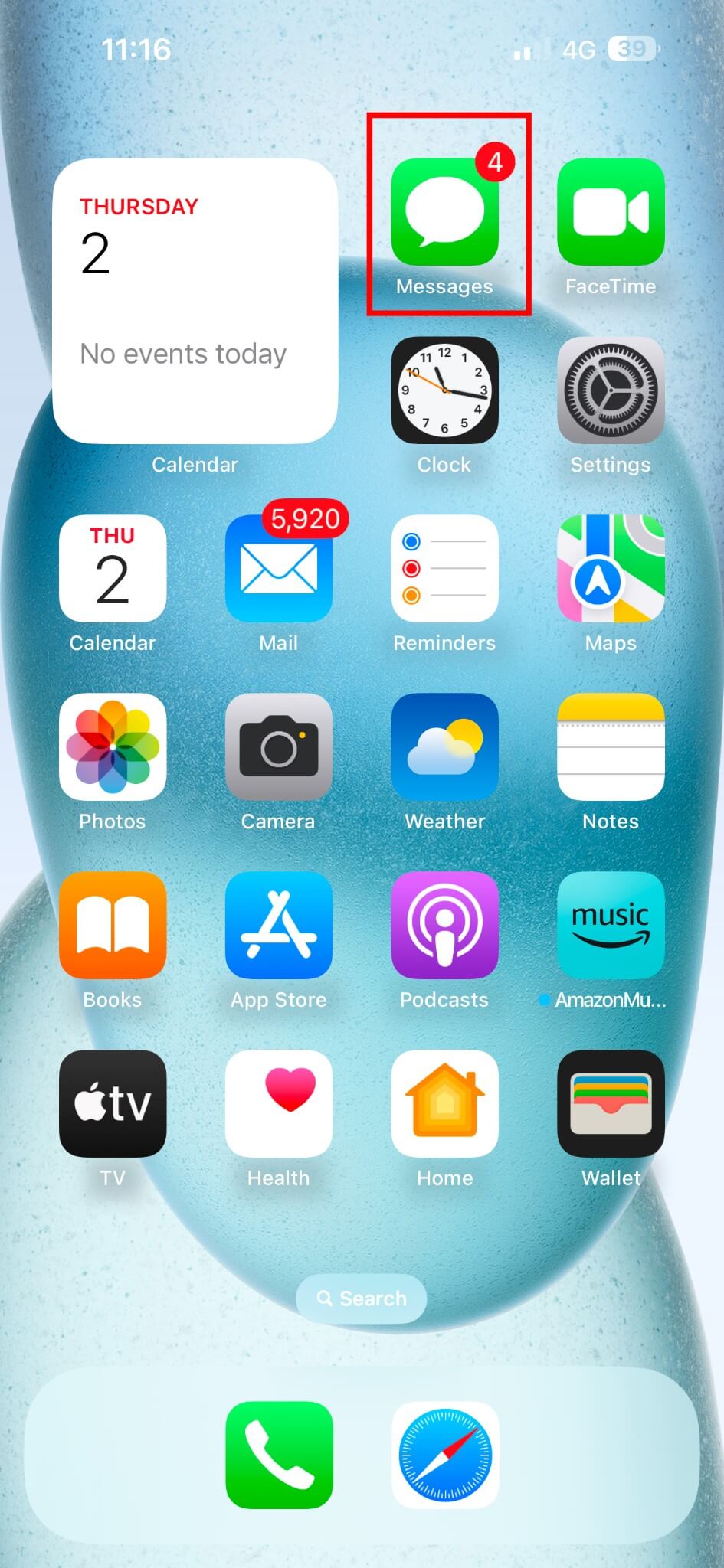 Step 2: Compose Button: To Start a new message, select the compose button in the Messages app, typically in the upper right corner. Depending on your iOS version, it appears as either a "+" sign or a pencil inside a square.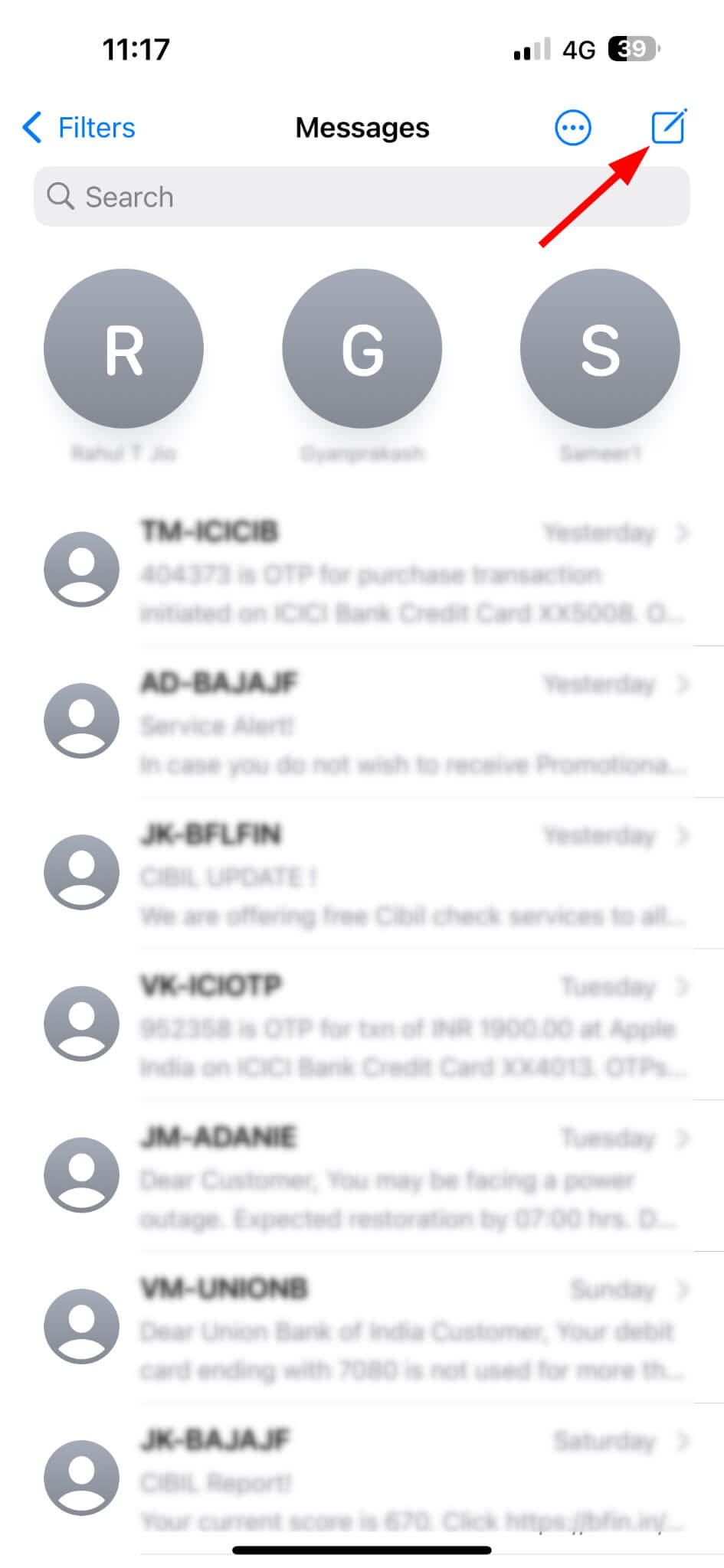 Step 3: Add Recipients: Type the names or phone numbers of the people you wish to add to the group chat in the "To:" field located at the top of the new message screen. And simply tap on it. Upon adding multiple recipients, your message will automatically transform into a group.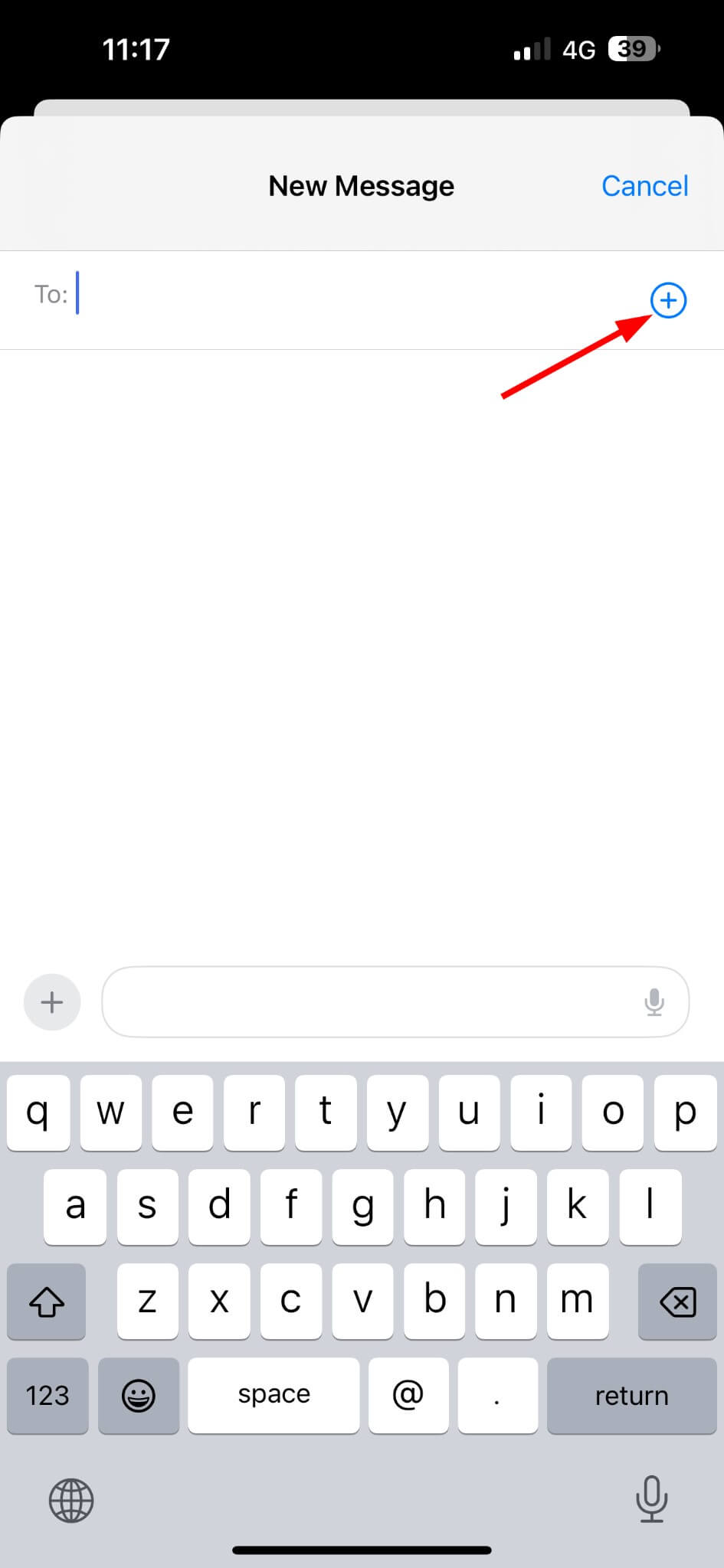 Step 4: Create Group: Your message will instantly transform into a group chat once you add more than one recipient.
Step 5: Write Your Message: The text field at the bottom of the screen is now where you can type your message. Text, images, videos, and other multimedia can be sent.
Step 6: Send Your Message: To send your message to every member of the group chat, tap the green send button, which looks like a green upward-pointing arrow.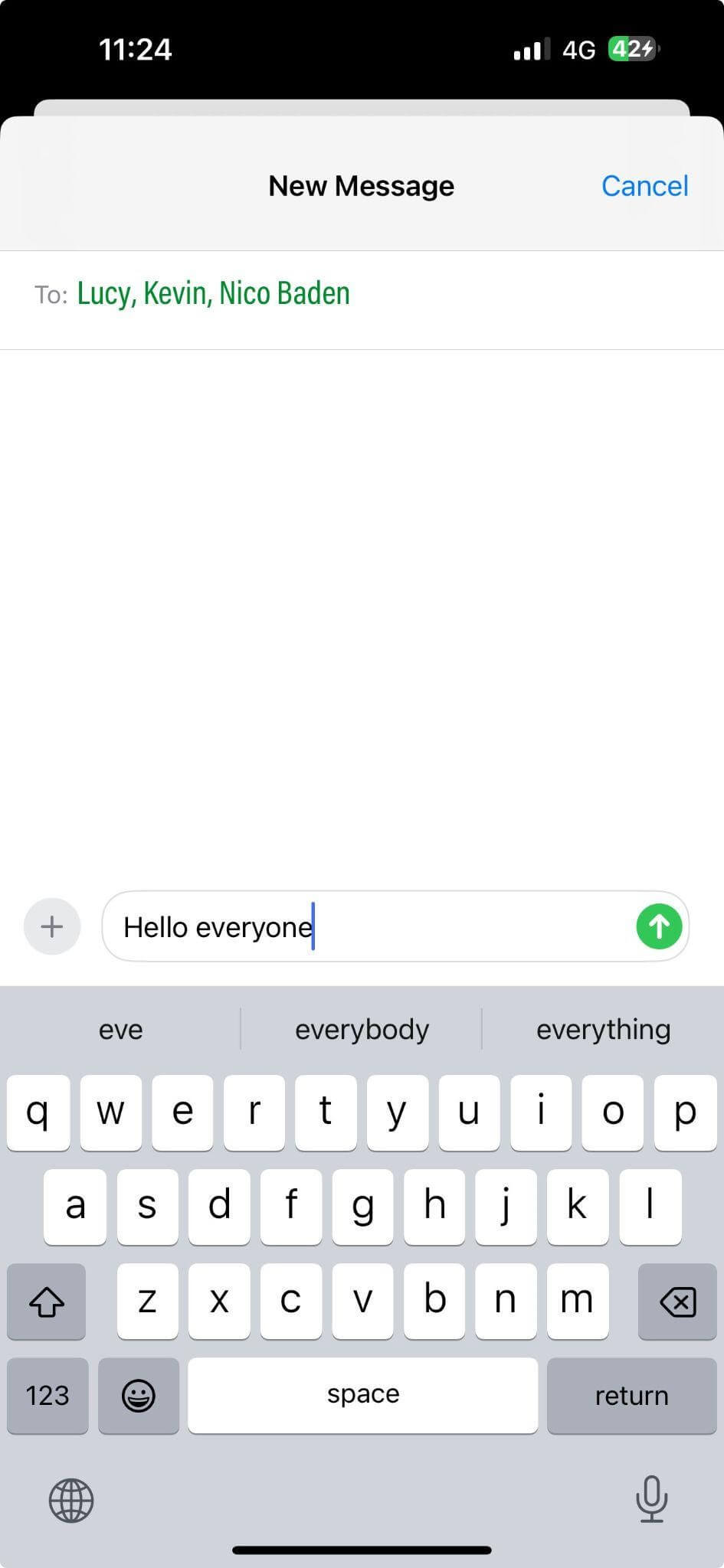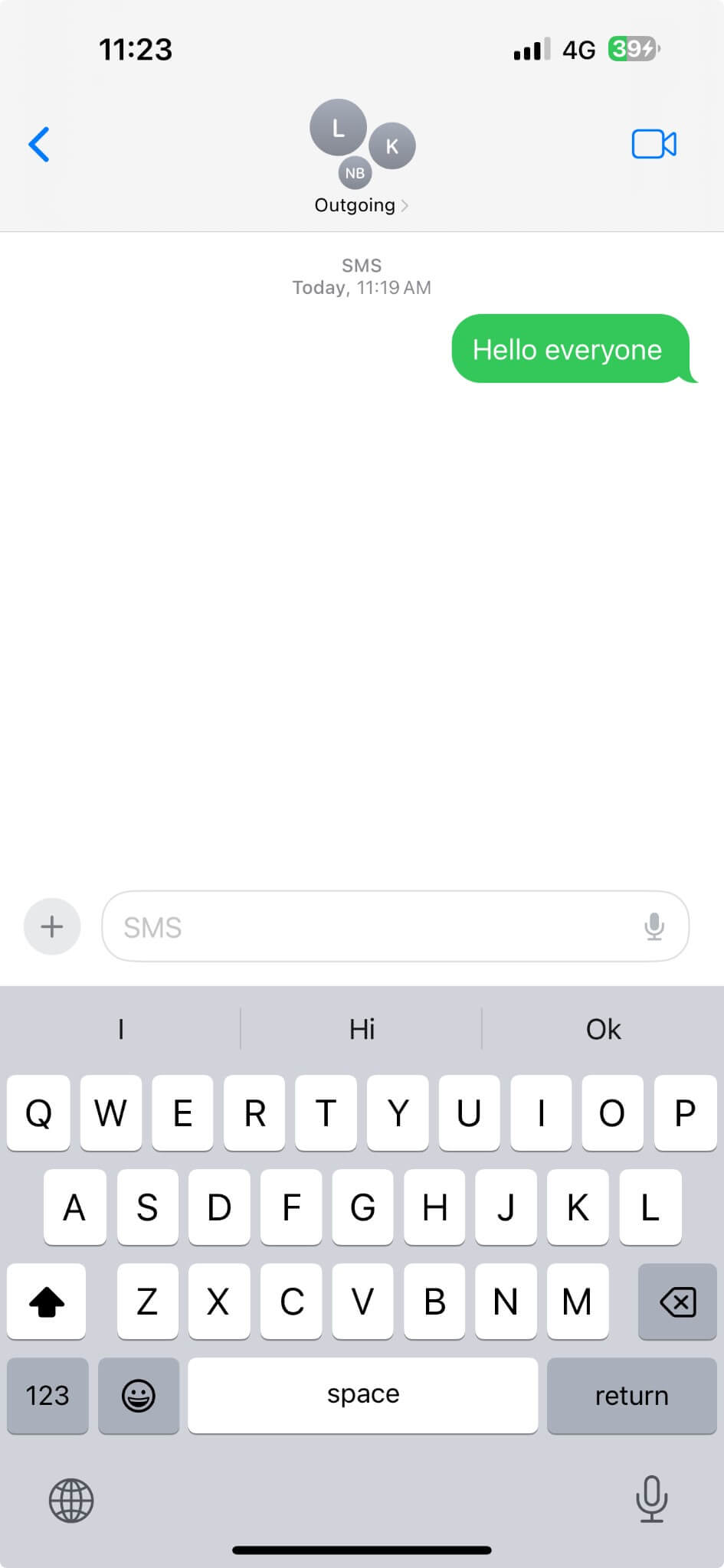 Now, You can continue to send messages and media to the participants in the group, and they can all join in the conversation.
Using iMessage for Mixed Groups
Using iMessage for mixed groups, which consist of both iPhone (iOS) and Android users, can be a bit tricky, as iMessage is an Apple-only messaging platform.
How iMessage works when including Android users in group chats.
Group Creation: When an iPhone user (iOS) initiates a group chat in the Messages app and adds Android users to the group, the conversation starts as an iMessage group.
Mixed Message Types: iMessage will send messages as iMessages to iOS users and SMS/MMS to Android users in the same group.
Green vs. Blue Bubbles: Messages to Android users will appear with green bubbles in the group chat, while messages to iOS users will have blue bubbles.
No iMessage Features for Android: Android users won't be able to interact with iMessage-exclusive features such as stickers, iMessage apps, and certain interactive elements.
Group Name and Members: The group name and members will be visible to everyone. Android users will also see the iOS users in the group and vice versa.
Message Effects: iMessage effects and animations sent by iOS users may not be visible to Android users, who will see standard text or images instead.
Cross-Platform Messaging Apps: In cases where feature parity and compatibility are essential, it may be more practical to use cross-platform messaging apps such as WhatsApp, Facebook Messenger, or Telegram, which offer a consistent experience for both iOS and Android users.
Troubleshooting Group Messaging
Common issues and solutions when group messaging with Android devices.
Now Let's discuss some issues that happen when group messaging with Android devices along with their solution:
1. Android Users Receiving Individual Messages: Android users might receive group messages you send from your iPhone as individual SMS messages.
Solution: Go to Settings > Messages > Group Messaging on your iPhone, and toggle on group messaging. By doing this, group messages are sent to Android users as MMS.
2. Android Users Are Not Able to View iOS Users' Sent Media: Android users occasionally may experience difficulties seeing media (such as pictures or videos) shared in group chats by iOS users.
Solution: Ask Android users to use media sharing and MMS-compatible messaging apps. Users of iOS devices should also make sure that the media they send is in a compatible format (for example, JPEG for images).
3. Mismatched Message Threads: When a mix of iOS and Android users participate in a group chat, it can get chaotic. Messages may show up in multiple threads.
Solution: Recommend that everyone use a messaging app that is compatible and provides a consistent experience for all users, such as Facebook Messenger or WhatsApp. As an alternative, ensure everyone communicates in the group via the same app.
4. Problems with Message Delivery: Occasionally, communications might not reach every group member, leading to a breakdown in dialogue.
Solution: Verify your Wi-Fi or cellular data is stable and check your network connection. Try restarting the messaging app or your device if the problems continue.
5. Message Effects and Stickers Not Visible on Android: Special message effects and stickers are available in iMessage for iOS users, but they are not visible or interactable for Android users.
Solution: To ensure that Android users can fully understand the content, iOS users should refrain from using iMessage-specific features in mixed groups, such as effects and stickers.
Cross-Platform Chat Apps
When you find difficulty in dealing with messaging apps, there are useful third-party apps like WhatsApp, Telegram, and Discord. Let's see their features one by one
WhatsApp: With cross-platform group chat support, WhatsApp is one of the most widely used messaging apps worldwide. Another well-liked messaging app with a reputation for privacy and security is called Signal. Like WhatsApp, Signal offers a comparable feature set and facilitates cross-platform group chats.
Telegram: This messaging app is well-known for its quickness and adaptability.
Google Chat: Google Chat is a messaging app that works with other Google products, like Google Drive and Gmail. Google Chat supports cross-platform group chats.
Facebook Messenger: Facebook Messenger is a messaging app that works with Instagram, Facebook, and other Facebook products.
Viber: Viber is a popular messaging app that offers free voice and video calling along with low data usage. Like WhatsApp and Signal, Viber offers a similar feature set and facilitates cross-platform group chats.
Discord: A popular messaging app among communities and gamers is called Discord.
Best Practices for Inclusive Group Chats
Tips and etiquette for successful cross-platform group messaging.
When using some group messaging applications, you should follow some rules and etiquette to maintain the group's peaceful and successful running. Let's see some of them.
Pick a Cross-Platform App: To guarantee compatibility for all users, pick a messaging app that is available on both iOS and Android.
Simple Text Communication: Steer clear of platform-specific effects, features, or stickers that not all users may be able to see or use.
Media Compatibility: To guarantee that everyone can see or hear your media, share it in formats that are commonly supported, like JPEG for images.
Communication Guidelines: To keep everyone in the loop, clearly define what is expected of you in terms of responsiveness and frequency of communication.
Security and Privacy: Uphold privacy by not disclosing private or sensitive information to other members of the group.
Avoid Sensitive Topics: Taking into account the diversity of viewpoints and backgrounds, avoid bringing up contentious or divisive subjects that could spark arguments.
Resolution of Conflicts: To keep the tone positive in the group chat, resolve disputes in private.
Review your notification settings to stop any members from being constantly interrupted.
Express gratitude: To foster a feeling of community and acknowledge and value contributions and constructive interactions.
When you want to leave the group, do so quietly and politely. If appropriate, give a brief explanation of your departure.
Ensure Group Knowledge: To keep everyone informed and on the same page, share any significant updates or changes.
Future of Cross-Platform Messaging
A glimpse into the evolving landscape of messaging apps and their compatibility.
Interoperability: Messaging apps are moving towards greater interoperability, allowing users to communicate seamlessly across different platforms and services.
Enhanced Features: Messaging apps are continually adding new features to stay competitive.
Cross-Platform Support: Many messaging apps are prioritizing cross-platform compatibility, allowing users to access their messages and conversations from different devices, such as smartphones, tablets, and computers.
Privacy and Security: As concerns about privacy and data security grow, messaging apps are focusing on end-to-end encryption and other security measures to protect users' conversations and data.
Integration: Messaging apps integrate with other services and platforms, offering users additional functionality like payments, shopping, and social media, all within the messaging app.
Artificial Intelligence: AI-powered features, including chatbots and predictive text, are becoming more common, enhancing the user experience and making messaging apps more versatile.
Decentralized Messaging: Some messaging apps are exploring decentralized models, using blockchain technology to give users more control over their data and communications.
Cross-Device Sync: Users can expect better synchronization across devices, meaning that messages, conversations, and preferences will be consistent whether using a smartphone, tablet, or desktop computer.
The evolving landscape of messaging apps and their compatibility is driven by the growing need for seamless communication across various devices and platforms while also addressing concerns about privacy and security.
Conclusion – Group chat Android and iPhone
Future messaging apps will have seamless cross-platform support, more sophisticated features, improved privacy protection, and improved interoperability. Messaging apps will remain essential to modern communication as long as technology advances, providing users with more safe and varied ways to connect across various platforms and devices.
Recommended Articles
We hope that this EDUCBA information on "Group Chat Android and iPhone" was beneficial to you. You can view EDUCBA's recommended articles for more information.