Updated May 25, 2023
Golden Temple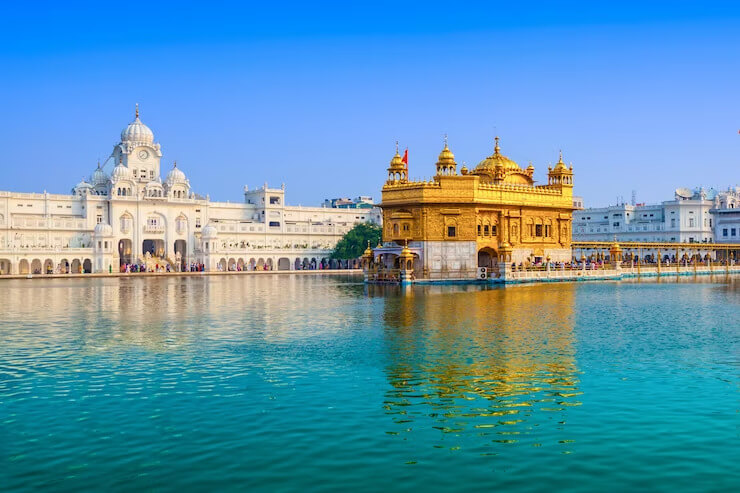 The Golden Temple is a sacred place for the Sikhs in Amritsar, Punjab, India. The temple was constructed as per the design of Guru Arjan Dev Ji and according to Sikh religious scriptures. The main building inside the golden temple is called Sri Harmandir Sahib (The abode of God). It is also considered the holiest shrine by Sikhs.
The main structure of this temple was built in 1604 CE by Guru Ram Das Ji, the fourth guru of Sikhism, and it took him about 14 years to complete the construction work. Later the temple was renovated by Guru Gobind Singh Ji, who added marble and gold plating on its exterior walls and covered its dome with gold leaf during his reign.
Tips for Visiting the Golden Temple
Do not wear shorts, short skirts, or tight-fitting clothes while visiting the temple.
The Head should be covered. Devotees can borrow the scarves free of charge or buy from hawkers who sell souvenir scarves for INR 10.
Do not bring weapons or sharp objects (knives, scissors, etc.) inside the temple complex.
Do not take photos without permission.
It is disrespectful to touch someone else's Head with your hand; if you have to feel someone's Head, then do so with your palm only and say "Sat Sri Akal" or "Sat Shri Akal" before doing so.
Smoking and drinking are strictly prohibited.
How to Reach Golden Temple?
By Air: The nearest airport is the Amritsar International Airport, 30 kilometers from the Golden Temple. Taxis, buses, and cabs are available for hire from the airport.
By Train: The nearest railway station is about 2 kilometers from the Golden Temple. The city has two major railway stations, Amritsar Junction and Amritsar Cantonment. Both these stations are well connected with other cities in India by rail networks. Taxis, buses, and cabs are available for hire from both of these stations.
By Road: Amritsar connects easily to other parts of India through National Highways 1 & 15B. It also has an extensive bus service system operated by Punjab Roadways Corporation that connects it to all major cities of Punjab and other states in India. In addition, taxis, buses, and cabs are available for hire at different points in the town.
Most Frequently Searched Routes to Golden Temple, Amritsar (via drive)
| | | |
| --- | --- | --- |
| Route Name | Distance | Time |
| Chandigarh to Amritsar | 226.6 km | 4 hours 9 mins |
| Delhi to Amritsar | 476.7 km | 8 hours 33 mins |
| Mumbai to Amritsar | 1,785.5 km | 31 hours |
| Manali to Amritsar | 394.1 km | 9 hours 46 mins |
| Ahmedabad to Amritsar | 1,244.4 km | 21 hours 18 mins |
| Bangalore to Amritsar | 2,632.1 km | 45 hours |
| Jodhpur to Amritsar | 803.1 km | 14 hours 28 mins |
| Jaipur to Amritsar | 644.7 km | 10 hours 43 mins |
| Pune to Amritsar | 1,832.0 km | 33 hours |
| Srinagar to Amritsar | 418.3 km | 9 hours 31 mins |
| Shimla to Amritsar | 294.1 km | 6 hours 50 mins |
| Hyderabad to Amritsar | 2,040.9 km | 35 hours |
| Chennai to Amritsar | 2,665.2 km | 46 hours |
| Kolkata to Amritsar | 2,019.6 km | 33 hours |
| Agra to Amritsar | 696.3 km | 11 hours 6 mins |
| Gurgaon to Amritsar | 484.0 km | 8 hours 33 mins |
| Udaipur to Amritsar | 1,036.7 km | 17 hours 47 mins |
| Jaisalmer to Amritsar | 792.3 km | 14 hours 15 mins |
| Goa to Amritsar | 2,276.2 km | 42 hours |
| Varanasi to Amritsar | 1,322.2 km | 21 hours 12 mins |
Best Time to Visit Golden Temple
The best time to visit Golden Temple depends on your interests and preferences. If you want to enjoy the beauty of nature, then visit it anytime between March and June when flowers bloom all over this place. However, if you plan a pilgrimage tour, then September-October will be ideal because there are fewer crowds in this place during these months.
Accommodation Near Golden Temple
The Sri Harmandir Sahib administration operates seven Niwas Asthans (traveler's inns) that provide lodging for pilgrims. The reception desks are open 24/7 to serve the devotees.
Note: The booking office for all accommodations is in Sri Guru Arjan Dev Niwas. Booking information is available at Tel: 91-183-2553957, 58, 59.
1. Guru Arjan Dev Niwas
Pilgrims can easily find this location at the major Sarai area's main gate.
2. New Akal Rest House
This accommodation is located behind the Guru Arjan Dev Niwas and has 49 rooms for pilgrims. Five of these rooms are for foreign guests, with a total capacity of 25 beds.
3. Guru Nanak Niwas
This accommodation provides modern sanitation and quality services to its guests, with a total capacity of 228 rooms and 18 halls.
4. Guru Hargobind Niwas
This accommodation is near Gurdwara Baba Atal Rai Sahib, and its basement also has "The Sri Guru Ramdas Library" for the pilgrims.
5. Mata Ganga Ji Niwas
This place is close to Guru Hargobind Niwas. SGPC's INTERNET DEPARTMENT is also within the premises of this accommodation.
6. Guru Gobind Singh NRI Yatri Niwas
This place has 66 residential rooms reserved explicitly for Non-Resident Indians. Other than the accommodations mentioned above, there are other hotels you can find on other booking sites.
Facilities Available
One can access free information from the Golden Temple's information office. It is present adjacent to the Clock Tower's main entrance.
The Golden Temple provides free bus service to the railway, airport, station, and bus stand.
Elderly and disabled pilgrims can avail wheelchairs from the office alongside Ber Baba Budha Sahib.
There is a 24/7 facility of free kitchen, i.e., langar (free kitchen) at Sri Guru Ram Das Langar.
The temple has four service stations for water present at each Parikrama corner.
Pilgrims can use the restrooms and shower facility behind Sri Guru Ram Das Niwas.
Visitors may also avail of ATM, postal, and railway booking services.
Guru Ram Das Niwas provides the pilgrims with two accessible dispensaries.
Please inform the manager or the information office about any accident. Contact: +91-183-2553951-60.
Fees and Timing
All worshipers can enter the Golden Temple for free and receive a free darshan. The Golden Temple is open from 5:00 a.m. to 10:00 p.m. every day of the week.