Updated September 15, 2023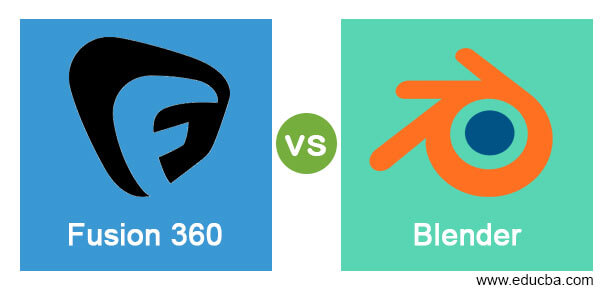 Difference Between Fusion 360 vs Blender
Fusion 360 is an Autodesk tool that helps in the product development process at the cloud platform. Students or professionals can learn CAD/CAM designing from a single tool which also supports remote collaboration. Students can be taught online through Fusion 360 extension. Student assignments can be seen through the tool itself. Blender is a 3D animation software used in graphics and visual effects. Any three-dimensional images can be created with this tool where meshes are manipulated, and 3D images are drawn by connecting the meshes. Entire 3D creation can be done with this single software. All the features can be used for free in this software. In this topic, we are going to learn about Fusion 360 vs Blender.
Head To Head Comparison Between Fusion 360 vs Blender (Infographics)
Below are the top differences between Fusion 360 vs Blender

Key Differences
Some of the key differences between Fusion 360 vs Blender are given below:
Fusion 360 was launched in 2013, and Autodesk itself maintains its documents. Therefore, the support is done from its documents themselves. On the other hand, the blender was launched in 1998, and the users had formed a community to solve the issues of users. Along with the community, the help documents in the website helps the users to solve their queries. Hence, the support for Blender is more when compared to Fusion 360.
A blender is a great tool for animation, video creation, and games and image simulations needed for animation. However, we cannot do mechanical drawings or designs in Blender. Similarly, Fusion is a great tool for mechanical drawings, design, and simulation of the same. However, it cannot do video games or animations.
Fusion has a more professional look, and the keys are easy to master. It is designed for students, and hence the interface is easy to master and learn. Any tools or functions can be searched from the menu and can be used. Stream-lined interface and drop-down menus make Fusion a user-friendly software. While in Blender, the interface looks more natural, and hence it is not easy to search for tools and use the same. Shortcut keys must be used more often to access any extensions or add-ons in the software. Hotkeys or shortcut keys must always be used for Blender, and therefore it is not user-friendly software.
With its natural look and style, anyone can design in Blender without much forethought. Natural styles can be modeled easily, and they can be modified based on the needs of the creators. Here precision or measurements will not become a barrier to creators as the model can be formed or deformed into any look. This is not happening in Fusion as the model can be created only with proper measurements and precision.
History can be seen below the design in Fusion, and if anything must be changed, we can retrace the steps in history and change the dimension or modeling structure. It is easy and will not take much time to combine with the designed model. This cannot be done easily in Blender. There is no retracement of steps in Blender, and hence we need to change the entire model if anything must be changed.
Modeling takes time in Fusion with all the calculations and precisions needed. Therefore, all the complexities should be learned before modeling in Fusion. Add-ons in Blender help designers model any shape within few minutes.
If anyone needs to do mechanical modeling and if they know the basics of the same, they can go with Fusion 360. But if someone needs to learn any kind of modeling, Blender helps them to achieve the same.
Fusion 360 vs Blender Comparison Table
Below given is the comparison table showing the head to head comparison between Fusion 360 vs Blender:
| | |
| --- | --- |
| Fusion 360 | Blender |
| This software primarily works for 3D modeling and printing, the same for designing any engine models or mechanical works. Separate extensions are not required for this application. | Blender is more of an animation software or graphics software that is used to draw 3D images. If we need any 3D models of complexity, it will require extensions to be installed in the application. |
| This software is offered for free and paid versions. The free version is limited for its functionality, and hence users are required to use the paid version. | Blender is offered free of cost. Only if we need separate extensions, we need to look for paid versions. Hence, users can enjoy Blender with all its functionalities. |
| The user interface of Fusion is so good with all the drop-down menus. Also, it has the capability to share the screen and assignments to students or colleagues directly through the software itself, which makes it outstanding. | The user interface of Blender is confusing as it is not easy to find the extensions or the required format in the application without searching or proper analysis of the software. |
| Fusion 360 has freeform and surface modeling, design integration, parametric and mesh modeling. | Blender can be used to create video games, animated videos, rigging, and motion tracking. We can also do mirrored and multi-sculpting with Blender, where different brushes are given to modify the model. |
| Fusion 360 is a cloud-based model which has a cloud platform to work and to share the models or to check the assignments. The payment includes the cost of the cloud as well. | Blender is not cloud-based, and its functionalities cannot be shared with anyone unless they have installed the same. But the software is free, and hence anyone can use it. |
| Fusion 360 is good in precision and parameters. Hence designers who want a prototype with accurate precision can give parametric values and design the model in Fusion. This model will not need any enhancements further. | Blender is not good in precision though it has mesh type modeling for parameters. Animaters or gamers who want to learn something for free can start with this software and work on 3D objects. |
| The appearance of the Fusion screen has a more calculated and mathematical look with its white screen and meshed appearance. | The screen does not have a meshed appearance, and only if we need the same we can make the screen look meshy and design the models. |
| We can do 2D modeling and then move it into 3D models without any complexities or extensions. | We cannot do 2D modeling here. We should do 3D modeling directly and then make changes in the model or image. |
Recommended Articles
This is a guide to Fusion 360 vs Blender. Here we discuss the Fusion 360 vs Blender key differences with infographics and a comparison table. You may also have a look at the following articles to learn more –