What is the Full Form of NAAC?
The Full Form of NAAC is National Assessment and Accreditation Council. The University Grants Commission (UGC) created the National Assessment and Accreditation Council (NAAC) in September 1994 in Bangalore. The council's job is to evaluate the performance of the country's universities and colleges.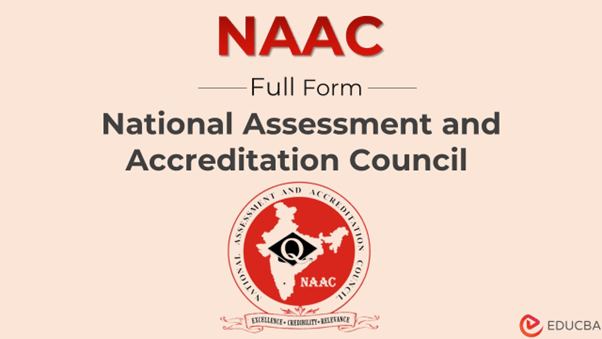 NAAC certification focuses on increasing the quality of education. Unlike traditional educational systems, NAAC attempts to boost students' growth by assisting them in developing skills and knowledge through their curriculum. NAAC-accredited colleges come within the category of "Quality Education" to students. As a result, colleges that wish to optimize student learning outcomes must aim for NAAC certification.
What Is The Purpose Of NAAC Accreditation?
The primary goal of the National Assessment and Accreditation Council (NAAC) is to provide certification to colleges and higher education institutes. NAAC promotes knowledge among the institutes about the condition of quality education.
The NAAC body develops guidelines to which universities and colleges can refer to assess if they can apply for NAAC accreditation. It allows access to both central and state funding programs.
Benefits of NAAC accreditation
A university or a college accredited with NAAC is considered a genuine and credible source of higher education. Moreover, there are several other advantages of NAAC accreditation. Some of them are:
1. Increases Quality Of Education
Students enrolled in The NAAC accreditation ensure they are getting quality education as the body constantly keeps track of the circular of the university or the college. Moreover, to meet the. NAAC standards, the universities continuously strive to improve the quality of their education for the students.
2. Improvement In Internal Processes And Communication
Higher Education Institutions focus on inter-and intra-institutional communication during NAAC accreditation, eliminating the communication barrier between professors and students.
3. Better Chances For Studying Abroad
When applying for any further studies overseas, universities/colleges usually consider the NAAC accreditation grade of the university to acquire a better picture of your achievements as a student. As a result, accreditation improves students' prospects of admission to subsequent courses.
4. Helps In Financial Aids
Financial help is only accessible to students who enroll in a college, university, or other institution of higher education certified by NAAC.
5. Increases Recruitment Rate
The accrediting process provides universities with consistent information regarding the quality of courses they need to deliver to stay as NAAC-accredited colleges. This ensures that the NAAC body verifies the curriculum and, in turn, ensure the student are provided with a theoretical and practical outlook. Considering the standard of the NAAC, the company prefers to hire applicants who graduated from a NAAC-certified institution.
Criteria For NAAC Accreditation
To get accreditation, universities must follow the following criteria:
Organized Curriculum: One of the fundamental elements of quality education is the curriculum and syllabus. A relevant, informative, and well-organized syllabus is critical to improving student learning outcomes and abilities.
Teaching Practices: This factor improves the first requirement of curriculum design. It includes teachers adopting teaching-learning activities and evaluating the outcomes to boost student development.
Innovative Research: This criterion says that universities should focus on leading students toward research and innovation and addressing real-world challenges and solutions to allow them to develop personally.
Infrastructure: This criterion emphasizes the importance of having adequate classrooms, labs, education technology tools, and other facilities and resources to promote a thriving teaching environment.
Support To Students: This criterion advises schools to focus on the student's needs and help them throughout their academic pursuits.
Faculty Management: Regarding educational quality, faculty engagement is critical. This criterion shows that the institution's authorities develop methods for institutional growth by training the faculty.
Institutional Values: This criterion aims to achieve best practices by adhering to institutional principles. It means that institutions must establish values and stick to them with authenticity.
If a university or a college successfully follows all of the above seven criteria, they get accreditation by NAAC.
Conclusion
When you are admitted to a college and wish to have the best studying experience for the next few years of your life, then you must look for NAAC-accredited colleges. NAAC monitors every college or university to keep its quality of education intact. Before applying to any university, you must check for its NAAC grade. The higher grade, the better university.
Recommended Articles
We hope that this EDUCBA information on "Full Form of NAAC" was beneficial to you. You can view EDUCBA's recommended articles for more information,