What is Frontier Market?
Frontier markets are the country that has enormous growth potential but is still far from being classified as a developed economy because of all the geo-political risks involved.
For example, considering that Croatia is currently a frontier market with economic potential, tech giant Amagi has made significant investments in its markets. It has also established a research and development department in Zagreb, Croatia's capital city.
Investors benefit from first mover advantage in such markets. Furthermore, the accessibility and affordability of raw materials, labor, and capital make them appealing. Although it has limited access to international capital markets and control over its currency, it has greater economic growth potential.
Key Highlights
Frontier Markets are countries that have enormous potential but are yet to reach the global standards of development.
They provide investors with an opportunity to invest in low-risk, high-growth marketplaces.
They are great at offering new opportunities to new businesses. However, fraud is a common practice in such markets.
It is underdeveloped than emerging markets in terms of business opportunities.
How does the Frontier Market Work?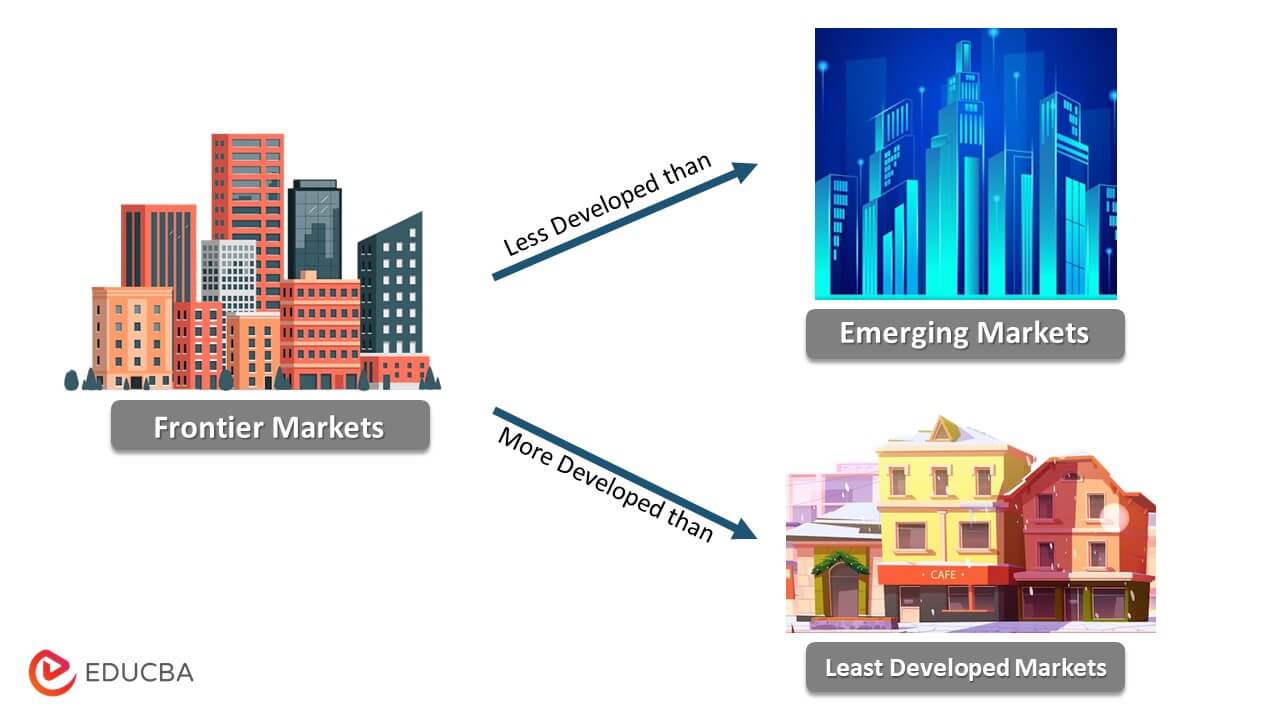 Frontier markets attract investors because they offer high growth potential and risk. While cheap labor and raw materials make a solid investment case, common risk factors include instability in the political environment, massive currency variations, and problematic financial reporting.
Frontier economies tend to be export-oriented rather than import-dependent, but they can still benefit from global trade trends. They also have relatively low correlations with other asset classes, meaning their performance is not highly correlated with that of more developed markets. It can lead to price volatility when sudden changes in investor sentiment or political events occur.
Examples of Frontier Market
#1: Morocco
Morocco has been on foreign investors' radar for some time now, showing immense growth potential because of its renewable energy resource. Total Eren, A France-based company, recently launched a massive $10.6 Billion Green Hydrogen Project on Moroccan Soil.
#2: Sri Lanka
Economists consider Sri Lanka a frontier market, as the island nation enjoys trading routes to emerging markets such as India. Recently, India has been making considerable investments in Sri Lanka, to help the country fight its economic crisis in seven decades. India knows the potential Sri Lanka holds and how it can flourish under the right circumstances.
Points of Differences: Least Developed, Frontier, and Emerging Markets
| | | | |
| --- | --- | --- | --- |
| Points of Differences | Least Developed Markets(Uganda) | Frontier Markets(Sri Lanka) | Emerging Markets(China) |
| Size | It is 241,038 square kilometers big. | It is 65,610 square kilometers big. | It is 9.597 Million square kilometers big. |
| Trade Barriers | Too many trade barriers like high corruption, no special skills, and political instability. | Lesser trade barriers like import restrictions.. | Insignificant trade barriers like tariffs on exports. |
| Growth Rate | It experiences a slow growth rate. | It experiences a moderate growth rate. | It experiences a rapid growth rate. |
| Liquidity | It exhibits poor liquidity. | It exhibits moderate liquidity. | It exhibits high liquidity. |
| Risk | It is a high risk market. | It is also a high risk market complimented with high rewards. | It is a low risk market. |
Frontier vs. Emerging Market
Frontier Market

Emerging Market

                                                                     Meaning
They are small, emerging economies that have experienced rapid economic growth and development in recent years.
They are large economies that have been increasing over the past few decades.
                                                                Characteristics
Economists characterize them by low levels of income, low levels of education, and limited access to modern infrastructure.
Economists characterize them by a high level of income, a high level of education, and a well-developed infrastructure.
                                                            Politics & Diplomacy
These markets have lower levels of corruption and less bureaucracy because of fewer restrictions on trade.
They have higher levels of corruption because the profit potential is greater in these countries.
                                                                 Identification
Economists identify it by their young demographic, low levels of economic development, high levels of foreign direct investment (FDI), and limited access to international financial markets.
Economists identify them by their large and growing middle class, modern infrastructure, high levels of FDI, and access to international financial markets.
                                                                     Volatility
They are more prone to rapid change.
They are less prone to rapid change.
                                                    Placement in Global Economics
They are a middle ground between emerging economies and underdeveloped economies.
They are the middle ground between developed economies and emerging economies.
Advantages & Disadvantages of Frontier Markets
| | |
| --- | --- |
| Advantages | Disadvantages |
| They are an excellent investment because they're underdeveloped and therefore have lower costs. | Economists consider them risky for investors due to various geo-political factors. |
| They are usually more flexible in terms of investment—Businesses can buy shares of a company and take advantage of the opportunities that come up as the market evolves. | If businessmen are unfamiliar with the country, they may be at risk of being robbed or cheated. |
| They offer new opportunities to start-ups, entrepreneurs, and inventors. The potential is exciting. | There is heavy competition in these countries, so companies have to work hard to gain traction. |
| They grow fast, which means more opportunities for those who want to be part of that growth and development. | People in these countries may not have access to resources like banks or credit cards. |
Final Thoughts
The frontier market is an exciting prospect to start a business; the major attraction is that they're fresh and new. Entrepreneurs have the opportunity to create something that is brand new, which means they have the first-mover advantage. Companies making a conscious decision to invest in them may find themselves controlling that market in the future.
Frequently Asked Questions(FAQs)
Q1. What is meant by Frontier Market?
Answer. Economists put the categorization of Frontier Markets between undeveloped countries and emerging countries. Economists consider it slightly more credible and favorable than undeveloped countries but less favorable than emerging countries. Some examples of such markets include Romania, Bahrain, and Bangladesh.
Q2. Are Frontier Markets good for Investment?
Answer. Yes, they make for a good investment. Companies can invest safely in them and expect great returns. It has outperformed emerging markets several times in terms of growth.
Q3. Differentiate between Frontier Markets and Emerging Markets.
Answer. Emerging markets are countries that are on their way to becoming developed countries. Frontier Markets are countries with potential but slightly risky due to geographical and political factors.
Q4. What are some examples of the frontier market?
Answer. The most notable example of such a country is Africa, which has been growing in population at a rapid rate due to increased migration from other countries. Other examples include South Asia, Latin America, and Southeast Asia.
Q5. List the countries economists identify as Frontier Markets.
Answer. There are 21 countries belonging to this category: Afghanistan, Angola, Bangladesh, Botswana, Democratic Republic of Congo (DRC), Egypt, Ethiopia, Ghana, Kenya, Liberia, Myanmar (Burma), Namibia, Nigeria, Pakistan, Philippines, Rwanda, South Africa, Sri Lanka, Tanzania, Tunisia, and Zambia.
Recommended Articles
This was an EDUCBA summary of Frontier Markets. To learn more about it, please read the following articles: