Updated June 2, 2023
Mohandas Karamchand Gandhi
Mahatma Gandhi was a freedom fighter and political leader who played a vital role in India's struggle for independence from British rule. Born in Porbandar, India, on October 2, 1869, Gandhi was the son of Karamchand Gandhi, the chief minister of Porbandar, and Putlibai Gandhi, a devout Hindu and devoted wife. Gandhi received his early education in India and later studied law in London. After finishing his vocational training as a barrister in 1891, Gandhi returned to India and started a law practice in Bombay (now Mumbai).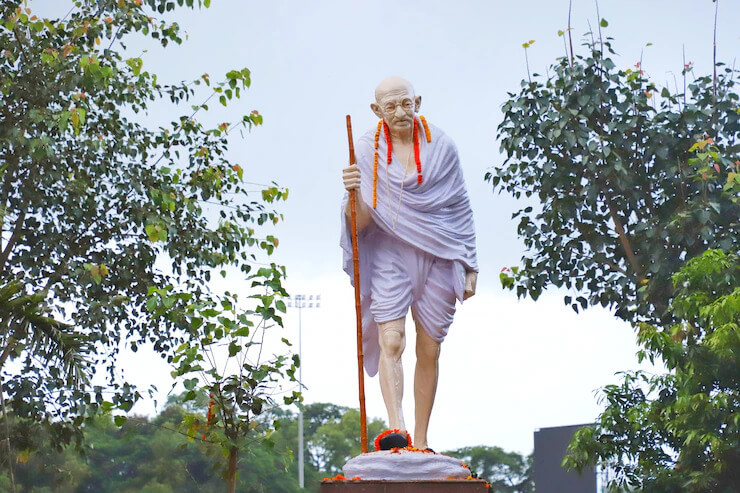 Political Career
Gandhi's political career began in South Africa, where he moved in 1893 to work as a lawyer. While there, Gandhi experienced firsthand the discrimination and injustices faced by Indian immigrants, who got the same treatment as second-class citizens. Gandhi began to fight for the rights of these immigrants and became a leader in the Indian community in South Africa.
In 1914, Gandhi returned to India, quickly becoming involved in India's independence movement. He believed in nonviolent civil disobedience to achieve political change and used this philosophy to lead the Indian people in their struggle for independence. Gandhi's non-violent campaigns and protests, which he called "satyagraha" or "truth force," included boycotts of British goods, strikes, and non-violent protests.
Independence Movement
Gandhi's leadership and influence grew as he organized and led numerous non-violent protests and campaigns against British rule. He played a vital role in the Salt Satyagraha, a non-violent protest against the British salt tax, in which he and thousands of Indians marched to the Arabian Sea to make their salt. This protest lasted more than two months and was a significant turning point in the Indian independence movement.
He had an instrumental role in social and political reform. Above all, he rid society of many social evils. Many oppressed people felt relieved because of his efforts. He became a discussion topic in several international newspapers. This way, Gandhi became a famous international figure. Mahatma Gandhi even made crucial endowments for environmental sustainability. Most notably, he asked everyone to consume only as per their needs. He questioned how much one should consume. Till date, this sustainability model left by Gandhi is extremely popular in Indian households. It is due to India's high population currently. Survey shows an increase in small-scale irrigation systems and renewable energy.
While some in India perceived Gandhi as not rebelling against British-directed violence, Gandhi spent a significant amount of time fasting, grieving over the country's division, and attempting to reduce violence. In addition to fighting for self-determination, Gandhi worked to better the situation of society's lowest sections, the casteless untouchables. He believed in physical work and basic life; he spun thread and weaved fabric for his clothes and required his disciples to do the same. He was opposed to India becoming an industrialized country.
Leadership
Gandhi's leadership and the success of his non-violent campaigns inspired people worldwide, including civil rights leaders Martin Luther King Jr. and Nelson Mandela. Gandhi's philosophy of nonviolent resistance was also influential in the Indian independence movement and helped to bring about the end of British rule in India in 1947.
Gandhi's influence extended beyond the political realm. He was profoundly spiritual, and his beliefs about truth, love, and non-violence shaped his worldview and actions. Gandhi believed in the power of nonviolent resistance to bring about positive change. He used this belief to inspire and lead the Indian people in their struggle for independence. One can never overstate Mahatma Gandhi's impact on numerous societal concerns. While his detention in the Yerwada Jail, wherein he fasted against the ancient plague of 'untouchability' in society, he aided the community's inspiration in the modern day. He also promoted education, social equality, hygiene, and health.
Quit India Movement
These characteristics made our Freedom Fighter – Mahatma Gandhi, a human with a great spirit and justified his transformation from Gandhi to Mahatma. He led various liberation movements and founded the "Quit India Movement." The Quit India Campaign was a huge success. His demise was the most devastating blow to the causes of democracy and peace. His demise left a massive void in the life of the nation.
Gandhi's leadership and philosophy profoundly impacted Indian history, and everyone will remember him as one of the greatest figures in India's independence movement. His assassination occurred in 1948, but his legacy lives on in many people worldwide. They got inspired by his message of non-violent resistance and his belief in the power of love and truth to bring about positive change.
Recommended Articles
We hope that this EDUCBA information on "Freedom Fighter Mahatma Gandhi" was beneficial to you. You can view EDUCBA's recommended articles for more information,