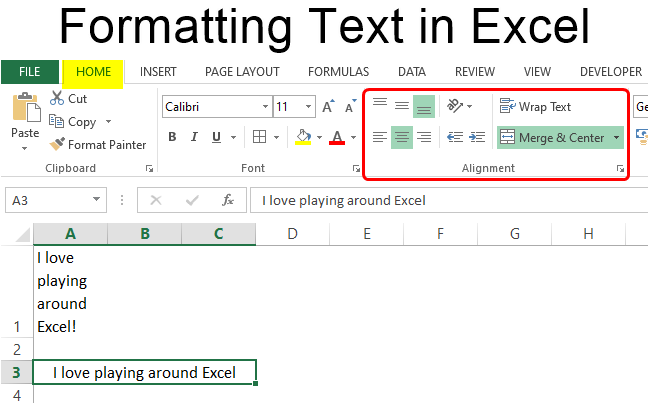 Excel Formatting Text (Table of Contents)
Introduction to Formatting Text in Excel
Excel has a wide range of variety for text formatting which can make your results, dashboards, spreadsheets, an analysis that you do on day to day basis look fancier and attractive at the same time. Text formatting in Excel works in the same way as it does in other Microsoft tools such as Word and PowerPoint. This includes changing Font, Font Size, Font Color, Font Attribute (Such as making text, Bold, Italic, Underlined, etc.), text alignment, background color change, etc. In this article, we will cover these text formatting tools in Excel along with examples for better understanding. Basically, all text formatting can be divided into two major groups which are Font and Alignment. Each group has a variety of options using which we can format the text values and has its own relevance. eg. within Font, you can have all the options associated with text fonts.
Please find attached is the screenshot for your reference:

Text Formatting Tools
All these text formatting tools are placed under the home tab. I am not considering the Clipboard in it because most of it's part contains the cut, copy, paste, and Format Painter. Let's start with Font and it's options.
1. Text Font
The first thing that comes in picture when we talk about text formatting is Text Font. The default text font in Excel is set as Calibri (Body). However, it can be changed to any of the variety available in fonts section.
Let's add some text under cell A1 of Excel sheet.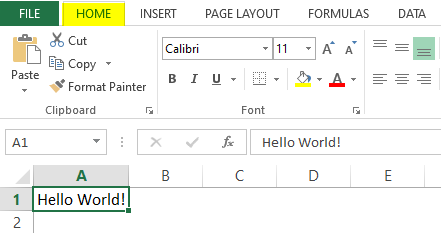 As can be seen through the screenshot above, we have added as text "Hello World!" under cell A1 of Excel sheet.
Navigate towards the Font section where the default value is set as Calibri. Click on the dropdown menu and you can see multiple fonts in which you can use for the text in cell A1. Choose anyone of your choice, I will use the Arial Black.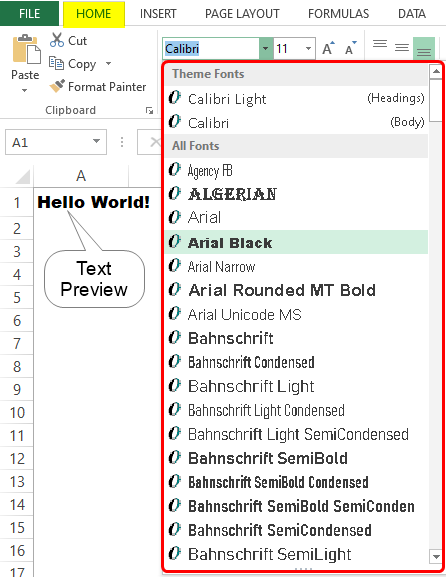 Now, we will try to change the font size.
Select the cell containing text (A1 in our example) and navigate towards the Font Size dropdown placed besides Font option. Click on the dropdown and you can see different font sizes starting from as low as 8. I will change the font size to 16. Please see the screenshot below for your reference.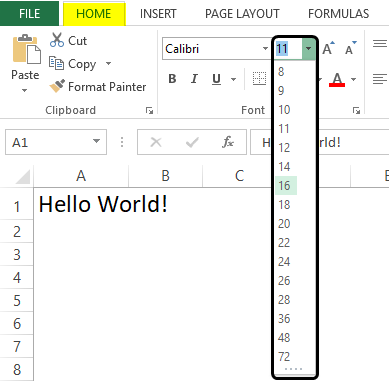 You can also increase or decrease the font size using the Increase Font Size and Decrease Font Size buttons which are placed right beside the Font Size dropdown. See the screenshot below: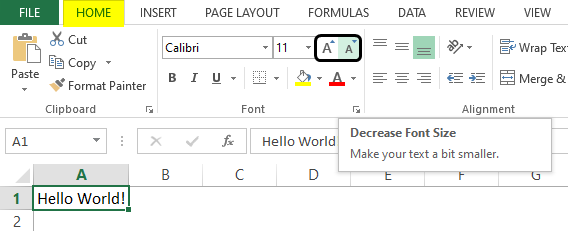 The next part comes when we have to change the text appearance. This covers the Bold, Italic, underlined text as well as coloring the text and/or cell containing the same.
Select the cell containing text and click on the bold button. It will make the text appear in bold. You can also achieve this by hitting Ctrl + B keys.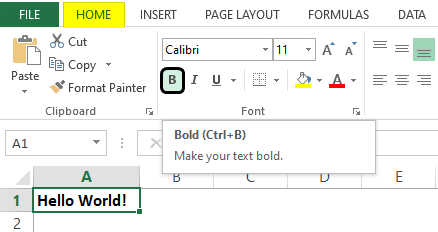 Select the cell and click on the Italic button that converts the text into Italic font. This can be achieved through a keyboard shortcut Ctrl + I.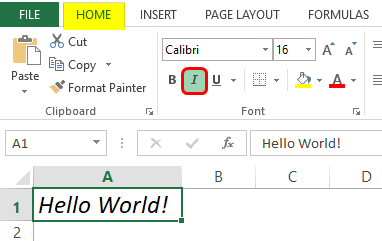 You can underline the text by using Underline button that is placed besides the Italic button, the keyboard shortcut to achieve this result is, Ctrl + U. There is one more option for underline section and it is Double Underline. It adds a double underline to the current cell containing text. See the screenshot below for a better visualization of these two options.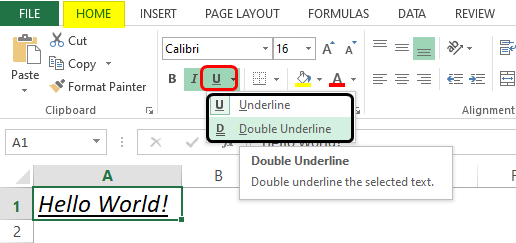 We also have an option to change the text color for given text. This option is placed under Font section in your excel ribbon. You can simply click on the change color dropdown and see different colors to add for the current text value. See the screenshot below for your reference: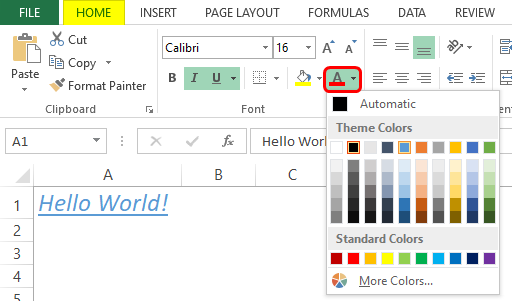 This is how we can format the text using the Font Group. Now we will move towards the second group called Alignment.
2. Text Alignment
This part also plays an important role in text formatting. We have several alignment options available under this Group. We will see those one by one. Text alignment are of 6 types in total. First three are Top Align, Middle Align, and Bottom Align. These are placed at the top most tier under Alignment group.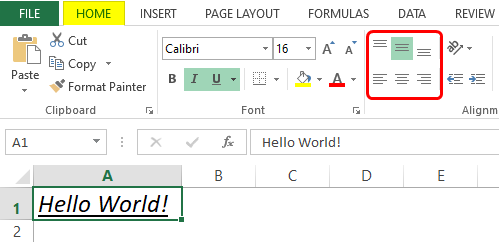 Exactly below to these three, there are three more alignment options. Align Left, Center and Align Right. They are placed in the second tier of the options under Alignment group.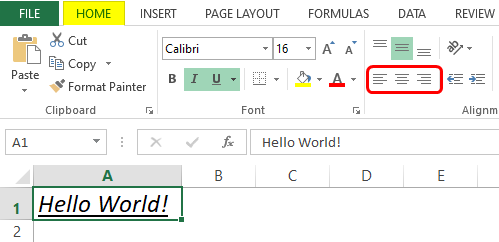 The third part that gets covered under the Alignment group is Text Rotation option. This option has different text rotation options available which allows you to rotate the text with angles (clockwise) as well as vertically (up and Down). This feature is rarely used though sometimes is really helpful when you want to do something different with the headings of your reports.

Forth thing that gets covered under Alignment section is the indentation. Most of us fail to recognize when to add or decrease an indentation. However, you don't need to keep it in your mind. Excel has Increase Indent and Decrease Indent option that helps you either increase or decrease the indent in your current text.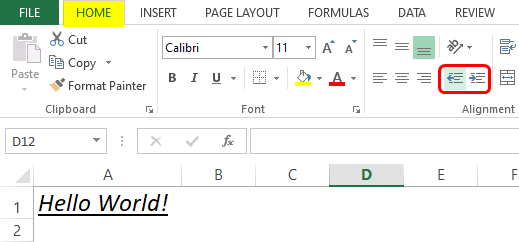 Fifth and last thing that comes under alignment is Wrap Text and Merge& Center option. Well these two are the most commonly used alignment operations in Excel. Wrap Text shows text in one single cell even if that text goes beyond the cell boundaries. On the other hand, Merge & Center merges the data across the multiple cells and then makes a centered alignment for the merged text. If you click on Merge & Center button again, it removes the effect however, the text gets filled in the left most cell or a cell under which it has actually been entered.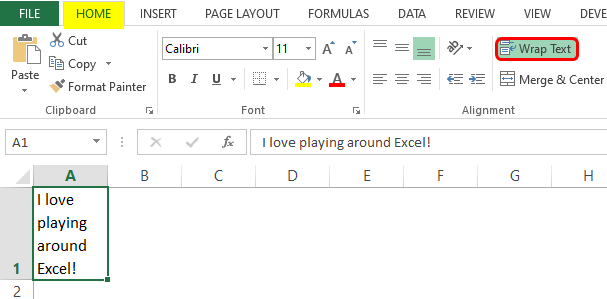 The above screenshot emphasizes the use of Wrap Text. The actual text under A1 is beyond the cell boundary. However with it having wrapped, it is under the cell boundary.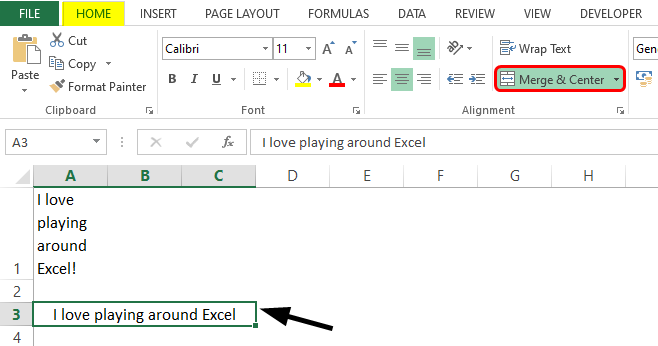 This screenshot emphasizes the use of Merge and Center. Instead of wrapping the text under same cell, we have tried it to merge across three cells A3:C3 and it looks nicer than before. This is how Merge & Center works.
This is how we can format the text under Excel. Now let's wrap the things up with some points to be remembered about Text Formatting in Excel.
Things to Remember
Font and Alignment covers most of the Text Formatting options under Excel
Some of the users also consider Conditional Formatting as a part of Text Formatting. It sometimes can be used to format the text. However, it is not dedicated for the text formatting (We can also use conditional formatting on numbers).
You can use Format Painter option under Clipboard to copy the text format and apply to some other text in some other cell or sheet.
Recommended Articles
This has been a guide to Formatting Text in Excel. Here we discuss How to use Formatting Text in Excel along with practical examples and downloadable excel template. You can also go through our other suggested articles –