Updated June 9, 2023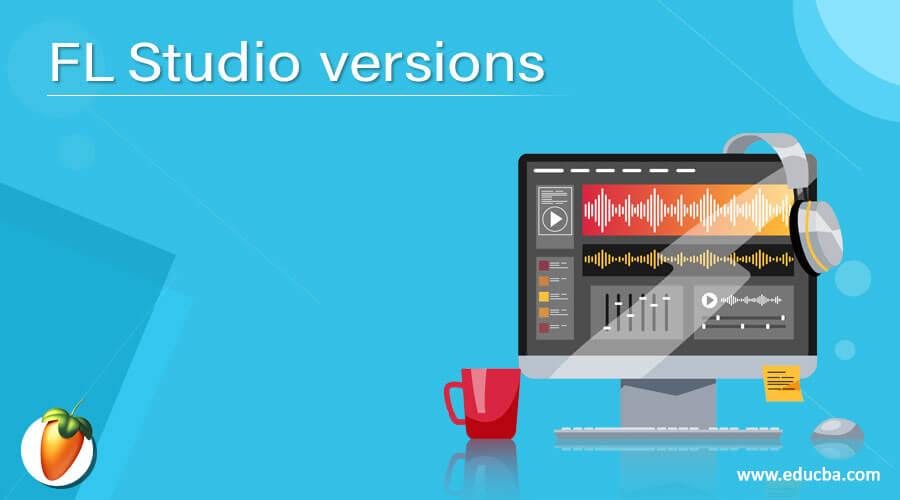 Introduction to FL Studio versions
In this article, we are going to learn what are the different versions of FL Studio. We will see from the most basic version to some advanced versions of this digital audio workstation software which is developed by the Belgian company Image-Line. There are basically four digital editions: Fruity Edition, Producer Edition, Signature Bundle, and All Plugin. In this article, we will highlight what are the different versions regardless of the edition, and we will see how the software has evolved to the current version of 20
Versions of FL Studio
Here are the following versions mention below
2.0.1 Version
Background wallpaper covering was fixed, and redraw is smoother
Crash with default skin in palettized mode is fixed along with scrollbar
Support of middle mouse button was added
Added FLP file format with plugin editor and arranged windows in the view menu
3.0.0 Version
A new layout with piano roll was added
The event track is now per pattern with new FX tracks.
Song positioning is optimized, and typing keyboard to MIDI option added with the metronome.
Updated DrumSynth renderer and custom controls added to the presets.
4.0.0 Version
FX window become a mixer with a brand-new playlist
The audio clip can also be added to the playlist
Beat to slice feature
Added BooBass generator plugin
5.0.0 Version
Fruity Pad Controller (FPC) plugin added
Automation clips in the playlist
Arpeggiator tool in the piano roll.
Tempo Tapping feature added.
6.0.0 Version
Popup menu engine is new
Multiple midi input device is acceptable
Edited events are in the recently used list
Usability improvements.
7.0.0 Version
GUI redesign
Flicker removed when resizing plugin window.
Mixer icon glitch is fixed
Granulizer crashing bug is fixed
8.0.0 Version
Synthmaker modular environment was added
SliceX drumloop slicing generator plugin was added
Parameter smoothing for knobs and MIDI controls
Stereo waveform display in playlist
9.0.0 Version
Multithreaded performance is improved
Janko layout is added to typing to keyboard
A debug log is added in the settings window
Plugin database is accessed using Shift + F8
10.0.0 Version
Added ZGameEditor Visualizer plugin
Added Patcher plugin
Added new project browser
Sidechain selectors bug fixed
11.0.0 Version
Patcher updated
New Control Surface plugin added
Preset added for Drumpad
Fixed joystick names of fruity X-Y controller.
12.0.0 Version
DrumSynth Live fixed distortions for multiple instances
Fruity balance instance if fixed in wrapper
Crashing of the detached bridged window is fixed for the wrapper
The disappearance of the control surface editor is patched
20.0.0 Version
There is a 100 cents pause for the main pitch
MacOS port is done by changing Ctrl to Cmd and Alt to Opt
The overflow menu is disappearing when you enable the toolbar separators to be fixed
Moving control over another glitch is fixed in the toolbar
20.1.0 Version
Use shift + click to resize notes and also prevent further moving of notes
The usage of full sample is always unique
The location of big hint bar window is stored
The fixing of Edison which crashed while holding insert key
20.1.1 Version
Fixed the default mix level of the effect plugin, which was previously wrong
Fixed preview of MIDI notes that are recorded, which was previously incorrect
Fixed the mixer track resetting
Fixed preview of recorded midi notes
20.5.0 Version
Fixed the freezing of pattern when inserting, deleting or moving when loop recording of video is done
MIDI loop bug fixed when opening a preset for FPC
Fixed freeze when opening some plugins in Wrapper
Shift + Drag now works in macOS
20.6.0 Version
Added a .midi file extension where previously .mid was supported
Soundcloud integration added by new export renderer song
Advanced fill step sequencer tool added
The news panel menu has an added link to the news page.
20.7.0 Version
Presets view shows an old color picker layout.
Aspect ratio selector added to visualizer which is square 1:1
Maschine MID device initialization crash fixed
Line snapping automation fixed during recording
20.8.0 Version
Frequency Splitter added, which splits and process using Linear Phase and low latency filters for 2 to 3 bands which range from -6 dB to 96 dB Octaves. Along with that, for visualization, a Frequencies Histogram, Heatmap, and dual display are added.
A visual tuning indicator is added in Instrument Tuner
Even the Maximus has a new Frequency Histogram for Linear phase filter mode
You can save custom size images by right-clicking and save still images.
You can set the maximum file size using the File size warning before you get a warning to save the file.
Now flat buttons are available in Toolbar.
You can get the most recent crash logs using Diagnostics in the report.
20.8.1 Version
View menu has the piano roll Helper options
Values in Granulizer are context-aware
PanOMatic has is LFO on the XY control display
Keyboards keys are light up when Keyboard Controller is interacted with.
Memory leaks are fixed when opening a JPEG image on MacOS
Improved the visuals of Chinese fonts on MacOS
20.8.2 Version
Values in FL Keys and 3x OSC are context-aware
FL Studio Mobile has new plugins now
If the language settings are changed from the settings, then a warning will be shown on exit.
Performance improvement on Apple Silicon M1 CPU
Note swap values are to Frequency knob popups are added to Parametric EQ 2
20.8.3 Version
A warning is added when you are exporting uncompressed video files in ZGE visualizer along with new open and save dialogs.
The increments have been changed to 2 instead of 1 in the linked controls of the Fire controller.
Misaligned visuals of Stereo Shaper have been corrected.
Proper hints are displayed on the pads of the FPC
Now when the mouse cursor is moved over the envelop editor, the hints are shown
New open and save dialogs are added to the program in its entirety.
Conclusion
In this article, we have learned what are the different versions of FL Studio. We have started right from version 2 and have seen the incremental changes and bug fixes along the way and some major milestones until the latest version, which is 20.8.3, is reached when writing this article.
Recommended Articles
This is a guide to FL Studio versions. Here we discuss what are the different versions regardless of the edition, and we will see how the software has evolved to the current version 20. You may also have a look at the following articles to learn more –