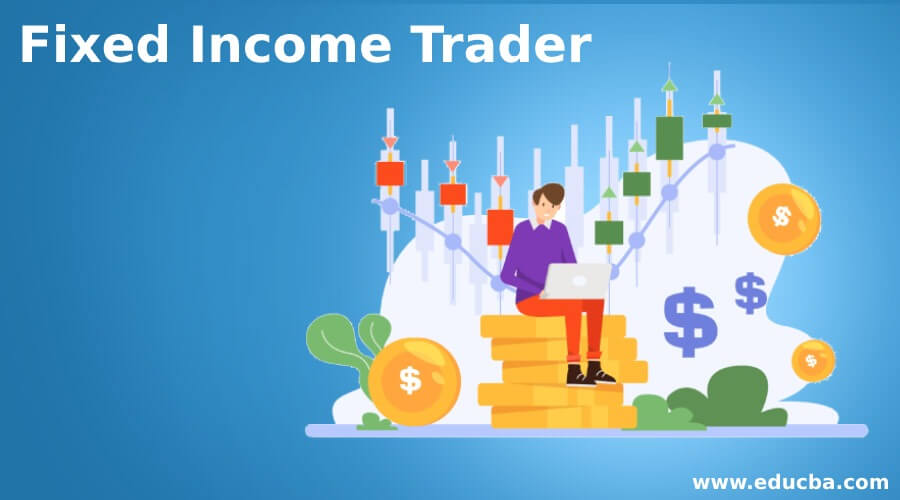 Who is Fixed Income Trader?
A fixed income trader is a finance professional (an individual) who works for a person (may be an individual, a firm or a corporate entity) to trade specifically in fixed income securities such as bonds, debentures, treasury bills, etc. and he ensures that such investments are safe to provide fixed return for a longer period of time either for himself or for the clients or an asset management company.
How Does a Fixed Income Traders Do?
Fixed income trader is finance professional whose job is to execute trades of fixed income investments. He will trade such investments on behalf of big institutions as well as retail sector clients.
He is engaged by institutions, brokers, dealers and bankers. Even big broker-hubs, who receive contributions from investors hire such fixed income traders.
He develops a trading strategy based on current market scenarios to pick right instruments for buy side as well as sell side. Such trading is made for fixed income instruments such as loans and bonds.
A firm for whom the fixed income trader is working, may already have a separate department which is responsible for picking up the trading strategies. In such scenario, his responsibilities are cut down to execute the trade, manage the portfolio, reporting the plus points and negative points to the management.
The fixed income trader may execute trade for primary market as well as secondary market. Primary market means initial public offer and further public offer. Secondary market means trading in listed bonds and debt instruments.
Career Path of Fixed Income Trader
A fixed income trader goes through high level of stress for management of the portfolios and the working hours are long enough on an average workday. All these are compensated with high financial rewards.
High work pressure comes with high levels of compensation. Hence, only if a person has that high intensity to work under stress yet remain cool for long working hours, can become a successful fixed income trader.
The overall employment in United States is expected to grow by 6 million jobs from 2019 to 2029, as per latest news release by the US Bureau of Labor Statistics. Even if such growth percentage is lower than the earlier estimate of 2009 to 2019, there is scope for financial professionals to take share in the next decade.
Education and Skills of Fixed Income Trader
Education and skills of fixed income trader are given below:
Education of Fixed Income Trader
The individual who aspires to become a fixed income trader needs to have at least one degree in the finance domain. There is no hard and fast rule for a finance-oriented student to pursue only high-end degrees.
Degrees can be within the range of becoming a BBA (Bachelor in Business Administration) together with finance specialisation, to becoming a MBA (Master of Business Administration) with specialisation in finance.
If a person has spark for finance world, he can expand his knowledge-base by taking up CFA (Chartered Financial Analyst) course. CFA is a global standard for finance sector. The level of technical understanding a CFA holds, is exceptional as compared to a person with MBA degree in finance. Still, it depends on interest of respective individuals.
The student should attain knowledge in finance, statistics, probability theories, mathematics and economic. Together with these, a sufficient knowledge of behavioural finance is an added advantage. Now why behavioural finance? It would help an individual to accommodate in the situational and psychological profiling of the clients, for whom the portfolio is to be managed. Behavioural finance is covered in level 3 of CFA curriculum.
However, at the time of actual trading in real life, experience counts more than the degree at back-end. Its not a game of attaining knowledge first and then going forward for a job. The student is suggested to start at the early stage of gaining knowledge. Because over the period of time, experience matters a lot more than the knowledge-base. At the starting phase a person may start with the position of an analyst.
Skill Sets of A Fixed Income Trader
Skill set is all about how you display yourself to the outside world. The knowledge is at lower importance in front of skill set. Skill set is an art of selling the things.
This is the reason why finance professionals even if have a little perfect knowledge about few things, they can present the things in a diligent manner to the prospective client. The information from a fixed income trader is used to promote decision-making for the firm to whom he is working.
Good communication skill is like blood required for finance professionals to survive in the competitive world. They got to explain few concepts and methodologies to prospective clients in easy-to-understand manner. Even after first assignment, communication with clients is essential to keep the relations going.
The fixed income trader is required to face the client directly in order to understand the financial goals of the client, his demographic profile and to maintain the desired level of fixed income from the investments to be suggested by him.
Finance professionals cannot afford dissatisfaction of clients. In such case, communication skill will help the fixed income trader to present his ideas and the risk assumed by the trader for the portfolio of the dissatisfied client.
The fixed income trader needs to have key eye for details. He should be able to multitask himself in a fast-faced world. He won't be handling only one assignment at a time. He may be doing additional research for a company, or analysing the profits of another company or evaluating the intrinsic value of a share.
Another important skill required by a trader is to stay from emotions. He cannot choose a bond just because any emotional connection with the issuer-company.
Having working knowledge of Microsoft excel is very much essential for a finance professional. Fixed income trader needs to play around the rows and columns of excel. It is a basic skill set to be attained by any person in the commerce field.
Experience of Fixed Income Trader
Fixed income trader starts his working knowledge from being an analyst. As his experience increases in future, he gets higher position.
With increase in experience, he is able to capture more successful trades resulting in high revenue for clients.
In US, a major workforce is moving towards retirement. Thus, fixed income investments are increasing on daily basis. This requires the fixed income trader to manage the show.
Salary of Fixed Income Trader
The pay-scale of fixed income trader ranges widely depending on the firm in which he is working, the geographic location of the firm, his experience, etc.
As per estimate by Glassdoor, the average salary of a fixed income trader is around $ 85,723 per annum, with a low scale of $ 58,000 to a high scale salary of $ 193,000 per annum.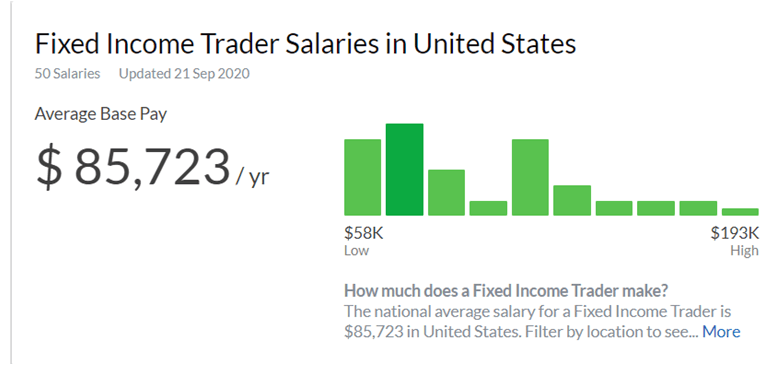 Image Source: https://www.glassdoor.co.in/Salaries/us-fixed-income-trader-salary-SRCH_IL.0,2_IN1_KO3,22.htm
The bonus for a fixed income trader depends on the performance. The normal compensation is around $ 32000 on an average basis.
A fixed income trader is a finance professional engaged by investment firms to execute trades in fixed income instruments. The fixed income instruments include trading in bonds, debentures, etc. The western population is now moving towards a fixed income source and thus the demand for fixed income traders is rising.
Recommended Articles
This is a guide to Fixed Income Trader. Here we also discuss the definition and how does a fixed income trader do? along with education and skills of fixed income trader. You may also have a look at the following articles to learn more –