Updated July 17, 2023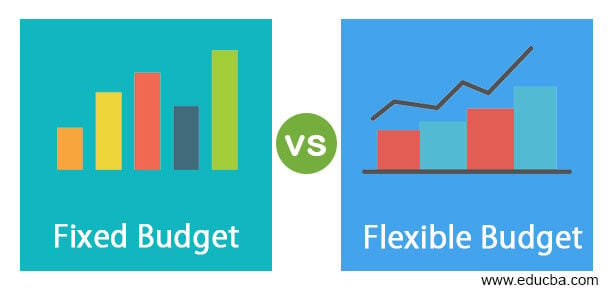 Difference Between Fixed Budget vs Flexible Budget
Fixed budget also known as a static budget can be defined as a budgetary plan which remains fixed i.e. do not changes with the increase/ decrease in volume of input and output like sales, production units, activity level etc.
The flexible budget also known as variable budget can be defined as an financial estimate revenues and expenses on the basis of current/actual volume of sales/ production/ activity level which changes with the change in the actual input and outputs levels.
A fixed budget can be defined as a roadmap laid down by the management at the beginning of any financial period which draws an estimate of various activities like sales, production etc. along with required costs/ revenue figures. A fixed budget is the conjecture of the income and expenditure for a given periodwhich remains unchanged with the increase and decrease in actual production level. When the actual outcomes are compared with the fixed budget data, the actual outcomes may vary from the figures laid down infixed budget. It is used by the management, financial experts and accountants of the organisation to develop a roadmap and set guideline according to which company will function in future.Management uses fixed budget as a source document with which they can compare actual cost/ sales volume and other figures so as to determine variations and its reasons thereof.
A fixed budget aids a business to attain optimal performance by checking revenues, sales and expenses. By comparing each departments performance with a fixed budget, identifying and analysingvariations, reasons for variations helps the organisation to achieve their financial goals in the long run. A fixed budget may be used by management like managers, chief financial officers and accountants in order to analyse and develop financial controls. It act as a system check tool that blocks overspending and tallies expenditure with revenue being generated from sales. A well-controlled fixed budget also aids in developing cash flow projections. In simple words, it can be said that a fixed budget is a planning tool that helps the organisation to monitor all the revenue being generated and all the expenses being incurred and thus helps in achieving its financial goals.
A flexible budget is a redrafted budget prepared in accordance with different activity levelsor at different capacity utilization levels which changes with eachchange in change activity levels of the organisation. Here, actual revenues and other cost details are placed during or after the completion of a financial period.Flexible budget is prepared from fixed budget and is therefore known as revised budget. Once after preparation of flexible budget, management compare actual figures and determine variances. Performing this activity helps management to analyse reasons for deviations at an early stage and take suitable corrective actions at the earliest. Basic objective of flexible budget is to develop a standard level of costs which should be incurred for actual manufacturing outputs. A flexible budget is prepared taking into considerations nature of various cost incurred as like fixed or variable. An entity can draw multiple flexible budgets based on different capacity utilization as per different business scenarios.
This budgeting method is totally different from a fixed budget as here the budgeted costs are varying with the actual input and output levels of the business. It is more important for any organization to analyse the variances identified by flexible budgets due to the fact that flexible budget determines the standard cost of operating for actual output levels.
Head To Head Comparison Between Fixed Budget vs Flexible Budget (Infographics)
Below are the top 8 differences between Fixed Budget vs Flexible Budget:

Key Differences Between Fixed Budget vs Flexible Budget
A company needs to draw both fixed and flexible budget. Both the budgets are necessary and serves different purposes. Fixed budget provides a roadmap based on which company operates for the specified period whereas flexible budget provides the details of standard cost of operations at varied capacity utilization level. Major differences between the fixed budget and flexible budgets are as follows-
A fixed budget has no impact of change in activity i.e. it does not change with the increase or decrease in the output levels. A flexible budget changes itself with every change in the activity levels.
Fixed budget is also known as static budget as it is static in nature, doesn't change at all. A flexible budget is dynamic in nature and changes as per the requirement of the organisation and is also known as revised budget.
Fixed budget is drawn up based on a single set scenario and assumes zero deviation whereas flexible budget is drawn by predicting various business scenarios thereby providing details of cost/ revenues at varied activity levels.
Fixed budgets are operational at single activity level whereas flexible budgets can be operated at multiple levels.
Fixed budget is very simple and works on assumptions while the flexible budget is complex and works on real data.
Fixed budgets are rigid as they cannot be modified as per the real outputs. Flexible budgets are elastic in nature and can change with the change in the volume of production.
Fixed budget is prepared based on historical data and predictions of management for upcoming events. A flexible budget is based on outcome of the actual activity level
Fixed budget is compatible only with small business while flexible budgets are compatible with all small, medium and large business.
Variations identified and analysed with the help of flexible budget are more important as they provide details of operating efficiency/ inefficiency based on actual output.
Fixed budgets are less time consuming while flexible budgets are more time-consuming.
Fixed Budget vs Flexible Budget Comparison Table
Let us look at the comparison table of Fixed Budget vs Flexible Budget.
| | | |
| --- | --- | --- |
| Points | Fixed Budget | Flexible Budget |
| Definition | Budget drawn based on historical data and management future assumptions which provides set guidelines for operations during the budgeted period. | Budget drawn based on actual activity levels to determine standard operating cost for actual outputs which changes with each change in actual output |
| Rigidity | Remains constant at all levels of activity of a business | It is a budget that changes with the change in the level of activity. |
| Character | Static | Dynamic |
| Directness | Simple | Complex |
| Level of Activity | Single | More than one (multiple) |
| Measurement of Performance | Comparison between actual and budgeted cannot be done correctly | Act as efficient measuring tool for comparison between actual and budgeted data. |
| Rigidity | No changes can take place with respect to real data. | Can be changed with the change in actual data |
| Source of Preparation | It is based on assumption and predictions. | It is based on factual data and is realistic. |
Conclusion
Fixed and flexible budget both are important for any organization. Both these budgets serve different needs and provides guidance for further action. While comparing a fixed budget with the flexible budget we get to know which one is more relevant and of use. Although a fixed budget is easy to prepare, serves as an acting guideline but there are no chances of any alterations. On the other hand, a flexible budget is considered elastic and adjusts with each ups and downs of business operations. Therefore, it is advisable to use flexible budget irrespective of the size of your business along with fixed budget.
Recommended Articles
This is a guide to Fixed Budget vs Flexible Budget. Here we also discuss the fixed budget vs flexible budget key differences with infographics and comparison table. You may also have a look at the following articles to learn more –