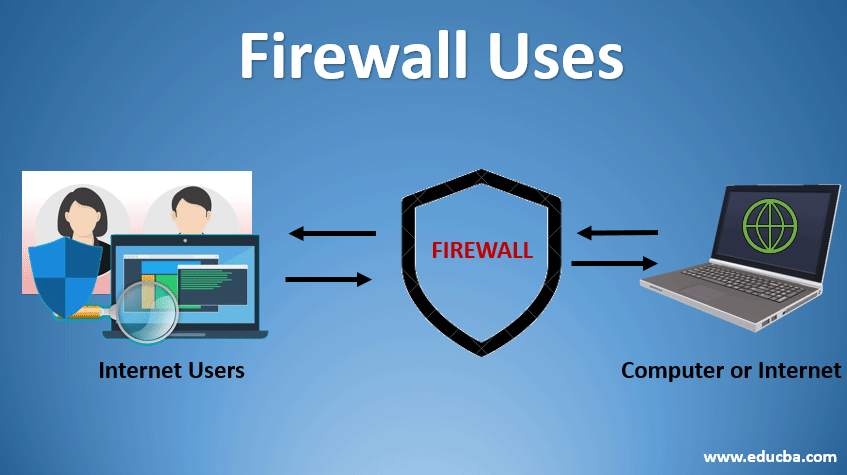 Introduction to Firewall Uses
When it comes to secure access to data and safe computer systems operations, the concept of firewall comes into one's mind. A firewall can be defined in various manners. However, the simplest definition can be that it acts as a filter between a computer system and the internet. The essential purpose of this filter is to protect the computer system by allowing only intended and non-destructive content from the internet. Had firewalls not existed, then the idea of the internet would have disappeared soon after it came into being. Today, the web-world can be considered safe because of the concept of a firewall. below are the firewall uses.
Top 7 Uses of Firewall
Firewall is an essential component in the system. It can be present in any form, software, hardware or as a cloud-computing mechanism. The following are the uses of a firewall that must be understood by a user to guard her/his system.
1. Prevents the Passage of Unwanted Content
There's no limitation to bad and unwanted content over the internet. Such unwanted content can easily penetrate the system unless a strong firewall is in place. Most of the operating systems will have a firewall that will effectively take care of undesired and malignant content from the internet.
Whenever a new system is employed for use, it must be checked by the user if a firewall exists or not, and if not, then the third party firewall can be installed.
2. Prevents Unauthorized Remote Access
Today, in the world, numerous unethical hackers are there, who are making constant efforts to acquire access to vulnerable systems. The ignorant user is never aware of who can access his system. A strong firewall prevents any sort of possibility of a prospective unethical hacker getting remote access into a system. Such remote access is purely unauthorized and can be intended for destructive purposes too.
A strong firewall is necessary to protect your data, your transactions, etc. for enterprises a leakage of confidential data and information means a tremendous loss and failure. When it comes to understanding the importance of firewalls to prevent unauthorized remote accesses, the example of banking organizations and national level security agencies comes to one's mind.
3. Prevents Indecent Content
The extensive web of the internet has exposed people, especially the adolescent and youth, to immoral content. This content has been spreading its nefarious nexus very fast. With changing trends and lifestyles, such content is harming the minds of youngsters. Given this situation, it becomes extremely important on the part of the guardians to ensure that such content is prevented in their computer systems.
Exposure to any sort of content involving obscene can prove harmful to young minds resulting in strange behaviors and immoral conduct. A strong firewall protects the computer systems by preventing the entry of immoral and indecent content, and thus allows parents to keep their children safe.
4. Guarantees Security Based on Protocol and IP Address
The hardware firewalls are useful for examining traffic activities based on a certain protocol. Whenever a connection gets established, right from the beginning to the end, a track of activities is kept that helps to keep the system protected.
Network Address Translation (NAT) is a type of firewall that effectively protects systems from those which are outside the network to which they belong. As a result, the IP address of these systems is visible only in their network thus keeping them separated and safe.
5. Protects Seamless Operations in Enterprises
Nowadays, organizations have become heavily reliant on enterprise software and systems. Decentralized distribution systems coupled with the accessibility of data anywhere across the entire geographical presence is enabling the authorized stakeholders to use and work upon the data for successful business operations.
Using credentials, a user can log in to his system from any system within the network. However, given such a vast network system and huge data, having a strong firewall in place is imperative, and the firewall is the most important component in imparting security to all these aspects. Without effective firewalls, it would be very difficult for organizations to have such seamless operations and the activities would be badly hampered.
6. Protects Conversations and Coordination Contents
Organizations that are into service industries have to constantly interact with third-party clients. As a part of various projects, they keep sharing relevant content with the client and internal teams. Moreover, it just not the contents, but they interact with internal and external stakeholders through meetings, interviews, discussions, and chats.
Almost all the content from theses coordination activities is confidential and must be protected effectively and no organization can simply afford the cost of leakage of such important content. Firewall guards the systems effectively and allows a secured and safe flow of information imparting a sense of confidence to the stakeholders.
7. Prevents Destructive Content from Online Videos and Games
Watching online videos and playing online games has become fairly common nowadays. Numerous sites allow users to watch movies, and some of them also let them download movies. Similarly, a plethora of sites allows playing and downloading games. Barring a few known sites, not all sites guarantee the security of access. And often there's a huge change of destructive content in the form of malware and virus trying to penetrate the user's system. A firewall must be present in the system as it keeps the user's system protected from possible malware attacks through online games or videos.
The malware attacks through the sites offering online games and videos often go unrecognized as users are so excited about the games or movies that they intend to explore over the internet. However, it is always good to consult a systems specialist and get it checked if an effective and strong firewall either in the form of software or hardware, whichever suitable exists in the system. Moreover, for online video access and online game playing, one should familiarize oneself with requisite firewall settings to make effective firewall use.
Conclusion
A firewall is a cybersecurity tool that protects systems when operating on the internet. With so much malicious content being floated across the web of the internet, it is very important to keep the systems secure. It doesn't matter in which form firewalls exist, only that they protect the systems effectively.
Recommended Articles
This is a guide to Firewall Uses. Here we discuss the Introduction and Implementing Firewall in hardware and software along with the top 7 uses of Firewall. You can also go through our other suggested articles to learn more –