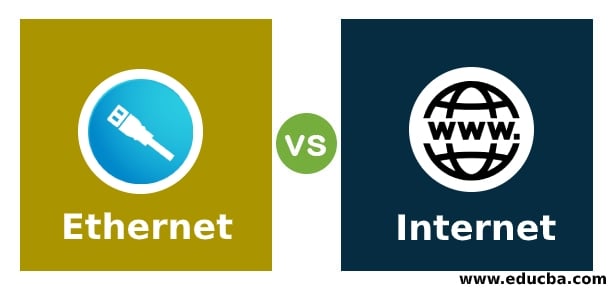 Difference Between Ethernet vs Internet
The following article provides an outline on Ethernet vs Internet. There is also a different type of networks like the internet known as Ethernet. Most people use the internet, and they know it. But Ethernet technology is still used around the world. If you want to learn about the technology of electronic communication, you need to learn about the Internet and Ethernet. The Internet is one of the thousands of networks, ranging from local to private, governmental and corporate across the globe, and linked by a variety of techs, such as wireless tech, fiber optics network tech, electronic tech, etc. While the Ethernet is Xerox's base LAN standard and developed jointly by Xerox, Intel, and DEC.
What is Ethernet?
Ethernet offers a standard way to link the computers via a wired connection to the network. It is an interface connecting multiple devices, like machines and switches. It is used for Local Area Networks, a network which is limited to a specific geographic region. Ethernet transmits the data in frame form. Such frames contain addresses of source and destination and mechanisms for detecting errors. A traditional Ethernet is cable of slightly thicker than a normal telephone cable, and at the top, it has an RJ45 connector and few ethernet requirements.
What is Internet ?
Internet is a digital network linking worldwide computer networks. It is a large network of networks. For data transmission, it uses the TCP / IP protocol. With the aid of internet users can exchange information instantly. It facilitates the exchange of information and the provision of services such as file sharing, the World Wide Web and e-mail, pcs, routers, switches and other devices link to each other on the internet using cables or a wireless network or more sophisticated technologies such as fiber optics. The Internet is one of today's world's most important and powerful route of communication. It is useful in nearly every area, such as industry, education, medicine, media, etc. It is a very good source of knowledge for the customer.
Head to Head Comparison Between Ethernet vs Internet (Infographics)
Below are the top 5 differences between Ethernet vs Internet:

Key Difference Between Ethernet vs Internet
Let us discuss some of the major key differences:
Internet is a global web of interconnected computer networks, using the TCP / IP protocol to connect computers around the world. Ethernet is a networking system used in Local Area Networks (LANs) where the computers are linked inside a primary physical space.
Wide Area Network (WAN) is an example of Internet while the Local Area Network (LAN) is an example of Ethernet. The Internet is a network covering a vast geographic area. Ethernet is a network covering a small geographic region.
Ethernet is safer than the internet. Within the Ethernet, there is no connection to the network from outside computers. Web, on the other side, provides the consumers with open access. Any user can then access the network and get the information needed. This can cause the devices to face greater security threats.
An Administrator or a small number of network administrators will handle the Ethernet. The administrators have responsibilities of monitoring and maintaining the network. Whether the Ethernet network is in a home then a parent may be the network administrator, or if the network is in service, the technical department may be the administrator.
The Internet is a global infrastructure in which computers and networks that are interconnected can exchange data among themselves by following certain standards. 6. Ethernet is a network of some local area computers that exchange data among themselves. The computers connected to the network are essentially inside a specific physical area, so there is no long distance between the computers connected.
Ethernet vs Internet Comparison Table
Let's discuss the top comparison:
Ethernet 

Internet 

Ethernet is a system where the computers are connected within a primary physical space.

 

Internet is a system of interconnected computer networks which use the TCP/IP protocol to link devices worldwide.
Example of Ethernet is LAN (Local Area Network)

.

Example of Internet is WAN (Wide Area Network)

.

Ethernet is more secure because outside devices have no access to the network.
Internet is less secure as anyone can access the network and gain the information.

 

Uses broadcast network to implement communications.
Internet uses point to point network to implement communications.
It allows only one communication at a time.

 

It allows multiple communications taking place concurrently along its different paths.
Conclusion
The difference between Internet and Ethernet is that the Internet is a wide area network (WAN) while the Ethernet is a local area network (LAN). Internet is a broad global network linking a broad number of devices around the world while Ethernet is a network serving a small geographic region. So in this article we have seen what is Internet and Ethernet as well as differences between them.
Recommended Articles
This is a guide to Ethernet vs Internet. Here we discuss the Ethernet vs Internet key differences with infographics and comparison table. You may also have a look at the following articles to learn more –