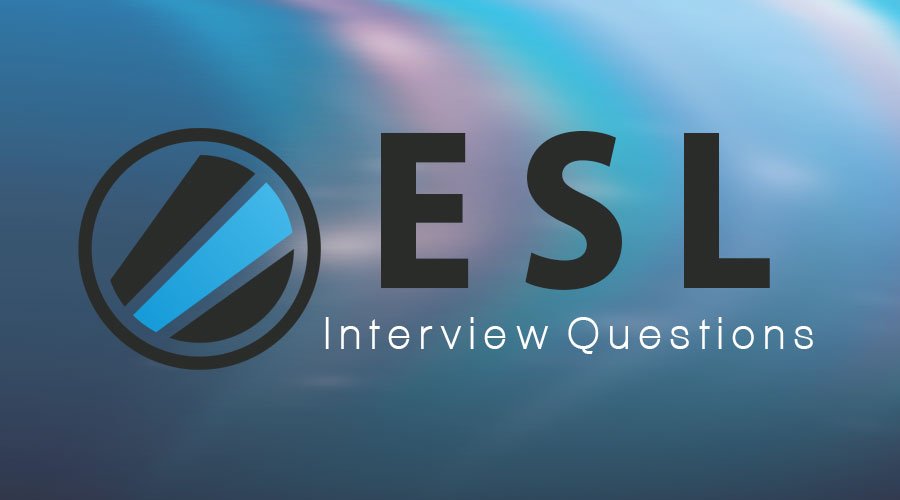 Introduction to ESL Interview Questions And Answers
The globalization of business and the influx of immigrants to the U.S. have both driven the growth of English language learners. An ESL teacher needs to be able to get their point across and you'll need to be mindful of your nonverbal communication. The need for educators who are skilled in teaching this unique group of learners. The quality of ESL teacher should be:
Master pedagogues
Authorities on second language
Acquisition and experts at relationship building
Enthusiastic
Approachable personality
Many administrators of ESL schools admit that an enthusiastic and approachable personality is more important in a teacher than a strong understanding of grammar or a structured lesson plan. Some schools even prefer inexperienced teachers who are excited to begin a new career.
So you have finally found your dream job in ESL but are wondering how to crack the 2020 ESL interview and what could be the probable ESL Interview Questions. Every interview is different and the scope of a job is different too. Keeping this in mind we have designed the most common ESL Interview Questions and Answers to help you get success in your interview.
ESL Interview Questions And Answers
Below is the top ESL Interview Questions that are asked frequently in an interview
1. Tell me about yourself?
Answer:
The answer to these questions is the gateway to success. This first question is going to convince the interviewer for the next round of questions. You should be very polite and briefly describe yourself. You can take time around 90 seconds and you should describe your profile, education, achievements, goals, etc. Always be positive and confident and tell the interviewer about your good points, especially the parts of your personality that make you a good teacher.
2. What do you do — or plan to do — to maintain discipline in the classroom?
Answer:
You need to be positive and make sure, you will plan your lesson/class such that students will be highly engaging. You will be interacting with students and will entertain the class. You will be motivating students and If the trouble still arises, you'll follow the discipline procedures outlined by the school.
3. Why do you enjoy teaching?
Answer:
You can start by addressing the objective of your career. You can say, you love communicating and love to speak with new people and have always enjoyed speaking with new people. If you can put up your common sense and give a vaguely positive answer. Smiling, using appropriate hand gestures, and eye contact amongst other things are important factors. Your body language is your most effective tool when trying to convey your message to the interviewer.
4. How would you describe your teaching style?
Answer:
You can put some points like more interacting with students, explaining using real-time examples, correlating studies with real-time activities, putting up assignments and testing level of understanding by frequent evaluation.
5. How do you like to spend your free time?
Answer:
This answer can be your personal choice but it should be relevant, accepted and should sound positive to interview. A better answer would be to say that you are planning to spend your free time in your dream countries by visiting different places around the country and learning about its culture.
6. Which languages are you fluent in apart from English?
Answer:
You can share based on your knowledge. Apart from English, you are fluent in German, French like that. You can understand Hindi but won't be able to communicate and I am planning to learn Russian in the near future.
7. Do you feel that knowing different languages is a plus point in an individual's life?
Answer:
I do. It is a proven fact that the more languages an individual knows, the more developed their senses are. Additionally, knowing many languages eventually puts us in a position where we can make a solid career and relocation decisions. You can have confidence while going to different countries. You can communicate very easily.
8.What qualities must an ESL teacher have?
Answer:
Below is the list of qualities as ESL teacher should have:
Excellent command of the subject
Basic knowledge of other languages and their origins
Lesson planning and delivery skills
Familiarity with modern ESL teaching approaches
Classroom control and a lot of patience
Enthusiastic and approachable personality
Strong understanding of grammar or a structured lesson plan
9. Name 5 factors to consider in lesson planning?
Answer:
Five factors to consider while lesson planning:
Strength of students
Topic
Time allowed
Backgrounds of the students
The level at which students are being taught
10. What administrative/other tasks are required outside of teaching hours?
Answer:
The answer to this question depends on job responsibility assigned by different schools, based on that, teachers need to execute their role. Some schools require that teachers submit detailed lesson plans ahead of time. Others require monthly report cards, parent interviews, and cleaning or lunchroom duties. Some schools pay for work outside of the classroom and others do not.
11. Are you an organized person?
Answer:
I believe I am very organized. I like to know exactly what I am going to do for the day and the week. So I outline my tasks and organize my workload. By doing so, I can organize my time and work better. I do this so I can produce the highest quality work in the amount of time I have. I like to organize my work by priority and deadlines.
12. How will you rate your ESL lesson planning abilities?
Answer:
On a scale of 1 to 10, I would rate my lesson planning abilities at 8. This is because I start at the very beginning and do not skip concepts just because they are not as interesting as the next one would be. Also, I do not move onto the next lesson unless all students in the class have grasped the concept. Where needed, my lesson plans are tailored to each individual student's capabilities.
13. Do you have any previous teaching experience?
Answer:
This answer is completely based on your profile and teaching experience. If you have previous teaching experience you can tell with different job roles and responsibilities. If you are fresher, you can sound positive by saying I was enraged in tuitions from my college days and use to mentor younger at schools and colleges.
Recommended Articles
This has been a guide to List Of ESL Interview Questions and Answers. Here we have listed the best 13 interview sets of questions so that the jobseeker can crack the interview with ease. You may also look at the following articles to learn more –